Introduction
A vrio analysis of Amazon is a tool that helps explain how the Amazon business grows and sustains its industry position. However, while other firms are investing in development and research in the e-commerce industry, there has been no match for Amazon's research and development capabilities. This makes it a valuable, rare, and inimitable resource if other physical firms or other e-commerce retail firms try to imitate these capabilities or create a substitute for them.
Vrio analysis is an analytical technique used to evaluate any company's resources and has competitive advantages. According to Amazon Vrio, the local food products are a valuable resource as they are highly differentiated.
What is Vrio
Vrio is an acronym used for a four-question framework that focuses on value, rarity, imitability, and organization. In addition to that, it is the criteria used to evaluate an organization's capabilities and resources. However, the Amazon vrio framework considers the resources and capabilities of the organization through the following four lenses:
Value:
Does Amazon offer a resource that helps to add value for customers?

Is Amazon able to neutralize competition or exploit an opportunity with an internal capability?
Rarity:
is Amazon able to control capabilities or scarce resources?

Is Amazon producing anything complicated to find yet in demand?
Imitability:
Is it expensive to duplicate Amazon's capability or resource?

Is it challenging to discover an equivalent substitute to compete with Amazon offerings?
Organization:
Does Amazon have an organized process, management systems, structures, and culture that capitalize on capabilities and resources?
Background of Amazon
Amazon.com is a big Internet business that sells books, music, films, furnishings, electronics, toys, and several other products directly or through an intermediary between different shops and Amazon's millions of consumers. Amazon.com's Web services business involves renting data storage and computing power over the Internet, known as "cloud computing." Its online presence is so vital that in 2012, 1% of all web traffic in North America came from Amazon.com data centers. Also, the company designed and manufactured the market-leading Kindle e-book readers.
The marketing of these devices has led to a stunning increase in the production of e-books, turning Amazon.com into a significant disruptor in the book publishing industry.
| | |
| --- | --- |
| Company | Amazon |
| Industry | E-commerce Cloud Computing Artificial Intelligence Consumer electronics Entertainment Digital Distribution Self-driving cars Supermarket |
| CEO | Andy Jassy |
| Founded | 5 July 1994 |
| Location | Bellevue, Washington, United States |
| Revenue | 386.1 billion USD |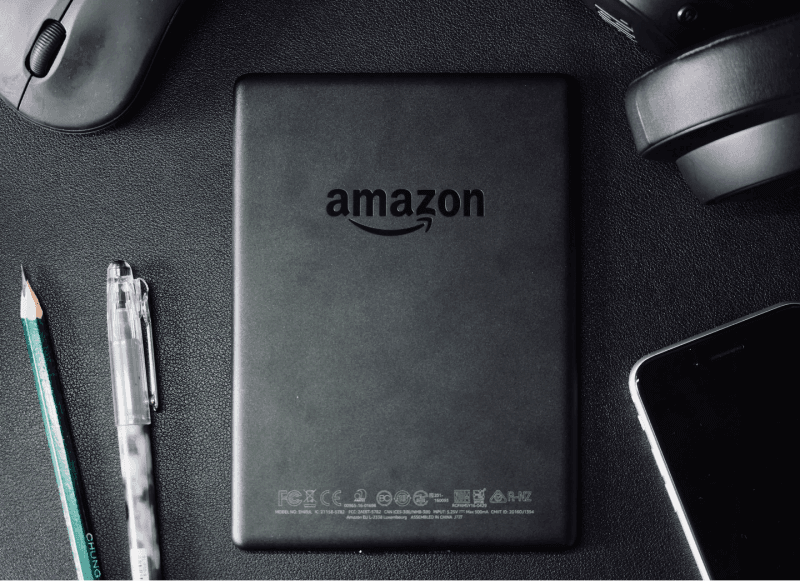 Image Source: www.unsplash.com
Vrio Analysis of Amazon
The core competencies of Amazon are based on business resources and organizational capabilities that satisfy all the vrio framework criteria. However, many of the company's capabilities and resources meet only one or some of these criteria but support business growth.
The vrio table below shows an outline of Amazon's core and non-core competencies:
| | | | | | |
| --- | --- | --- | --- | --- | --- |
| Resources | Valuable | Rare | Imitation | Organization | Implication |
| Customer Experience | Yes | Yes | No | Yes | Temporary Advantage |
| Distribution Network | Yes | Yes | Yes | Yes | Competitive Advantage |
| Brand Name | Yes | Yes | Yes | Yes | Competitive Advantage |
| Marketing | Yes | Yes | No | Yes | Temporary Advantage |
| Research and Development | Yes | Yes | Yes | Yes | Competitive Advantage |
| Customer Loyalty | Yes | Yes | No | Yes | Temporary Advantage |
| Customer Base | Yes | Yes | Yes | Yes | Competitive Advantage |
| Product Range | Yes | Yes | Yes | Yes | Competitive Advantage |
| HRM | Yes | Yes | Yes | Yes | Competitive Advantage |
Valuable
The value aspect of vrio analysis of Amazon seeks answers to questions such as: "Does the company's strengths and resources add value to the market or customers?" Amazon is one of the world's most valuable brands, without question. What makes Amazon unique and sets it apart from its competitors is its brand reputation, customer service quality, and customer loyalty.
Rare
The rarity aspect of the vrio framework aims to answer questions like: How rare are valuable resources and capabilities? Is it a lot more difficult for competitors to acquire such capabilities? This brand equity is rare in the marketplace as it is functional. Amazon's growth is due to various factors, including its excellent customer service and the loyalty and trust it has successfully earned. It is rare for companies to have this much experience in e-commerce, as it helps them gain a competitive advantage.
Inimitable
This aspect of vrio analysis of Amazon seeks to answer questions like 'Can the firm's resources and core competencies become inimitable?' Are they too costly or too difficult to imitate? Although it can be relatively easy to mimic a firm's tangible resources (e.g., location), it is challenging and sometimes impossible to replicate intangible assets (e.g., know-how, expertise, and managerial skills). For firms, valuable and rare but immiscible resources and capabilities may provide a temporary competitive advantage, but such an advantage is unlikely to be sustainable.
Organized
The Amazon vrio analysis seeks to answer questions: Is the business structured to develop and leverage its resources and capabilities to their total capacity? Is the organization structured or designed to exploit the resources? To have a sustainable competitive advantage, a firm's assets and capabilities must complement each other. The VRIO framework suggests that even valuable, rare, and difficult to imitate assets and faculty may not provide a firm with a sustained competitive advantage if they are not adequately organized, managed, operated, and incorporated into its value proposition. Amazon makes the most of its brand value by including the company's name in nearly all of its products, including AmazonGo, AmazonBasics, AmazonBooks, Amazon Prime, etc., and by focusing its business on the name.
Edit PDF Using PDF Agile
When you are looking for a professional PDF Editor to help you convert all your files from any format to PDF, you need to use PDF Agile. With this tool, you can edit PDF files, convert them to any format and use OCR to extract text from images and PDF documents. It also has a translation feature that helps translate a document to any language of your choice.
Key Takeaways
This article explained the Amazon vrio, what it is, and its importance to the Amazon company. In addition, if you need a perfect PDF tool that can help you handle your report and edit your PDF documents, then you should try out PDF Agile. This article also provides you with a vrio analysis example that you can use to reference when drafting out your company's vrio analysis.
References
Rancord Available at: https://www.rancord.org/amazon-vrio-analysis-competitive-advantages-core-competencies
Notesmatic is available at: https://notesmatic.com/vrio-analysis-of-amazon/
Edraw max is available at: https://www.edrawmax.com/templates/1006809/