What is Vrio Analysis
The Vrio analysis is a strategic planning technique that assists firms in identifying and protecting the resources and abilities that provide them with a long-term competitive advantage. It's important to realize that when we talk about a Vrio analysis example, we're not talking about a list of your talents, which are things you excel at but aren't necessarily unique to your firm. We're also not talking about short-term gainable and competitive advantages that will be difficult for competitors to duplicate soon; they are also a critical component of firm success.
Whether businesses have one or numerous long-term competitive advantages, a Vrio framework may help you identify and capitalize on them. We will focuse your attention on the Vrio analysis of Apple, one of the most successful companies in the world.
Background of Apple
Apple Inc. is an MNC, a multinational technology corporation based in the United States that focuses on consumer electronics goods, software, and internet services.
It creates, manufactures, and sells smartphones, tablets, personal computers (PCs), portable devices, and wearable gadgets. In addition, the firm sells software and related services, accessories, networking solutions, and third-party digital content and apps. Apple's product lineup consists of the iPhone, iPad, Mac, iPod, Apple Watch, and Apple TV. It provides a wide range of consumer and professional software programs, including iOS, macOS, iPad, watchOS, iCloud, AppleCare, Apple Pay, and accessories. Apple sells and distributes digital content and apps via the Apple Store, App Store, Apple Arcade, Apple News+, Apple Fitness+, Apple Card, Apple Pay, and Apple Music. The corporation has operations in the Americas, Europe, the Middle East, Africa, and Asia-Pacific. Apple's headquarters are in Cupertino, California, in the United States.
| | |
| --- | --- |
| Company | Apple |
| Industry | Technology and Communications |
| CEO | Tim Cook |
| Founded | April 1, 1976 |
| Location | 1 Apple Park Way, Cupertino, California, 95014-0642 |
| Revenue (2021) | 365.8 billion Dollars |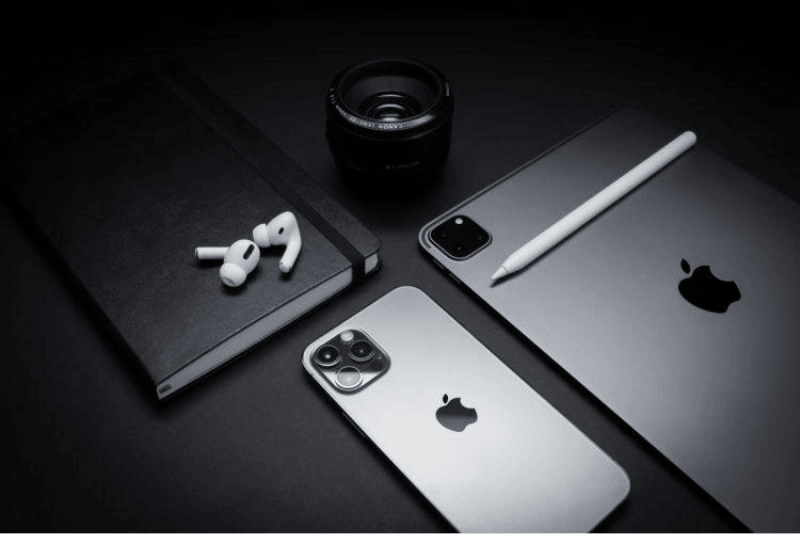 Image Source: www.unsplash.com
Vrio Analysis of Apple
Apple is a renowned technological company headquartered in Cupertino, California, in the United States. Founded by Steve Jobs, the firm is recognized worldwide for its emphasis on innovation and its wide variety of unique products, such as the Mac, iPhone, and iPad. The company's market value has increased at an alarming rate in recent months. Apple now has the most excellent market capitalization in the whole technology industry. Following the iPhone 11, Apple's market worth quickly surpassed the 1.3 trillion mark. The smartphone and technology industries have become increasingly competitive. Apple's primary product, the iPhone, accounts for most of its income.
However, Apple's market competitors in the smartphone and computing sectors are numerous. The competition for market dominance in the smartphone sector has become particularly heated, with Samsung and Huawei among Apple's main adversaries. Apple's dominance in the technology business is built on its significant competitive edge. Its business model and vrio framework are superior to most of its competitors.
The Apple Vrio analysis evaluates resources and capabilities based on the following criteria:
• Value
• Rare
• Inimitable
• Organization
Value
Vrio analysis example of Apple explains when a firm's resources are valued, they might be sources of competitive advantage or sustainable competitive advantage. Valuable resources are those that assist firms in capitalizing on opportunities, defending against dangers, and creating and increasing value for customers. If a company's resources are not valued, it will have a competitive disadvantage over its competitors.
Rare
Rare resources are those vrio frameworks held by only one or a few organizations. Many enterprises' valuable resources cannot be the source of competitive advantages or sustainable competitive advantages.
Inimitable
Apple's vrio framework is inimitable, i.e., other companies cannot copy, obtain, or substitute it at a reasonable cost. Imitation can be of two types: directly replicating (duplicating) the resource or providing a comparable product/service (substituting).
Organization
Apple's tangible and intangible resources may be valuable, unusual, and difficult for others to copy. But if Apple Inc. lacks in organizing these resources, they will become sources of untapped competitive advantage. To realize the maximum potential of its resources, as per Apple's vrio analysis, it must organize its policies, procedures, structure, culture, and management systems.
Resource or Capability

valuable

Rare

Costly to imitate

Exploited by organization

Competitive implication

Financial

yes

no

yes

Yes

Temporary advantage

Fixed assets

yes

yes

yes

yes

Temporary advantage

Human Resources

yes

yes

no

yes

Competitive advantage

Technology

yes

yes

yes

yes

Temporary

advantage

Consumer loyalty

yes

yes

no

yes

Competitive advantage

Location

yes

no

yes

yes

Sustainable advantage

Network and partnership

yes

yes

yes

yes

Temporary advantage
Resources

Valuable

Rare

Imitation

organization

Competitive Advantage

innovation

yes

Yes, since skill is vital to a company's success.

Yes, but quite difficult to do so.

Yes

sustainable

Competitive advantage

Strong Global presence

yes

yes

no

yes

Competitive advantage

Brand Equity

yes

yes

yes

Yes

Competitive Advantage

Marketing

yes

yes

no

yes

Sustainable competitive advantage
Edit PDF Using PDF Agile
PDF Agile is a PDF Editor that enables users to update PDF documents quickly and easily. It's like a word processor in that you can reflow text between paragraphs, pages, and columns. Users may also change and tweak text size, document layout, font, and line spacing and include multimedia with this tool. Because clients typically receive reports in PDF, PPT, image, and other forms online, this program will send reports in these formats based on the user's choices.
Users may easily design their electronic file system using the PDF Agile converter. Users may also manage PDF files and document and vrio analysis of Apple in PDF.
PDF Agile can also help you:
Edit PDF documents, including scans, quickly and easily without returning to the source files.

Convert or scan several file types to PDF, which anybody with a PDF reader on practically any device may see.

Convert any PDF like Apple vrio analysis to and from Microsoft Word, Excel, and PowerPoint without compromising fonts or layout.
Key Takeaways
The Vrio analysis of Apple helps you understand how various businesses use their resources and abilities might help you understand why their overall performance varies. For a long-term competitive advantage, a company's resources or capability must value high, unique, and well-organized. Managers can use the Vrio analysis of Apple in PDF to assess their organization's resources and capabilities. VRIO (Valuable, Rare, Unique, and Organized) is an acronym for Valuable, Rare, Unique, and Organized.
Use PDF Agile for all your PDF-related paper activities; this will help you save time and effort.
References
RancordSociety is available at: https://www.rancord.org/apple-inc-vrio-analysis-core-competencies-competitive-advantages#:~:text=The%20VRIO%20analysis%20model%20evaluates,In%20this%20case%2C%20Apple%20Inc.
Notesmatic is available at: https://notesmatic.com/apple-vrio-analysis/
WonderShare EdrawMax available at: https://www.edrawmax.com/templates/1006810/