Do you want to read in PDF format in an interactive way? Do you want to annotate the text such as highlight it, edit it or make comments on it? Do you want to annotate PDF iPad files with voice notes or convert your handwriting on screen in perfect legible computer-based text format? However, are you having issues in doing so? Then the following applications enable you to annotate PDF iPad files as you wish.
UPDF
Download: App Store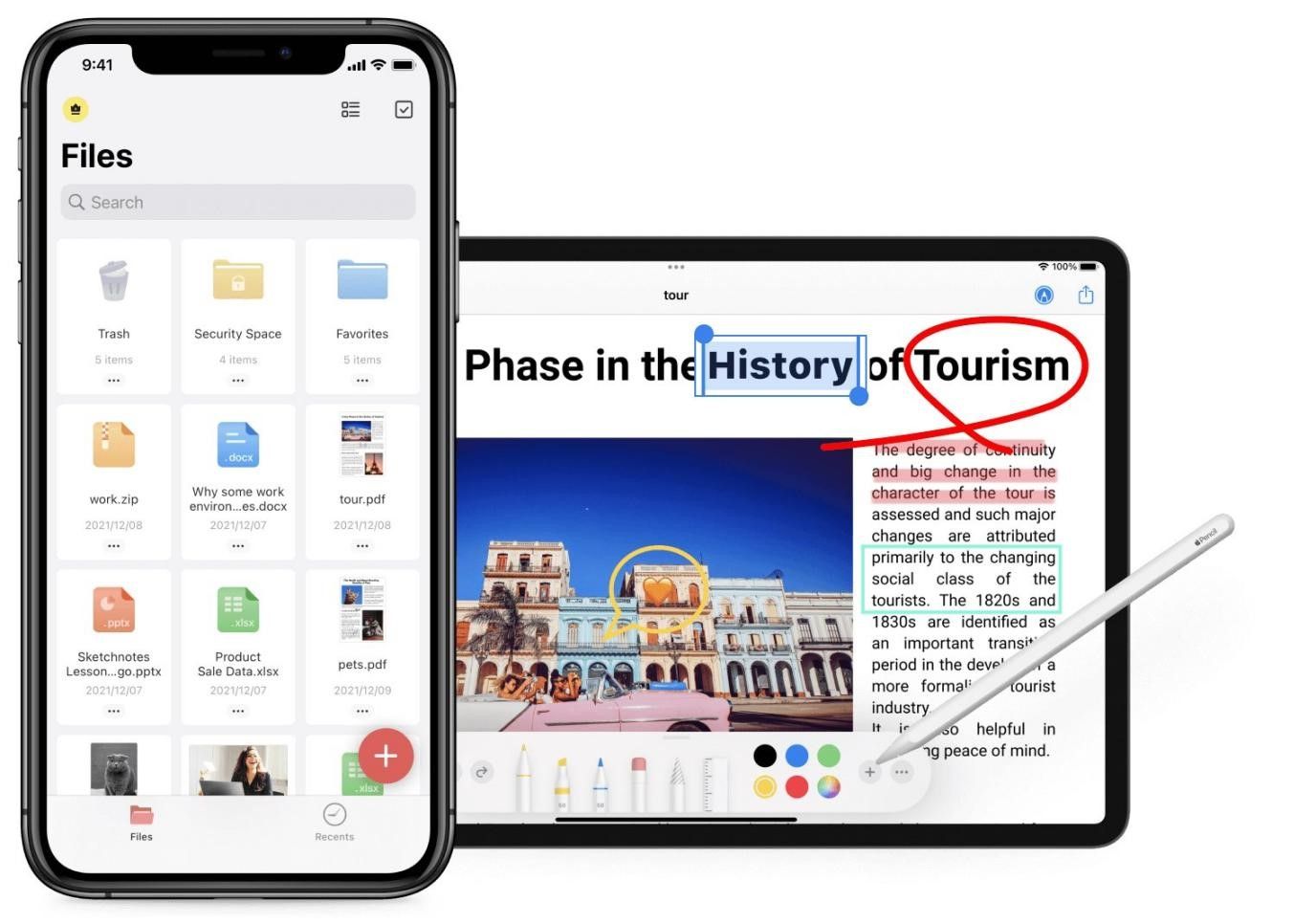 UPDF iOS App qualifies as one of the best annotation applications for iPad. It contains various sets of tools to edit and annotate PDF iPad files easily. It offers these tools: a writing pen, shapes, stamps, strikeouts, eraser, and underlying. Using UPDF, one can easily change the viewing setup, make comments in the margin, append signature, and markup, and draw figures on PDFs.
UPDF uses top-level OCR Technology, offering the user to search whatever is written on image-based PDFs. One can highlight even image-based PDFs. Furthermore, UPDF offers a sort of comprehensive functionalities that provide users with accessing and manage various file formats. You can convert photos to PDF, and you can take images through an inbuilt smart scanner and convert them into PDF. Interestingly, you do not need to worry about document safety since the app has inbuilt security features like passcodes and a Face identification system.
Features
Writing Pen

Shapes and Graphics

Sign Documents, draw figures, and add comments
PDFElemet
Download: App Store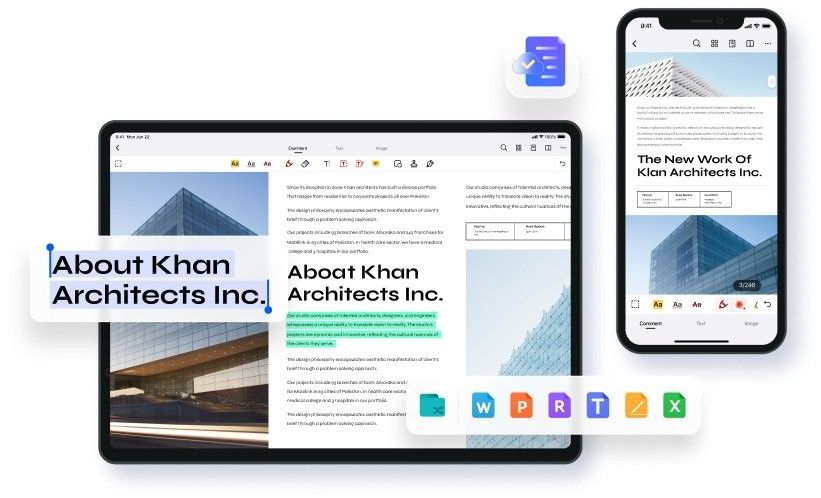 PDFelement for iOS offers a wide range of annotating tools from highlighting text to drawing shapes on PDFS. It enables users to stamp, strike out, comment, and so on. Furthermore, using PDFelement, you can fill out forms and inscribe your personal signatures with an iPad pro pencil through this application. Apart from annotating functionality, it allows users to recognize pages on PDF files and to store files in neat and clean catalogs.
Features
Fill forums directly in PDF format

Add shapes and stamps

Sign documents

Add annotations like highlights, comments, and strikethroughs
PDF Expert
Download: App Store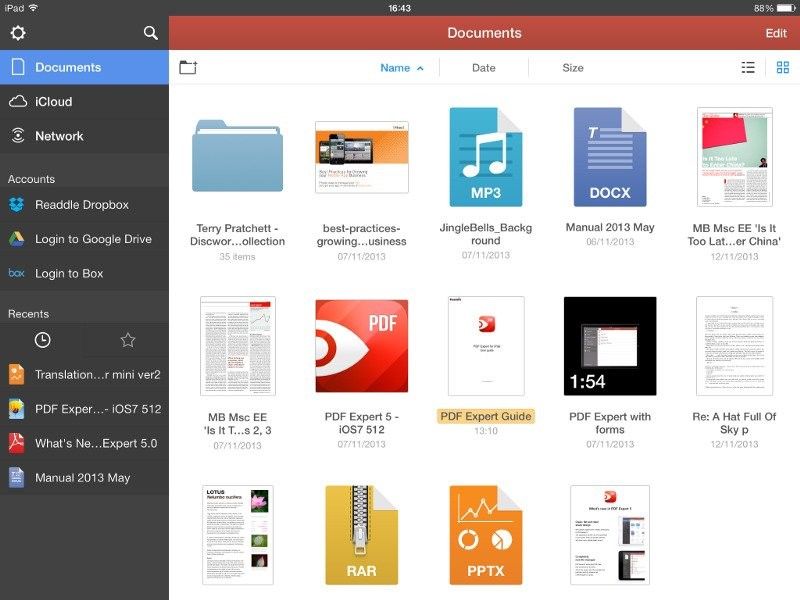 If you need a multipurpose PDF markup and annotation application, then PDF expert is for you. The free download enables you to do basic PDF reading, annotation, and digital signatures. However, in-app purchases offer astonishing other functionalities. Users can make customizable ''stamps'' for aft-used annotations (you can copy editors elsewhere), edit the structure of the PDF, zip together various documents, sync documents with iCloud, and protect your files through a password. The Pro upgrade allows you to use these tools one step further and you can crack open a PDF file and edit it then and there. If there is any spelling error in your ready-to-print PDF document or you can not go back to InDesign on your iPad, you can rectify it in the PDF straight away.
Features
A wide range of functions

Customize stamps

Synchronize documents with iCloud

Annotate PDF iPad files without any restriction
Notability
Download: App Store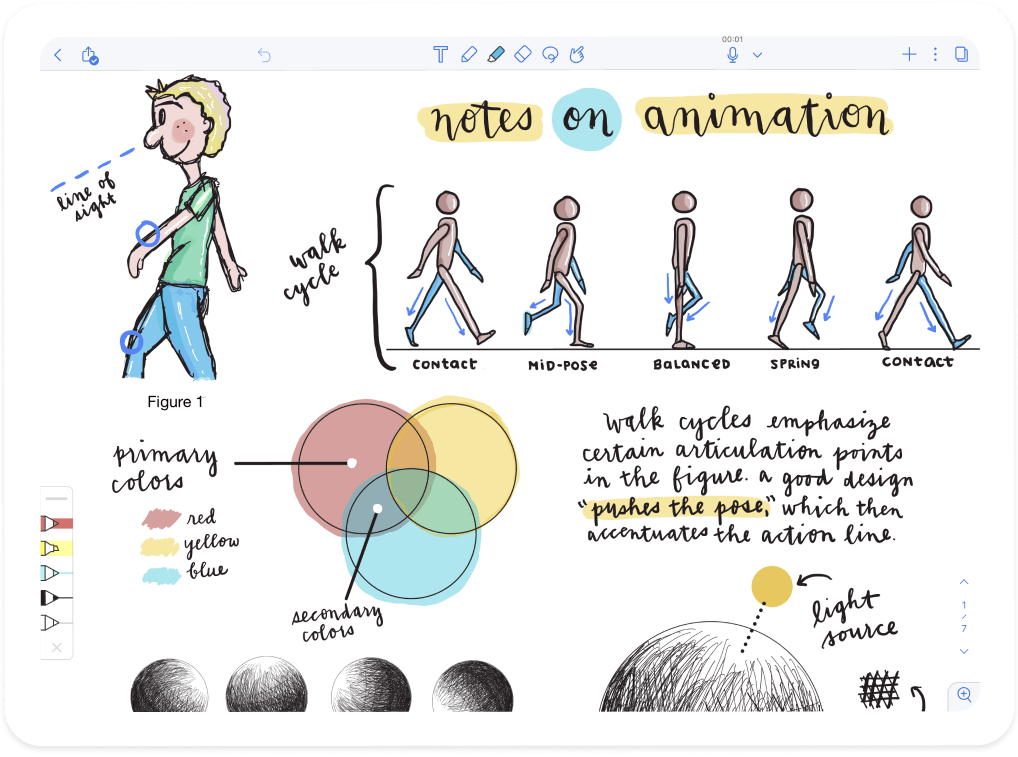 Though previously Notability was developed as a note-taking app, it has emerged as one of the best PDF annotation applications for iPad and iPhone. It has a pleasantly colored and well-organized interface. Notability merges PDF documents and notes management capabilities with premium PDF editing tools. It contains some excellent features like the ability to merge different PDF documents. You can merge together different PDF documents into one file and also retain the formatting. While editing the PDF document, you can import images and highlight the text with various colors. Furthermore, it contains bookmarking feature through which the user can easily find the required pages later. In these collaborative working times, if you have annotated the file and you think it merits being shared with colleagues, you can share it easily. It allows users to share the annotated document by sending a link to their friends or colleagues.
What makes it different from most other iPad annotation apps is its top-notch feature that is missing in other annotations apps. For example, it contains the handwriting-to-text tool. Granted, other PDF annotation apps for iPad do offer some features to make notes with your hands. But most of the time you're handwriting in the freewriting process on the screen is so illegible that nobody can grasp what have you written. On the contrary, Notability has artificial intelligence tools to recognize those handwritten notes and convert them into easily eligible text in computer fonts.
Moreover, one of its most advanced features is the audio recording tool. You can make voice notes and insert them into the PDF document. Usually, people find themselves most expressive in speech over writing. And due to time constraints, placing voice notes as annotation saves a lot of time. Therefore, providing such a facility for getting their thoughts down using their very own voices is a highly admirable feature. Apart from that, it has features to keep your private documents intact by placing passwords on the PDF files.
Features
Well Organized and User-Friendly Interface

Add images and graphics into PDFs

Various colors to choose from while highlighting
Documents by Readdle
Download: App Store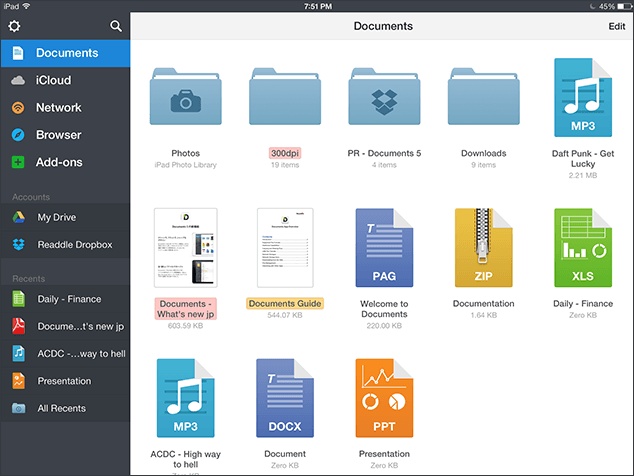 Documents by Readdle is a comprehensive annotation and file management app for gadgets using iOS and iPad. Documents by Readdle enables you to create and manage files of various sorts such as videos, images, epubs, and PDFs. One of its key applications is its PDF function tool. The app discards the myth that PDF files are uneditable. It equips users with tools to modify the PDF text as desired. Firstly, you can modify and adjust the text as you wish. You can increase the font size of a certain part of the text, embolden the text on the PDF, and highlight the text using a variety of attractive colors. You can change the font colors and change the font style as well.
As long as imaged-based PDFs are concerned, you receive the tools to get them extractable and convert them into the text-based file as well. It also enables users to highlight certain parts of such PDFs in a similar way as you do on a text-based file.
Features
Supports a range of formats

Edit and annotate PDF iPad text the way you want

Convert scans into text-based files
The applications mentioned above allow you to annotate the PDF files on a broader scale, from simply highlighting the text to adding voice notes to PDF files. It depends on you to decide how much you want to play with the PDF documents. Hopefully, the given description will help you determine what kind of annotation application on the iPad will serve your needs.
Reading and annotating PDFs on iPads can be challenging sometime due to relatively small screen and limited functionalities. To enhance your experience of reading, editing, and annotating the PDF file with a wide range of amazing features and tools, you can try using PDF Agile on your PC or Laptop. It is more than a simple PDF editor. With its features and options, you will not need any other tool or software. It will not only help you increase the efficiency of your workflow but makes things smooth and convenient for your team as well.