A PDF has great importance in the life of people and is a popular way to share content of many types. People depend on the PDF format because the files are small as compared to the source documents, and they retain the original formatting. However, by design, they are not as easy to alter as it seems.
Moreover, most people consider that PDFs can not be edited and are read-only. Well, this is not true. With the ideal PDF software, you can edit your PDF document easily. And here, we have listed the Foxit PDF editor that can be used to manipulate the PDF file.
Let's dive into the details:
How to Edit PDF in Foxit Reader?
Foxit PDF Editor is an ideal solution to produce great-looking forms and documents quickly and easily. It lets you modify the text font size, style, and color; not only this, you can easily make the fonts of your PDF file stand out by bolding, italicizing, or underlining them. In addition, Foxit PDF Editor lets you manage the PDF files by adding watermarks, headers, and footers to make them look more professional.
You can also merge, compress, rotate, and split the pages. It also lets you convert files in the formats like text, images, and Excel, to PDF.
Here's how to edit PDF in Foxit Reader:
Step 1: Open Foxit PDF Editor Online in the browser.
Step 2: Add the PDF file or drag and drop it that needs to get edited onto the home page.
Step 3: After uploading the file, you will be redirected to the editing page. Hit the edit tap present on the top ribbon and click edit text. Highlight those words that you want to modify or edit. If you want to add new keywords to your PDF, hit the Add text button.
Step 4: Once done with editing, go to file and click on save to save the edited PDF document. You can choose any location to save it on your device.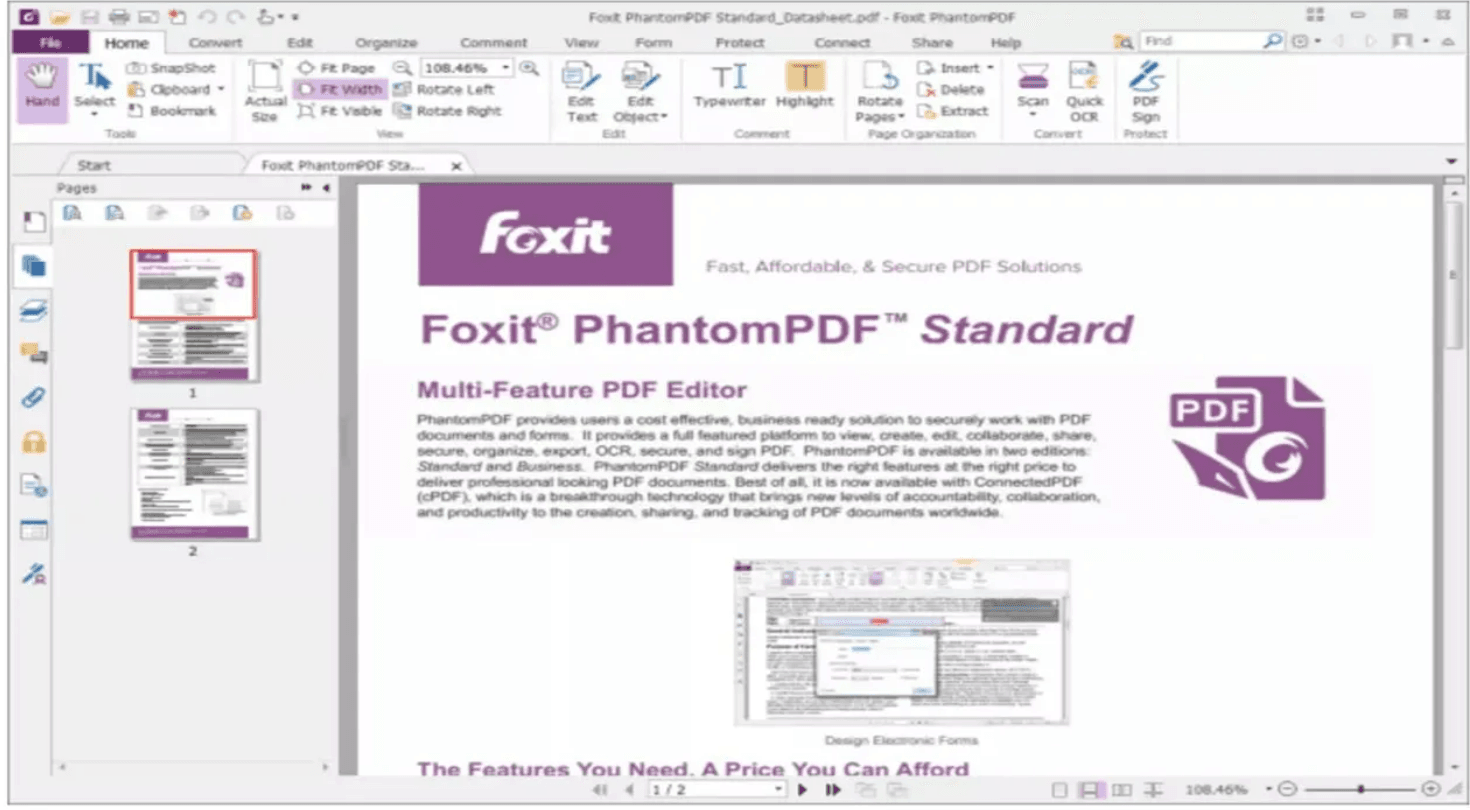 There's so much more that you can do with the Foxit PDF editor. Like if you want to ensure that the text flows properly between paragraphs and pages, you can use the Link&Join text feature. And if you need to modify the font, simply choose the text, and use the Edit tab to modify the font type, and size, or change the margins of a content block and change the spacing and alignment.
How to add text in Foxit PDF Editor?
Follow these steps to add text to your PDF in Foxit PDF Editor:
Step 1: Choose Edit -> Edit Content ->Add Text tool.
Step 2: Paste text or type in the area where you want.
Step 3: Select the format for the font.
Step 4: You can set the alignment for the text and other paragraph options in the paragraph group, including character scale and word spacing.
Best Alternative to Foxit PDF Editor
There are several alternatives available for Foxit PDF Editor in the market, but we have shortlisted the best among all, ie. PDF Agile.
PDF Agile is an amazing editor and convertor designed with simplicity to allow practical and fast working with PDF documents. With PDF agile, you can easily edit and convert PDF files into CAD, PowerPoint, Excel, and word while retaining the original formatting. Moreover, you can directly scan and edit the files quickly without returning to the original document. PDF agile provides a free plan that comes with limited features.
Editing with PDF Agile
PDF Agile is a platform where you can easily edit, secure, compress, or make a new PDF file. It allows you to write text across columns, paragraphs, and pages. Moreover, text size can also be modified depending on your requirements and makes it readable.
Not only this, it provides privacy so that anyone can edit their parts in PDF and save it in a private folder. And if you want to use PDF Agile offline, you can download it to end the window's conversion process.
Key Features of PDF Agile
Here are some essential features of PDF:
Reduce the file size of the PDF without sacrificing quality.

Page ranges can split a PDF into multiple files.

OCR: text can be extracted from images or scanned PDF documents.

Drag and drop page thumbnails to reorder PDF pages.

Easily convert PDF files to Word, Excel, PowerPoint, TXT, images, CAD, and vice versa while retaining the original formatting.

Instantly translate any text from one language to another in a PDF file.
Step-by-step guide on how to edit PDF with PDF Agile
You can easily edit a PDF file using PDF Agile. Follow these simple steps to accomplish editing using this platform:
Step1: Launch PDF Agile application and upload the file, which requires editing.
Step2: Select the Edit option. You can add texts, watermarks, images, or anything you want to remove, add or change in your PDF.