While uploading or submitting a document, if you ever stumble upon a situation where the aspect ratio isn't admissible or the images aren't of an appropriate resolution, you know that it's the right time to increase PDF size. When this happens, you automatically start searching for a solution which in most cases is a tool that has been designed to increase PDF file size in addition to making other modifications to it.
With that said, here you will learn about a couple of applications that are developed to make your daily PDF-related tasks easier, without shedding any money from your pocket unnecessarily.
Part 1: Best Free Tool to Increase PDF File Size on PC
Although several PDF creating and editing programs are available in the market, they are either paid or impose some branding watermark on the files that they produce for free. However, one software that has some integrity and maintains high standards in this context is PDF Agile.
Talking about PDF Agile, the app is a complete set of almost everything that you need when it comes to managing PDFs. For instance, PDF Agile can:
Convert documents to and from PDFs without compromising their quality or formatting

Edit PDF contents

Insert or delete pages

Rearrange PDF pages

Work as an efficient Optical Character Recognition (OCR) tool

Switch between different reading modes, and much more
To increase PDF size with PDF Agile, you can follow the step-by-step process that is given below:
Note: As explained earlier, although several factors are responsible for increasing or reducing the size of a PDF document, here you will learn how to increase the page dimensions of the file which will affect its overall size.
Step 1: Get to the Page Menu
Launch PDF Agile, go to File > Open and locate and open the PDF document, the size of which you want to increase. If you have set PDF Agile as your default PDF reader, merely double-clicking the file will do the job.
Once opened, go to Page from the menu bar at the top.
Step 2: Increase Page Size
Click Page Size from the ribbon. When the Page Size box opens up, choose your preferred page dimensions from the Standard drop-down list under the Adjust Size section. Alternatively, you can click to select the Custom radio button and enter the size manually.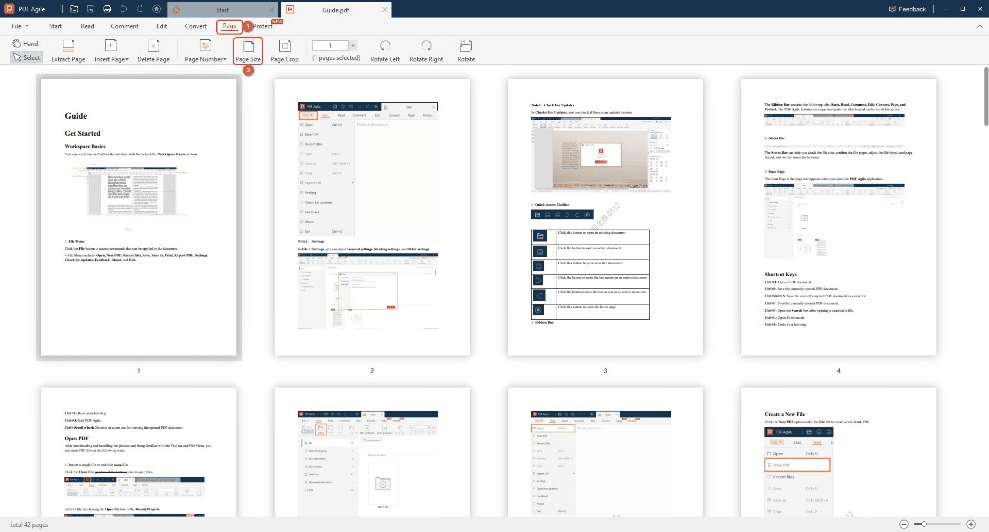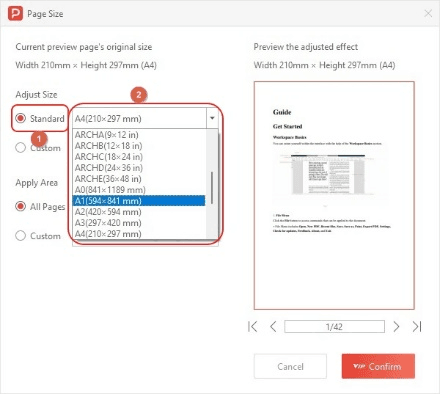 Next, make sure that the All Pages radio button under the Apply Area section is selected and click Confirm.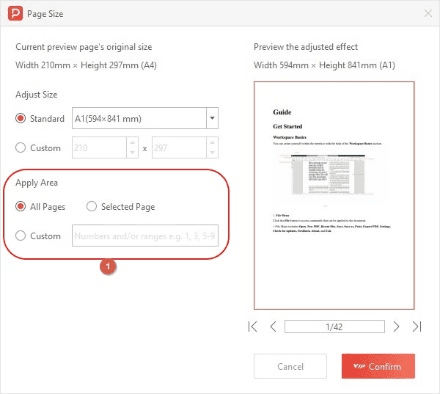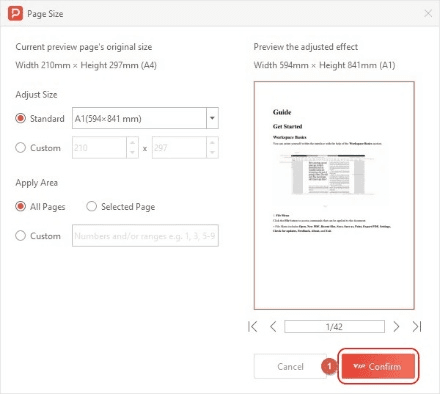 Step 3: Save as a New PDF File
Once the increment process is complete, go to the File menu and click Save as (or press Ctrl + Shift + S on your keyboard), and save the document as a new file to increase PDF size.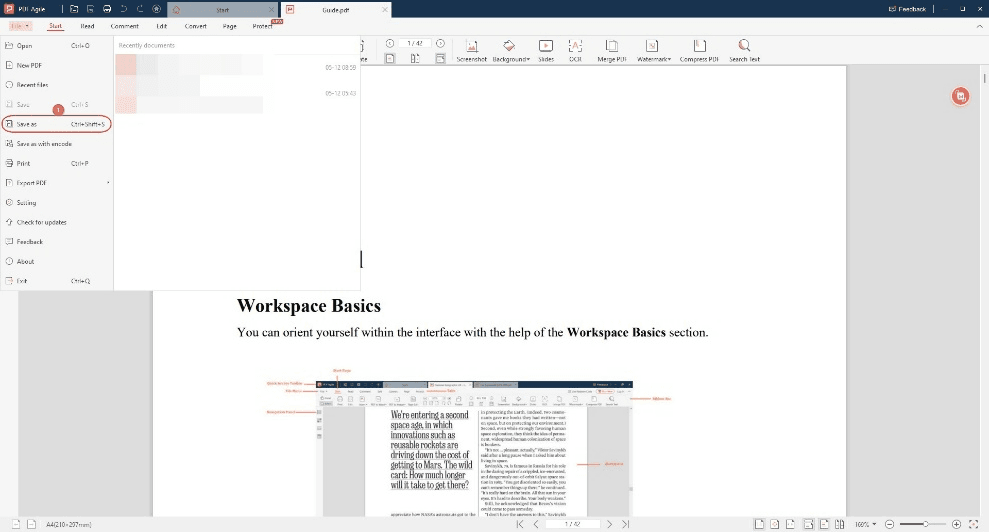 Part 2: Online Tool to Increase PDF File Size in Simple Steps
If you are not much of a technical person and/or don't want to install any dedicated program on your PC due to limited hardware resources, you can always go for some free web app that can do the job for you. Such online applications work on almost any computer as long as you have a supported browser and an active Internet connection to connect to their website.
Although you can choose any online app of your choice, in the following section, you will learn how to increase PDF file size using PDF2Go. You can go through the instructions that are given below to enhance the size of your PDF file:
Launch your favorite web browser (Google Chrome is used here for illustrations)

Go to the

https://www.pdf2go.com/resize-pdf

URL

Click Choose File from the landing page (or pick your preferred source location either by clicking Enter URL and entering the link of the document if it is already published, or clicking the Dropbox or Google Drive icon)
Next, you can choose your preferred page size from the Choose from a preset section, or click to select the Set custom page size radio button, and specify custom dimensions for the page according to your requirements
Once everything is done, click START to begin the size increment process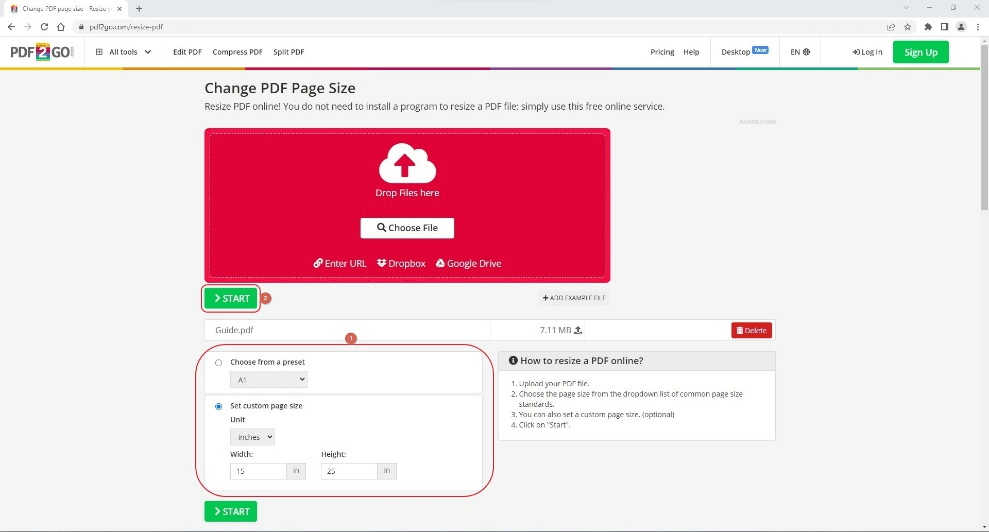 Download the output when done
Part 3: Other Free Ways to Increase PDF File Size
In addition to the above methods, you can even increase PDF size for free with the help of the tools that could be already present on your computer. Some common ways that are used by a majority of people across the globe include:
During Word to PDF Conversion
Because all recent versions of MS Word allow you to save the documents in PDF, you can define your preferred size at the time of saving. The process is as follows:
Make sure that your document is complete and ready to be saved as a PDF

Go to File > Save As

Choose a location where you want to save the document as a PDF

On the Save As box, choose PDF from the Save as type menu
Make sure that the Standard (publishing online and printing) radio button is selected in the Optimize for section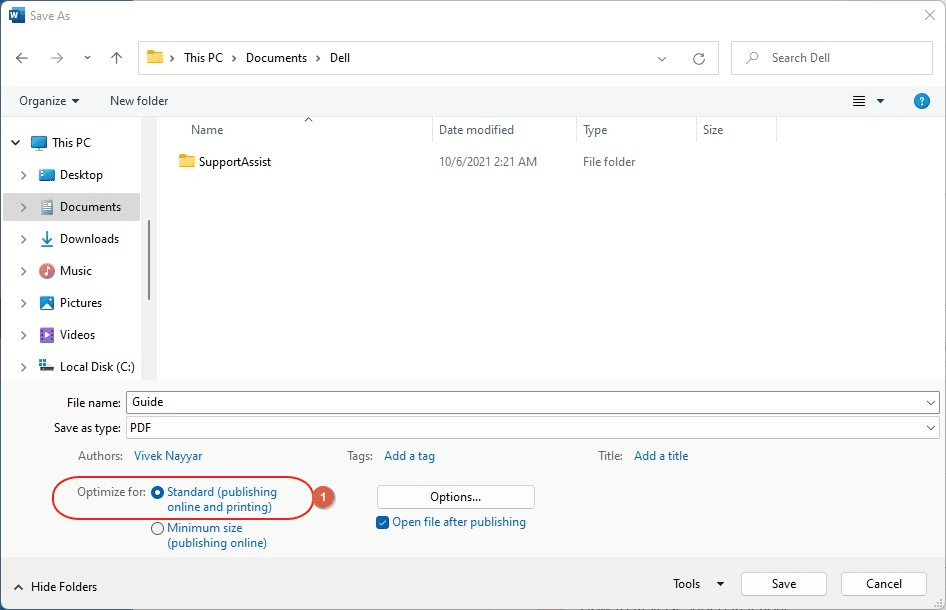 Click Save to save and increase PDF file size
Using Third-Party Application
This may vary depending on the type of application you are using and the platform of the operating system you have installed the program on. Nevertheless, the basic idea to increase PDF size remains the same where you must manage the page size or add high-resolution images that will eventually make the PDF file larger.
Using a Web Application
As explained in 'Part 2', the most convenient way to increase PDF file size is by using a free web program that doesn't require you to install any software on your computer, and all the processing is done on their server without giving overhead to the hardware resources of your PC. A quick online search will lead you to a plethora of such tools to make your tasks easier.
Conclusion
PDF Agile is by far the most trusted program for PDF treatments. Unlike other PDF management apps, PDF Agile allows you to add or remove pages, edit the contents, and/or manage the images with ease. The software also lets you convert the documents from other formats to PDF and vice versa without compromising the quality or layout of the file. Simply put, PDF Agile is a reliable app to increase PDF size with ease.