A PDF document can be edited, but it's not as simple as editing most other text documents on your computer. This is so because a PDF is a snapshot of a text document and not a true text document. Its name is Portable Document Format, and it is used extensively all around the world. You will not have any trouble altering a document if you are the original creator. You will not need any other software because you can change it in Adobe Acrobat, but it will be challenging if you are not the author.
When you get an email from Gmail, you have a number of alternatives to consider. First, you can save the attachment locally on your hard drive. Second, you can read the downloaded file later from your local computer because it is in PDF format. Third, you can use a number of downloading options while attempting to read the email given to you. For instance, you might want to view and manage PDFs in your Gmail account. Fourth, you have a number of options in Gmail to control the PDF attachments you get. Finally, you can use a number of tips and tactics to manage Gmail on your account.
How to Edit PDF File in Gmail
The PDF viewer included with Gmail allows users to view PDF files in their desktop web browser. First, select "View" to open the PDF in your web browser. Then, you can zoom in or out and resize the PDF to fit the screen. Additionally, you can search for the text by selecting "Search the Document" from the "File" menu after clicking. Afterward, enter the text in the search field.
The plain text view is the second way to open an email address in Gmail. If you've tried opening an email using the PDF option, you've probably noticed that there's also a plain HTML option. It can be seen in the menu where you open files in PDF format. You may view the files as web pages by choosing the pain HTML option. The first option is preferable when you compare the two ways to open the PDF file. You may easily use advanced email management features if you open Gmail documents in PDF mode.
If the PDF file was scanned, you could convert it to edible formats with Google drive. However, while the two options above allow you to resize the size of PDF files, you cannot navigate how to edit PDF files in Gmail, so you can use the Wondershare PDFelement tool to open the PDF file and edit freely.
Step-by-Step Guide on how to Edit PDF File in Gmail
Step 1. Open the email with attached PDF file. Click the PDF attachment to download the PDF file.
Step 2. Download and install the Wondershare PDFelement.
Step 3. Open the PDF File. Select Edit. Add text, images, watermarks or whatever you want to your PDF file.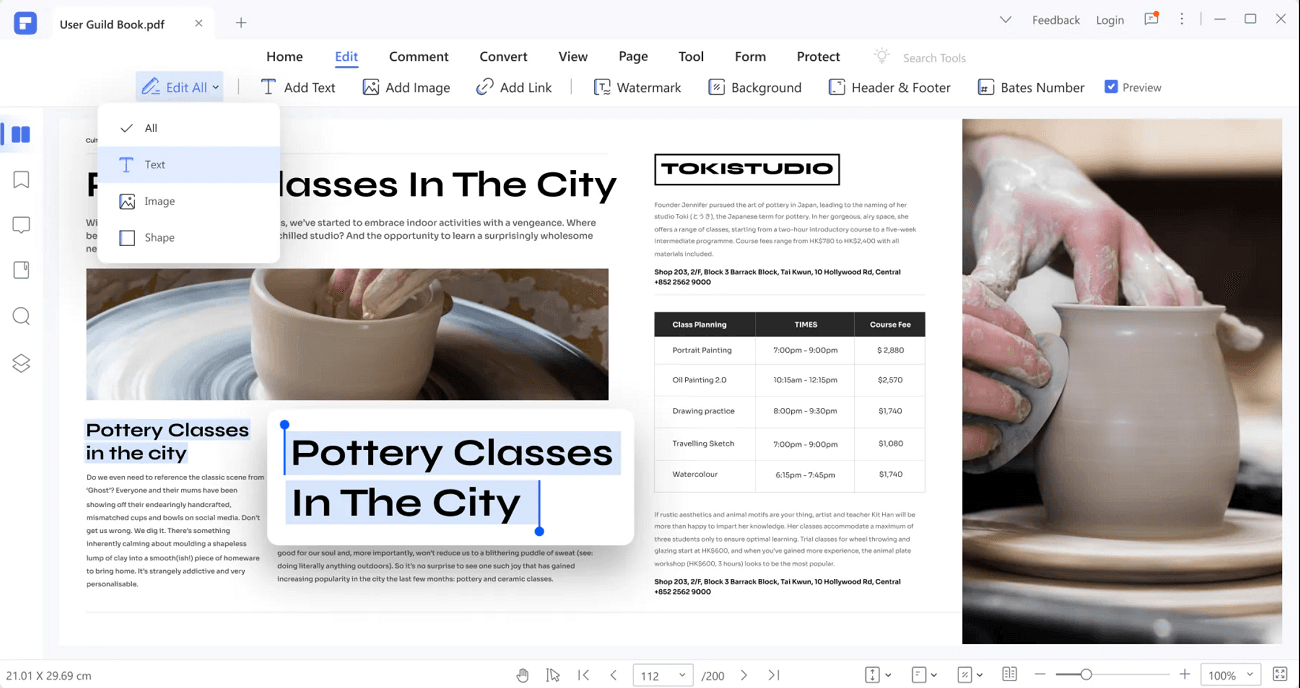 FAQs About Editing PDF File in Gmail
Q1. Does Gmail have a PDF editor?
Yes. Gmail has a PDF viewer that allows users to view PDF files on the browser. It is also connected to free PDF editors that allow you to navigate how to edit PDF files in mail. You can perform basic alterations in your PDF file or even sign in to Google Docs, open your folder, and begin editing.
Q2. How do I edit a PDF sent to me?
To do more in-depth editing outside Gmail, you should convert your PDF file to word with a PDF converter. Open the new Microsoft Word document and make your edits. Save when you are done and use a Converter to change the Microsoft Word document to PDF.
Bonus Tips: Edit PDF Easily with PDF Agile
PDF Agile is an easy to use yet powerful PDF editor. With this tool, you can easily edit, compress, secure, and create a new PDF file. It allows you to write text across columns, paragraphs, and pages. In addition, you can modify the text size to something desirable and easy to read.
This tool allows you to change an image to PDF easily. It allows privacy so students, teachers, parents can edit or annotate parts within the PDF and save to a private folder. If you want to use the tool offline, you can easily download the application to complete the entire conversion process on your Windows.
Key Features of PDF Agile
You can protect your PDF file with electronic signatures, watermarks, and passwords on mobile online or with the app.

The redact information feature allows you to cover sensitive information in your image before converting it to PDF.

You can convert a PDF file to a beautiful presentation

Convert PDF files to different formats including Word, Excel, PowerPoint, TXT, CAD, and images while preserving important data.
Step 1. Launch the PDF Agile application. Open the file you wish to edit.
Step 2. Select Edit. Add text, images, watermarks or whatever you want to your PDF file.