Part 1: Introduction
PDF stamps are a powerful tool for protecting documents; using a stamp is a quick and easy way to assign a status to a file. It is for generating PDF statuses with a logo, a company name, contact information, or even a unique identifier.
Stamped PDFs are one of the easiest ways to add more information to a PDF without modifying its content. Thus, it is one of the most used PDF editors, with many users looking to stamp PDF templates to create custom stamps. It has become a state-of-the-art PDF editing function. If you want to add a stamp to a PDF document, this article will show how to add a stamp to a PDF.
Part 2: How Can I Add a Stamp to a PDF file in Windows?
Stamps are a valuable tool for organizing documents and keeping track of their status. Stamps help to summarize the status of a document quickly. Stamping PDF files, for example, is becoming increasingly popular with professionals who want to create professional-looking documents. You can indicate whether a person has submitted a report or accepted it for publication. It also checks if the information is confidential or needs review or correction before release. But a stamped document is not always easy to create.
To add stamps to PDFs effortlessly, you need a tool designed for editing PDFs, such as PDF Agile, which allows you to create custom stamps and add PDF stamps online and with Windows. With this professional PDF editor, you can add a stamp to a PDF file for almost any purpose, or you can create one. The following steps show you how to stamp a PDF file.
PDF Agile is the best tool that gives you an easy solution to stamp PDF documents.
2.1 PDF Agile
Method 1: How to add stamp in PDF
Step 1: Download PDF Agile, click on the "Open files" button and select a file from your device to open the PDF file to which you want to add a stamp.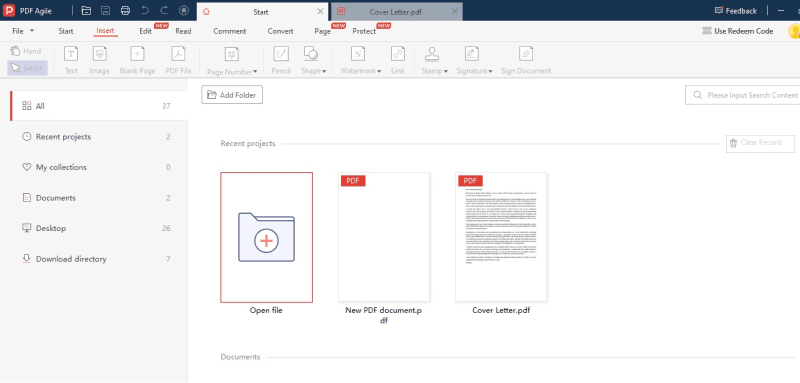 Step 2: Choose Stamp from a range of options when you click on the Insert tab. If you want to pick a stamp that has already been made, click the desired Stamp, click and drag it to the area where you want to put it, and release the mouse.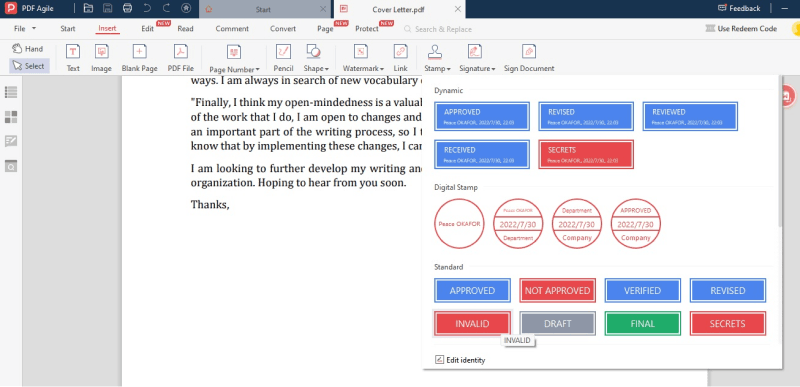 Step 3: If you select "Custom Stamp," you can create your stamp PDF: a small window appears asking you to type the name you want to use for the Stamp and the image you want to use. A handwritten signature, photo, object, etc., could be used as an image from your stored pictures. Once you have selected the image, you wish to use, upload it, and click the "Ok" button. Then, it will get saved as a stamp. Then, return to the Stamps tool and select the Stamp you just created.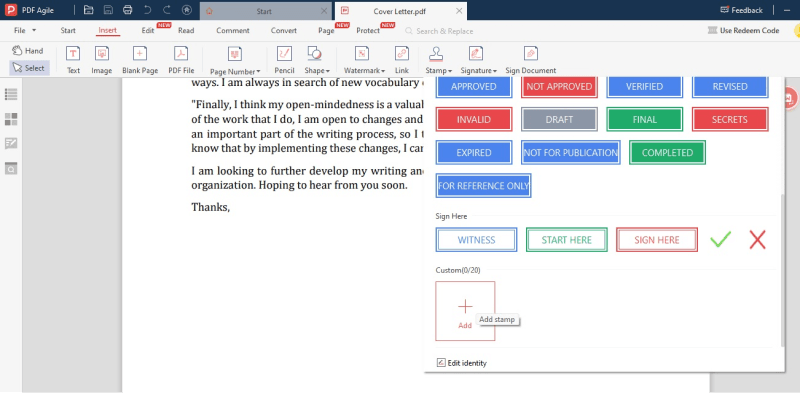 Method 2: How to edit stamp in PDF
Once you have created a custom stamp across your PDF document, you can also manage them after they have been created: on the pop-up window, you can create a PDF stamp with editable fields, custom stamps, and delete stamps.
Step 1: PDF Agile allows you to modify the information that appears on the digital stamps by going to the "Stamp" option and choosing "Edit Identity."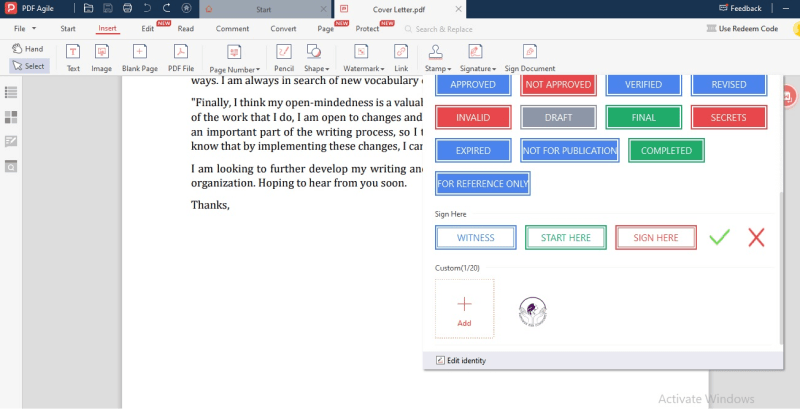 Step 2: The next window will allow you to change the name, company, and department. Once done, tap Ok to close the menu.

Step 3: Export and Save the stamped PDF document on your device.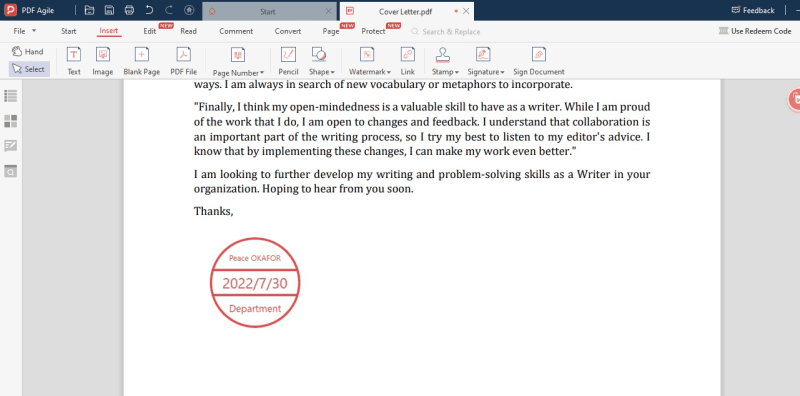 2.2 Adobe Acrobat
Step 1: Open the PDF file on your computer and click on "File," and then "Open" on the Adobe Acrobat application on your computer.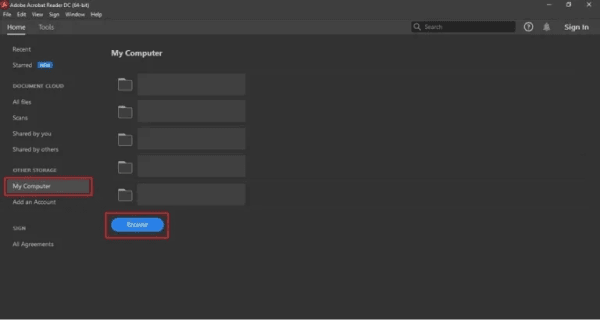 Step 2: On the right-hand side of your screen, click on "Comment" and click on it. Click on the "Add Stamp" button to select the type of stamp you wish to buy.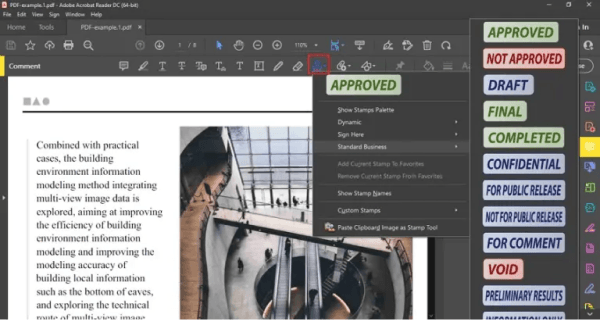 Part 3: How to Add Stamp in PDF Online
PDFCreatorOnline
This online tool lets you add a stamp to PDF files easily. You upload your PDF file, add your Stamp easily, and then download the File within minutes.
Step 1: Select the PDF file to which you'd like to add a stamp or drag it from the page to be stamped.

Step 2: Enter the text for your stamp and select your preferences for font, size, rotation, opacity, and color.
Step 3: Click "Add stamp" to download the PDF file with the added page stamp.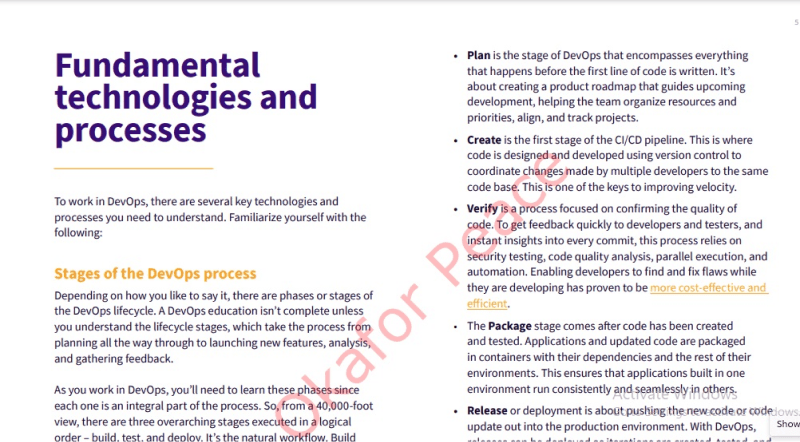 Google Doc
Google Docs is one of the preferred tools to answer how to add digital Stamp to PDF without installing Adobe Acrobat or other third-party software. Google Docs may not be the most suitable tool to add PDF stamps online, but if you get used to editing PDFs in Google Docs, there is a way to add PDF stamps to Google Docs. There are two ways to add a stamp to a PDF in Google Docs: by inserting the stamp image into the PDF or drawing a stamp from scratch. To draw a stamp in Google Docs is the same process as Mac Preview; use the Drawing tool under the Insert menu. In this case, however, you can add the Stamp to PDF by inserting the image into Google Docs, which is easier to use; though, the stamp image must be in transparent PNG format.
Step 1: Perform a right-click on the PDF file and open it with Google Docs.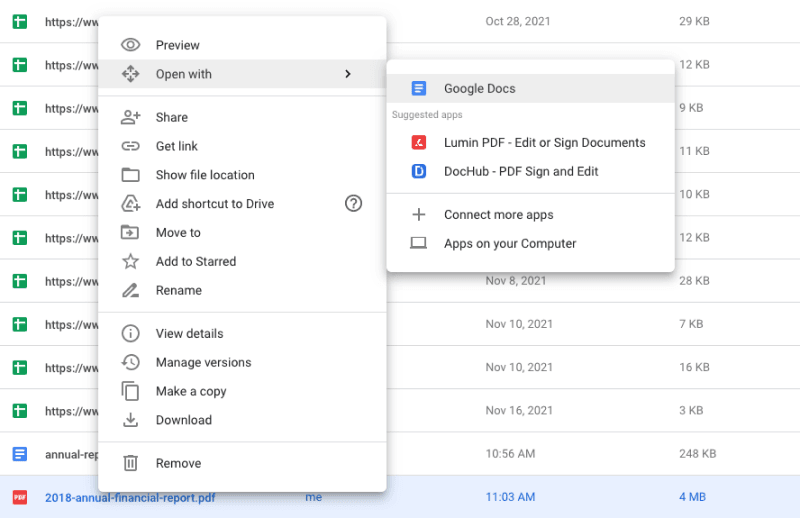 Step 2: Then, import your stamp image using Insert>Image>Upload from the computer.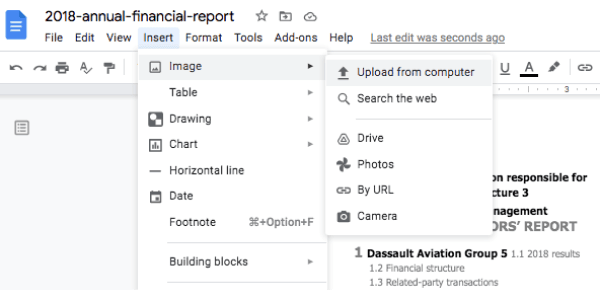 Step 3: You can change the position and size of the stamp.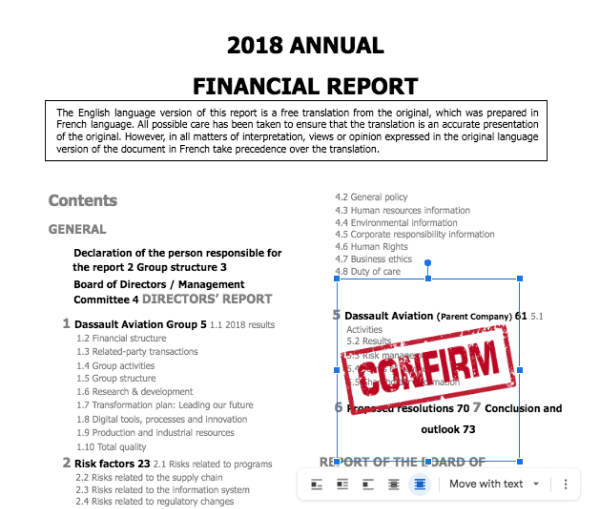 Step 4: Finally, click File>Download as PDF to save the stamp on your PDF.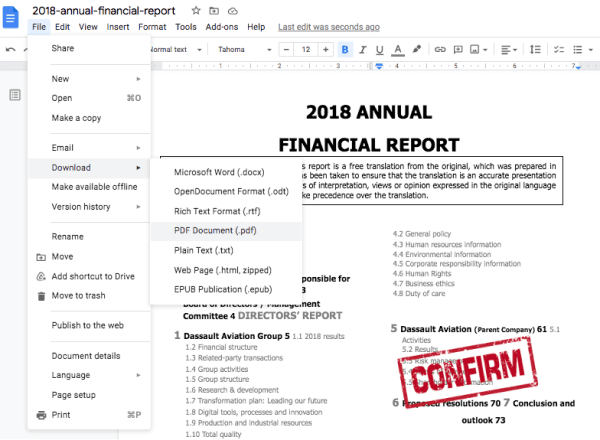 Part 4: How to Add a Digital Stamp to PDF on Mac
As a Mac user, you might wonder if Mac Preview, the default PDF tool for macOS to view and markup PDFs, can add a stamp to a PDF. Yes, it can, but we will have to create a stamp from scratch since there is no predefined stamp template for quick insertion.
Step 1: With Mac Preview, open the PDF and click on the Markup Toolbar>Shapes button to add a regular box to it.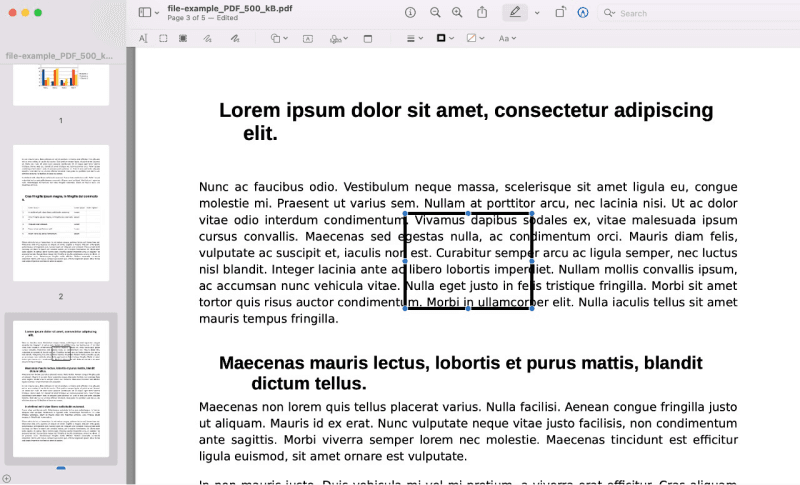 Step 2: Choose the border color for the box, choose the thickness, and decide whether the lines of the box are smooth or rough.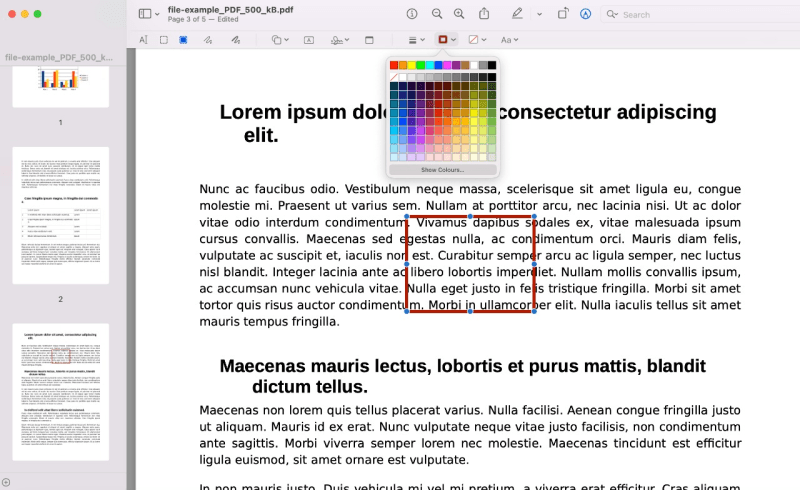 Step 3: Double click within the box to enter the text for the stamp, and then click on the Text Style icon to modify the text properties.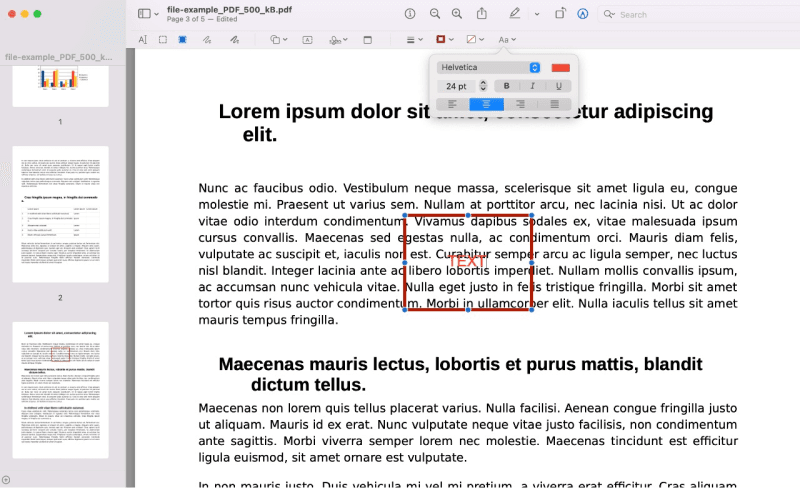 Step 4: Finally, click File>Save to save the stamp in your Preview.
Thus, now you know how to add stamp to PDF using the best online and desktop software.
Part 5: FAQs About Stamp in PDF
1. How to add a signature stamp in PDF?
A signature stamp is a type of annotation for PDFs. Users can include stamps in a PDF-editing software with an annotation feature, such as PDF Agile, Adobe Acrobat, Mac Preview, or online free tools.
2. How to put an approved stamp on a PDF?
Step 1: Install PDF Agile, click the "Open files" button and select a file from your device to open the PDF file to which you want to add a stamp.
Step 2: Select Stamp from the list of options when you click the Insert tab. If you want to place a stamp that you already have, click the desired Stamp, click and drag it to the area you wish to, and release the mouse.
Step 3: Save the stamped document
Part 6: Conclusion
Thus, as we saw, many methods exist to answer how to add a digital stamp to a PDF. However, PDF Agile is the best bet to add copy stamps for PDF quickly and easily due to its latest technology and availability as an online and desktop tool. Moreover, it includes all necessary PDF tools, Convert, Create, Merge, Split, Annotate, Protect, Unlock, and Compress. These fundamental tools that PDF documents need the most are worth trying.