Introduction
The healthcare value chain is an economic development framework that can increase the efficiency of the healthcare industry by visualizing the primary and support activities of the value chain to deal with constraints and improve the value of healthcare. Porter's value chain analysis is a tool that allows any business to reduce the production cost of their services and products and enhance the efficiency of each process to increase profits. Although value chain analysis is mainly used in the manufacturing industry, it is also an excellent tool for improving the quality of access to healthcare services as the complexity and size of the sector increase every day. The healthcare industry deals with medical equipment, supplies, insurance services, and medical devices. These products or services reach patients and customers through a chain of activities that you can evaluate with the value chain analysis. We will discuss the details of the healthcare value chain and learn how PDF Agile makes it easier for you to convert PDF reports.
Background of the Healthcare Industry
The healthcare industry is one of the world's fastest-growing industries consisting of healthcare centers and companies that manufacture supplies and medical products, devices, and equipment and provide various health-related services like diagnosis, prevention, treatment, and health insurance. The industry consumes more than 10 percent of the gross domestic product of developed countries. The start of the healthcare industry is the home remedies and medical practices that people perform to deal with illness or other health issues. It was mainly trial and error back in the day, and it is still the same only the stakes are much lower because we have modern technologies that help us test the reactions and effectiveness of medicine and practices. Every country has different healthcare systems.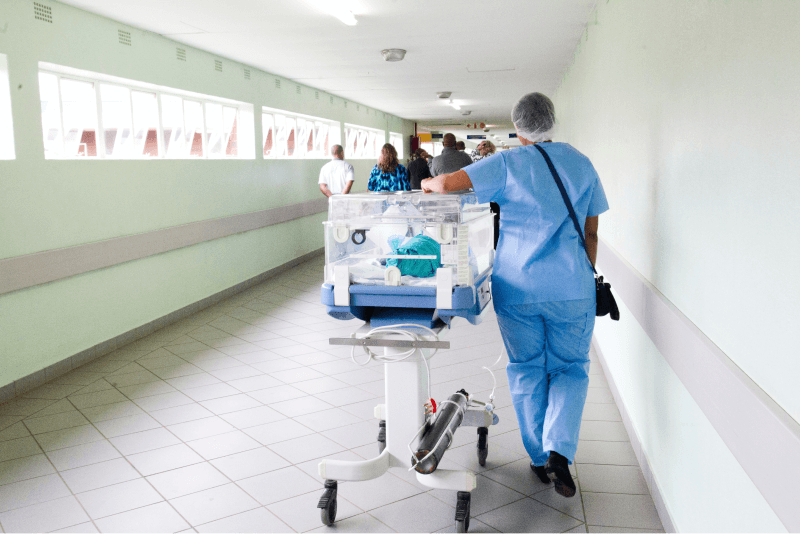 Image Source: upslash.com
Primary Activities in Healthcare Industry Value Chain Analysis
The healthcare value chain outlines five primary activities essential for a compelling value chain analysis.
Inbound Logistics
The healthcare sector covers various companies, product manufacturers, and service providers. The healthcare value chain can quickly become complex because many actors play different roles in different value chain processes. To cover the primary activities in the inbound logistics of the healthcare industry, we can separate the industry into various sectors based on pharmaceuticals, healthcare centers, and medical device equipment manufacturers. This way, we can easily create a supply chain for multiple processes in each sector. For medical product manufacturers, inbound logistics includes the activities and processes involved in purchasing, receiving, storing, and managing raw materials from suppliers to create products. The same concept applies to medical service providers.
Operations
Operations of the healthcare industry are different for each healthcare sector. The healthcare industry operates locally in each state, public or private. It is one of the world's largest industries in terms of revenue and buyers. In the pharmaceutical sector, the manufacturing of medicine and supplies follows the supply chain, where companies deliver final products to hospitals, healthcare centers, and pharmacies. The healthcare value chain of hospitals and medical clinics includes step-by-step management of the process where the patient registers, gets diagnosed and follows medication. The staff also has to manage patients who get admitted to the hospital.
Outbound Logistics
Outbound logistics are crucial in the healthcare value chain. By efficiently managing every activity and process in the outbound logistics, healthcare providers can increase the value of their services and reduce the waste of resources, materials, services, and goods. It helps them minimize the cost of their services while adding value for the customers. To ensure there is no waste of resources, healthcare providers manage the logistics according to the number of customers and actual necessities. If not managed properly, it only increases the cost. Medicines and supplies also expire early, and suppliers have to store them in the prescribed conditions, like room temperature, no sunlight, etc.
Marketing and Sales
The marketing and sales sector of the healthcare industry requires improvement because their marketing is similar to other industries where big-name companies market their products and advertise them through media etc. Some of the world-known pharmaceutical companies also use the same method, which is why medical stores, hospitals, and healthcare centers refer their medicine and supplies to their patients. This way, if there is a company whose products are the best, its sales will still depend on outside factors and the marketing strategies of every company. Online sales through E-commerce, with the help of advanced technology, help the healthcare industry as anyone can buy medical equipment, services, and supplies online.
Services
In the healthcare value chain, services determine the competitive advantage because new practices, more effective medicine with zero side effects, and good-quality medical services are introduced in the market every day. With this constant development in technology, people prefer healthcare services with modern equipment, techniques, and devices. They also provide modern services like online appointments with doctors and specialists to figure out the problem before the patient needs to visit any healthcare center. This leads to each company creating new strategies and a vast range of tools to add value to their healthcare services.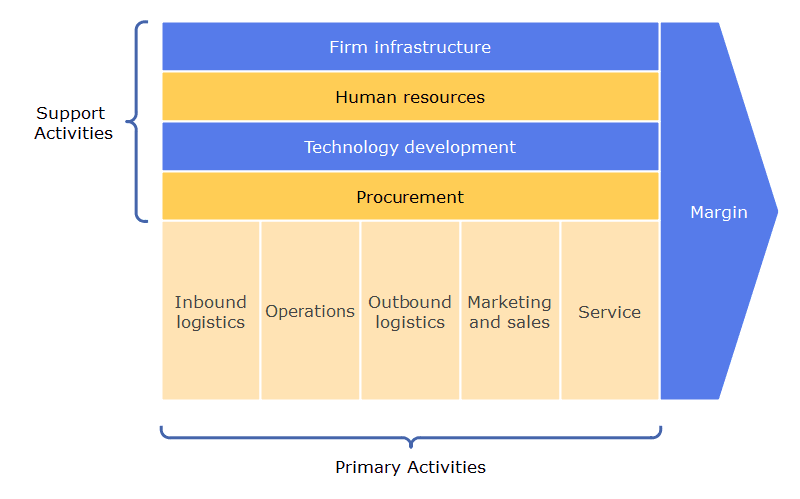 Support Activities in Healthcare Industry Value Chain Analysis
The value chain analysis for the healthcare industry highlights four crucial support services.
Infrastructure
The organizational infrastructure of any company in the healthcare industry depends on the sector in which they belong and the type of services they provide. The infrastructure is mainly based on registering, diagnosing, prescribing medication, exercising, surgery, managing each patient, and observing their rehabilitation progress for healthcare centers and hospitals. Pharmaceutical companies manufacture and supply medicine, so their infrastructure is mainly based on increasing supply chain efficiency. Medical insurance companies use intermediaries to advertise their insurance packages to customers. The only similar actors in the health value chain are the customers and patients and the company's status as public or private.
Human Resource Management
Human resource management in the healthcare value chain is essential for any organization in this industry to get a competitive advantage over its rivals. Healthcare services always include well-trained, highly-skilled, well-experienced, and specialized human resources because many services of healthcare sectors deal with the viability of patients. That is why every company uses value chain analysis to integrate better human resource management and hire specialists that can add value and name to their services. The healthcare industry also efficiently manages its employees with handsome salaries, partnerships, and job perks to make sure everyone is loyal to their company.
Technology Development
Technology development plays the biggest role in adding value to other primary and support activities of the healthcare value chain. The methods for storing and distributing medical products and equipment have improved due to advanced technology. Every healthcare organization increases its sales and services with new equipment and the development of new medical practices and routines. With technology development, companies can get a competitive business advantage over other efficient human resource management and infrastructure. Advance technology helps healthcare providers develop techniques to provide high-value services to customers and patients and maintain a low cost.
Procurement
As healthcare providers introduce new medical practices and efficient equipment that works better than their older versions and provide a complete solution for each medical issue, every company demands that new technology and materials be procured through the market to deliver those services. Procurement supports activities like technology development, inbound logistics, and medical research. Healthcare companies enter new contracts and develop relationships with related parties to gain a competitive advantage over others. With healthy collaboration between suppliers and healthcare companies, they get materials at a low cost to provide advanced services without increasing the budget.
Convert PDF Report Using PDF Agile
A PDF editor is the best tool to edit PDF reports and documents without going through various complex steps to complete your task. Due to the format of PDF documents, it is hard to extract text or a specific portion of the PDF that you require for your project or report. Although it takes time to edit these reports, everyone still does it because you can easily get key information on any topic through a PDF document. PDF Agile solves this problem with its innovative features and an easy-to-use interface similar to Word that supports multiple formats. Now, you can edit, merge, convert, and compress your PDF documents without wasting time and easily convert PDF files to Word, Excel, PPT, TXT, image, and CAD formats.
Key Takeaways
Value chain analysis is a visualization tool used by companies of various industries and business sectors to identify the primary and support activities they can improve with advanced technology and strategies to make their business more profitable and provide more value to their final products. Healthcare value chain analysis is the best example of how any company can improve its healthcare services while maintaining the same budget to gain a competitive business advantage using the correct value chain strategies. PDF Agile is the best PDF editor and convertor, with many creative tools for editing, converting, and compressing your PDF document. It supports multiple formats and comes with an easy-to-use interface.
References
PSP One "Applying the Value Chain Framework to Health Sector": From https://banyanglobal.com/wp-content/uploads/2017/05/Applying-the-Value-Chain-Framework-to-the-Health-Sector-1.pdf

AHRMM "The Healthcare Value Chain: Producers, Purchasers, and Providers": From https://www.ahrmm.org/resource-repository-ahrmm/the-health-care-value-chain-producers-purchasers-and-providers-1

Hitrustalliance "The Modern Healthcare Value Chain": From https://hitrustalliance.net/content/uploads/2020/05/Healthcare_May21_100PM_ModernHealthcareValueChainCareCentricSupplyChain-HectorRodriguez-20190515.pdf