Introduction
Walmart has stood up to the test of time in providing a wide variety and high-quality products in all their stores while still maintaining low costs. As one of their slogans (Everyday Low Price) states, it is clear that the company has put in place effective strategic plans enabling them to execute its operations efficiently. Walmart value chain analysis is one of the strategies that has carried the company this far, making it the largest retailer globally.
Value chain analysis entails all activities from production to sales that add value to the business and customers. Value chain analysis activities can give a company a better competitive advantage over its competitors. Value chain analysis can enhance the flow of products, boost customer service, maximize profits, and minimize expenses.
Background to Walmart
Walmart is a discount department store founded in 1962 by Sam Walton. The first shop opened in Rogers, Arkansas, in the USA. Founders had a mission of selling their products at the lowest price possible to improve lives. More notable founders of Walmart were H. Lee Scott and Tom Schowe.
Walmart operates about 11,700 stores and clubs under 59 banners in 28 countries and eCommerce websites. Walmart is the largest private employment firm in the US, boasting almost 1.6million workers in the US alone and about 1 million others across other countries.
More than 100 million customers shop in Walmart stores worldwide every week. At the end of its past fiscal year, Walmart had made $575 billion in revenue.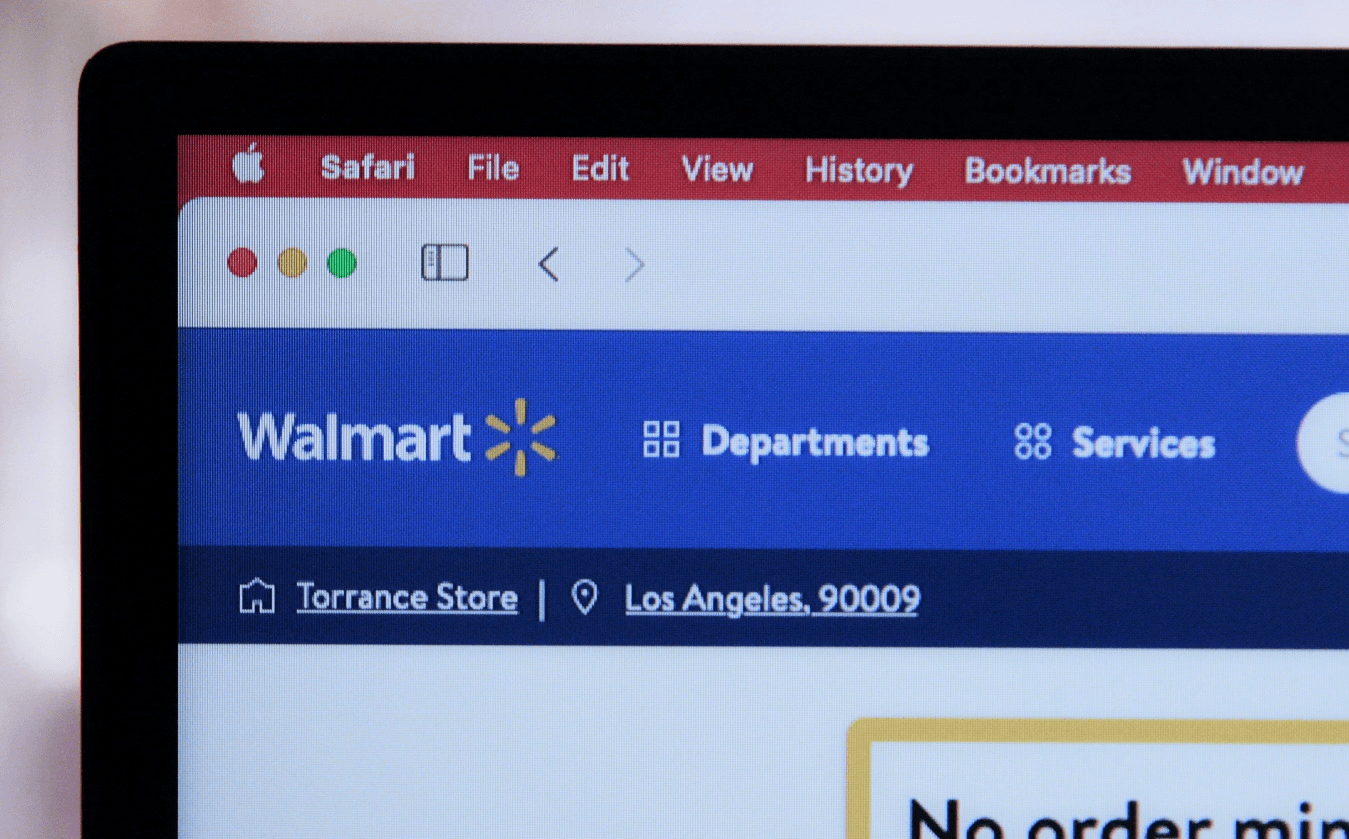 Source: unsplash.com
Primary Activities in Walmart Value Chain Analysis
Important: Porter outlines five primary activities that can be important in value chain analysis.
Inbound Logistics
Inbound logistics analysis focuses on the whole process of converting raw materials into finished goods. Value chain analysis of Walmart promotes long-term relations with vendors as their input is necessary for receiving, storing, and distributing products. It also ensures timely delivery of products from the suppliers. This organization has also established strong supply chain management and inventory management to track all the supply chain costs.
Operations
Operations analysis involves both service and manufacturing operations. Operations tasks include repair and maintenance, assembling, packaging, etc. Operations analysis boosts efficiency by reducing operations costs in every possible way and improving productivity. As a result, Walmart can set a strong foundation of competitive advantage, increase profits, and achieve its economic goals. Services in all Walmart stores run as scheduled any day, everywhere, and it maintains uniformity in pricing across all stores.
Outbound logistics
Outbound logistics analysis refers to every activity conducted from order processing and delivery to the appropriate warehouse. A Walmart value chain analysis includes optimizing each activity by exploring every possible source of a competitive advantage which is crucial in ensuring that they achieve their business goals. Management of outbound activities minimizes supply chain costs, allows timely delivery, and promotes customer satisfaction. It, therefore, promotes the overall growth of the firm.
Marketing and Sales
''Save money, live Better'' is a slogan that has been used as a marketing strategy since Walmart began its operations. But providing high-quality products and selling them at low prices is not enough. That is why Walmart has gone a step further to invest in sales and marketing activities. Some marketing activities include promotions, quoting, and advertising. Using the best sales channels and creating a good relationship with channel members has also helped the company reach and connect with the right audience. In return, it has distinguished Walmart from other competitors.
Service
How a company treats its customers determines their loyalty. Walmart has gone out of its way to maintain customer loyalty by increasing salaries and keeping workers motivated, thus offering the best pre-sale and post-sale services. Timely support services have played a chief role in building its reputation.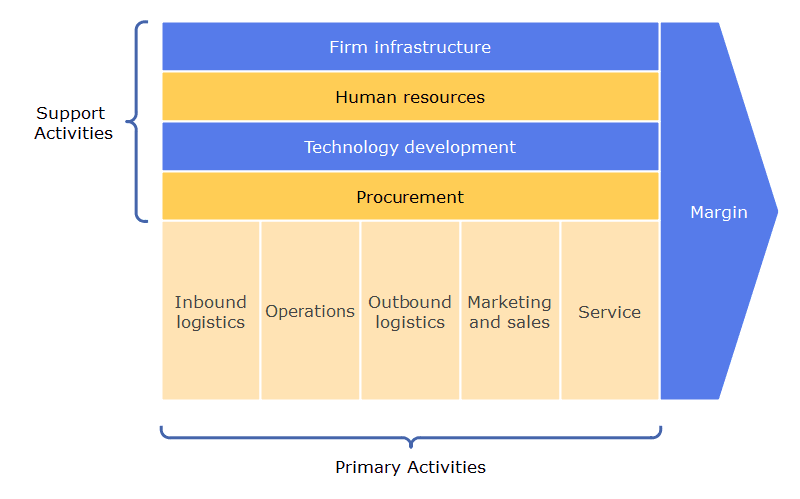 Support Activities in Walmart Value Chain Analysis
Important: Porters Outlines four different support activities that can be important in value chain analysis.
Infrastructure
A firm infrastructure contributes to the overall success of any company, and Walmart is not an exemption. Walmart value chain has different infrastructural activities, including handling legal matters, quality control management, accounting, etc. Walmart manages its affairs from its headquarters offices in the US. All stores have to report to these headquarters. If Walmart can run its infrastructure well, it can maximize every opportunity offered by the value chain analysis. It can maintain its competitive position in the retail industry.
Human Resource Management
The highest percentage of managers in Walmart stores began at the lowest-ranked position in the company. It shows that Walmart offers its employees an opportunity for career advancement. Walmart also offers competitive remuneration and comprehensive benefits, which has caused it to be among the top 100 employers. Walmart allows its employees to express their opinions without bias. Walmart stores advertise their job opportunities publicly, with the local stores being in charge of the entire recruitment process.
Technology Development
Technology is the top supply chain strategy used in Walmart stores. Technology solutions allow it to accurately keep on track with inventory levels, predict demand, manage customer relations, and create an efficient supply chain management. Technology developments in Walmart include barcodes, savings catcher, Retail links, and many more. Advanced technologies ensure that Walmart's value chain analysis is the best.
Procurement
Procurement activities include purchasing raw materials, machinery, equipment, and any supplies or asset contributing to the production of the final product. Walmart's procurement activities have led to a perfect inbound, outbound, and operations value chain.
Convert PDF Report Using PDF Agile
Users download data online in PDF, PPT, or images. PDF converter software comes in to help you convert a PDF report into various file formats such as docx, ppt, jpg, xlsx, png, and vice versa.
PDF Agile has intelligent editing and conversion tools to help you edit, convert, and create PDF files from various file formats and vice versa without interfering with the original formatting. A user can transform information from education to publishing, technical, legal, and finance. They can also protect their PDF files with a password.
Key Takeaways
The Walmart value chain analysis has proven that it is possible to explore every source of competitive advantage and achieve every goal without lowering the profit margin. By viewing how Walmart has applied the Porter value chain model, other businesses can adapt the same for their operations and reap accordingly. Companies need a PDF converter to alter their documents fast and accurately. PDF Agile is here to assist you with your PDF work and file conversion.
References
Monica Mishra, 'Walmart Value Chain Analysis,' slideshare.net, [online]. Available at: https://www.slideshare.net/monicamishra10/walmart-value-chainanalysis Accessed 01 May 2022)
Arpan Ghosh, 'Walmart Value Chain Analysis', slideshare.net, [online]. Available at: https://www.slideshare.net/arpanghosh3760/walmart-value-chain-analysis (Accessed 01 May 2022)
Taylor Byrne, 'Value Chain Analysis of Walmart', essay48.com, [online]. Available at: https://www.essay48.com/value-chain-analysis/12608-Walmart-Value-Chain-Analysis (Accessed 01 May 2022)
John Dudovskiy, 'Walmart Value Chain Analysis', research-methodology.net, [online]. Available at: https://research-methodology.net/walmart-value-chain-analysis/ (Accessed 01 May 2022)
Chiles, Colby Ronald, and Margarette Thi Dau, 'An analysis of current supply chain best practices in the retail industry with case studies of Wal-Mart and Amazon.com' [online]. Available at: https://dspace.mit.edu/handle/1721.1/33314 (Accessed 01 May 2022)