Introduction
A company should consider the value chain concept when developing its products. A value chain represents a sequence of tasks that create and add value to an item during its production. Adding value to a product in each production phase allows a company to map its profitability. If customers are happy with its output and buy more, the company can make higher profits. And if customers feel satisfied, they can stick with the company.
That can help build a steady competitive edge for the company. A value chain is a business management concept that has been around since 1985, thanks to Michael Porter. Read more about it in his book titled Competitive Advantage: Creating and Sustaining Superior Performance. To ensure you understand what a value chain is, we will do the Starbucks value chain analysis. Starbucks is an American with an international presence. Learn more about it next.
Background of Starbucks
Starbucks Corporation is an American retail company with over thirty thousand licensed stores locally and internationally. Starbucks began in 1971 in Seattle, Washington, USA. It roasts, promotes, and sells coffee and baked products globally via unique brand names. The table below shows a brief company profile of Starbucks.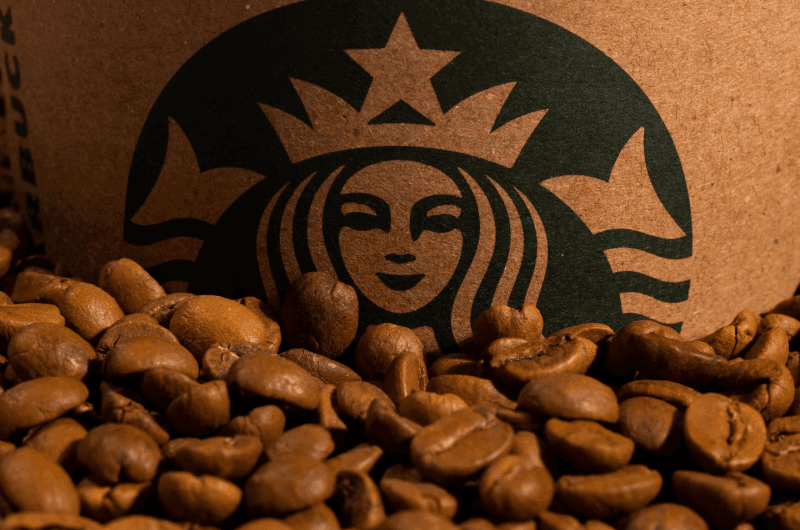 Source: www.unsplash.com
Starbucks Primary Activities
Important: A value chain analysis in any company entails two categories. These are primary and support activities.
To continue our Starbucks value chain analysis, we will discuss its primary activities. These are tasks or processes that directly improve the quality of a product. We will discuss each of these activities below.
Starbucks Inbound logistics
Value chain analysis Starbucks includes a primary activity known as inbound logistics. It is all about how Starbucks procures its green coffee beans, roasts them to perfection, packages, and distributes them to various licensed stores. The process begins by choosing the most qualified employees to help the company select premium quality green beans from coffee farms in Africa, Asia, and Latin America. After ordering beans, they safely transfer them to a warehouse where they await roasting, packing, and distribution. Starbucks does not use third parties in procurement to maintain high-quality business standards. Also, it does not own some of the logistic companies that receive its packaged products.
Starbucks Operations
As of now, Starbucks has active stores in sixty-five nations. Some of these are directly owned stores. Others are licensed stores belonging to other logistic companies in its supply chain. Starbucks owns over twenty-one thousand international subsidiaries. These fall under Evolution Fresh, Starbucks Coffee, Teavana, and Seattle's Best Coffee. Past statistics about its annual total revenue imply that Starbucks generates its highest proceeds from the stores it directly runs.
Starbucks Outbound logistics
Starbucks has a genuine interest in maintaining the quality and originality of its products. It ensures that there is no way anyone can replicate or interfere with its organizational structure and product quality. Thus, Starbuck's value chain analysis excludes outbound logistics. It mostly sends its packaged products directly to its shops and licensed shops. That eliminates plenty of intermediaries from its supply chain. However, it has lately created three products (Rwanda Rift Valley, Timor Mount Ramelau, and Guatemala Laguna de Ayarza) that only sell in top supermarket chains in the United States.
Starbucks Marketing and Sales
Starbucks spends more money and time increasing the value chain for its products. It seems to focus more on satisfying the customer by producing the highest-quality outputs. While it still promotes its products, we cannot view its style as aggressive. The only time it invests more effort in sales and marketing activities is when it wants to introduce a new item to the customers. Starbucks provides free samples when it wants to test the reception of a new product in the market.
Starbucks Service
Value chain analysis Starbucks also entails customer care service. Starbucks thrives because of providing the highest quality customer care service at the store level. It also features service training to help employers serve customers perfectly.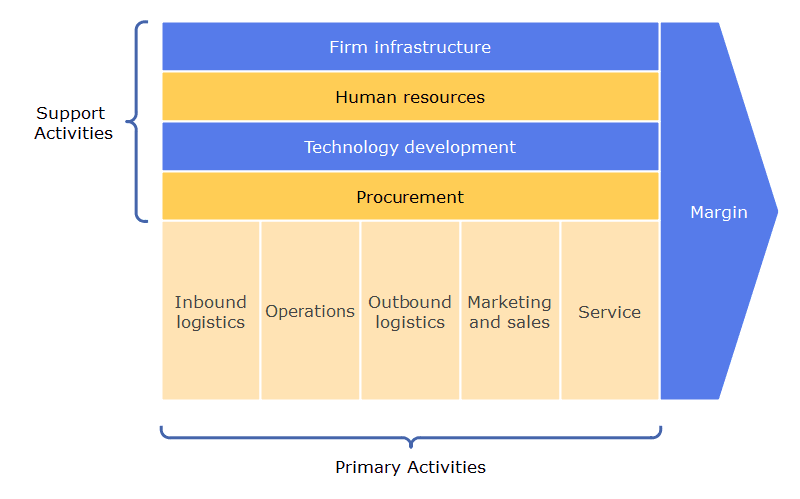 Starbucks Support Activities
Important: Support activities allow the company to fulfill its promise to give each customer a unique Starbucks experience.
Below, we will analyze its support activities.
Starbucks Infrastructure
Starbucks has laid down an unshakeable infrastructure to help it run all its stores. The infrastructure entails the departments the company has created to help maintain the cleanliness, order, and continuous functioning of all its stores.
Starbucks Human Resource Management
Another support activity in our Starbucks value chain analysis includes HRM. Starbucks' tremendous success is due to its hardworking and dedicated workers. To boost their morale, the company uses generous rewards and incentives. No wonder the company has the lowest employee turnover annually. If no worker wants to leave, it is a sign that Starbucks runs one of the best HRM departments.
Starbucks Technology development
Modern technology is the force behind Starbucks' progress and success. When a customer visits one of its stores, they have access to free Wi-Fi. So, they can conduct a Zoom meeting or find business connections online for free. How does Starbucks create products with consistent quality and flavor? It uses technologically advanced equipment to process its coffees. Its reward program attracts customer feedback through advanced platforms. Lastly, the iBeacon System is an app that runs on Apple mobile devices and allows users to buy some coffee before getting to a store.
Starbucks Procurement
As earlier hinted, Starbucks runs its procurement process singlehandedly. From the point of ordering green coffee beans to the last stage of selling, Starbucks hardly needs an intermediary. So, it keeps the profits that intermediaries would make had they been present.
Convert any PDF Report Using PDF Agile
When web users want to read a file or a report, they can choose the best format from diverse options, including PDF. After downloading a file, they can use a PDF converter to alter its structure. To convert any downloaded file to PDF or from PDF to another format, you can use the PDF Agile. The brilliant application can edit any PDF document without checking its source file. Moreover, it can turn files from MS Word, MS Excel, or PowerPoint into PDFs and vice-versa. Further, the PDF Agile can create and annotate any document and allow users to read it on any computerized device or PDF reader.
Key Takeaways
This Starbucks value chain analysis can help you understand why the company is so successful and progressive. Its strategies for running its empire are hard to copy. Regardless, Starbucks has its weaknesses and threats that might put its competitive edge at risk in the future.
After assessing this value chain analysis Starbucks guide, you can create a unique one for your company. To make logical PESTEL value chain diagrams, use EdrawMax Online. With multiple, high-quality templates to choose from, you do not require any drawing expertise.
References
Panmure Institute. 2021. 'Starbucks Coffee PESTEL/PESTLE Analysis & Recommendations - Panmore Institute',

PESTLE Analysis

, [online]. Available at: http://panmore.com/starbucks-coffee-pestel-pestle-analysis-recommendations (Accessed 16 June 2021).

Cooke, J. (2010)

Supply Chain Quarterly,

Available at: http://www.supplychainquarterly.com/topics/Procurement/scq201004starbucks/

Whitten, S. (2017) "There are now more ways to order your Starbucks coffee"

CNBC,

Available at: http://www.cnbc.com/2017/03/22/there-are-now-more-ways-to-order-your-starbucks-coffee.html

David K. (2009, November). Quality and Fair Trade Certified Coffees. Coffee Review. Retrieved February 01, 2011, from http://www.coffeereview.com/article.cfm?ID=165

Grant, R.M. (2010). Contemporary Strategy Analysis. 7th ed. John Wiley & Sons, p. 239-241