Introduction
Tesla value chain analysis is based on the key management tool that was envisaged by Michael Porter in his book "Competitive Advantage." The concept allows one to examine and evaluate the potential opportunities to add value to the product or service right from the beginning and at every stage till it reaches the customer and even after-sales services that would provide a competitive advantage to the entrepreneur over their competitors. Tesla value chain analysis analyzes the primary and support activities in automotive and energy generation and storage and finds out the possible areas where value addition is possible with higher efficiency at less cost.
Background of Tesla
Tesla Inc. which was formerly known as Tesla Motors Inc. is a company that manufactures Electric Vehicles like Model S, Model 3, Model X, Model Y, and clean energy products using solar power. IT has its headquarters in Palo Alto, California in the USA. The company has an operating income of 199.4 crores USD with annual revenue of 31,536 USD in the year 2020 and has its mission "to accelerate the world's transition to sustainable energy". The company has a market in the US, China, and thirty-four other countries for its products. Tesla motor value chain analysis has enabled the company to produce products with utmost efficiency and customer satisfaction.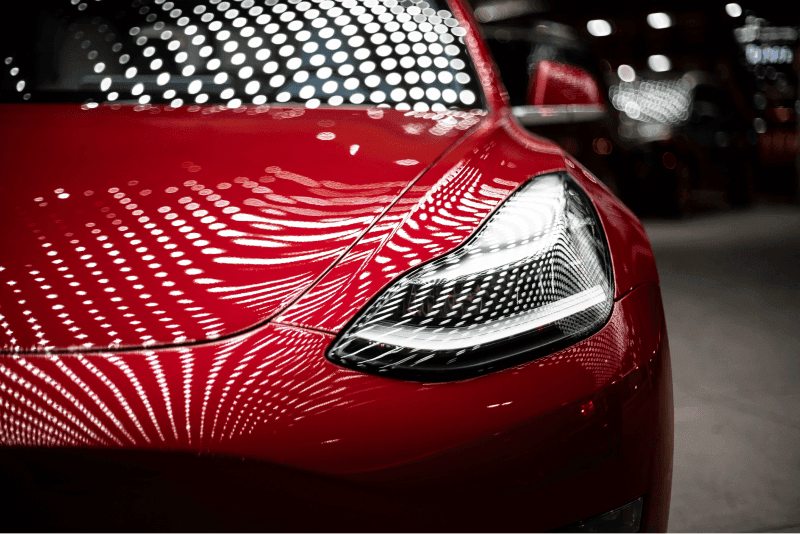 Primary Activities in Tesla Value Chain Analysis
Important: Tesla value chain analysis finds 5 primary activities that have the potential for value addition.
To attain competitive advantage, `Tesla value chain analysis concentrates on the primary activities that have room for value addition and a direct effect on the entire process, and they are as follows.
Inbound Logistics
This is the very first primary activity that involves the procurement of the raw materials and other required materials and their storage and effective distribution of them for manufacturing the products. Tesla has many suppliers for its key ingredients. For instance, to meet the need for lithium, Tesla has a tie-up with Panasonic and Piedmont Lithium (PLL) in 2020. Tesla has warehouses all over the world to enable proper storage of raw materials and finished products.
Operations
Being an electric vehicle manufacturer, Tesla has a great need for electric motors and lithium-ion batteries. To meet the need, Tesla Gigafactory was started in 2018 in Nevada, and other Giga factories are in Buffalo, New York, and Shanghai, China. Their production of electric motors and batteries with innovative technologies would effectively reduce the cost of production and provide a competitive advantage over their rivals in the market. Tesla has a manufacturing unit in Fremont, California produces different model vehicles and their major components. Tesla's products with the combination of mechanical and digital technology are loved by users all over the world.
Outbound Logistics
Outbound logistics involves delivering finished products to the customers. Tesla deals with this differently compared to other vehicle manufacturers. Tesla sells its products directly to customers. It takes its orders through its website and its customer outlets in many cities. This is a part of Tesla value chain analysis that reduces the cost and is easy to attract customers as they can customize their orders. As no dealers are involved, delivery of products can take place at a lesser time.
Marketing and Sales
Tesla does not show much interest in advertising and marketing as the fame of Elon Musk, the CEO of the company has contributed much to the popularity of its brand and products. The tweets of the CEO and the attractive outlets of the company in most populous cities make the people get more informed about the company's products. Online sales, the fashion of the era, is the method followed by Tesla.
Service
All the retail stores of the company serve as the after-sales service providers. Over the years, Tesla's customer service has improved compared to some grievances of the customers in the initial period. Tesla's more than 30,000 superchargers are located at various global locations, with fast charging facilities attracting the customers more because the customers can avail themselves of it free of cost. It is a great deal against the inhibition of an EV admirer to buy a vehicle by removing the threat of running out of power.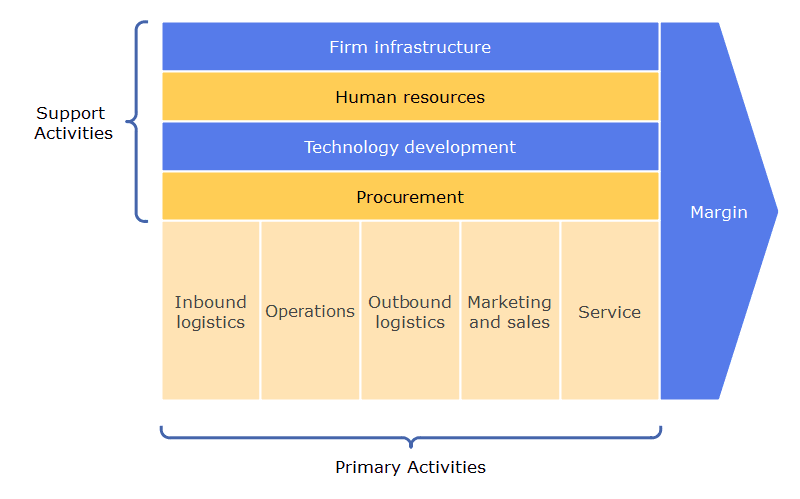 Support Activities in Tesla Chain Analysis
Important: Four support activities are considered important in Tesla value chain analysis
The support activities are those which support the smooth functioning of the primary activities. Tesla value chain analysis considers these as some key factors in attaining competitive advantage.
Infrastructure
The infrastructure of the company includes basic managerial activities, legal matters, cost and accounting, and data analysis and management. Since Tesla is dealing with the manufacturing of electric vehicles and clean energy products supports an intensive infrastructure for both the divisions like installation of manufacturing and sales units etc., which is an integral part of Tesla value chain.
Human Resource Management
Tesla value chain analysis regards human resource management as an important support activity, as better human relations will boost good customer relations. Having an intelligent and smart workforce will always strengthen the company. The company has 70,757 employees and continuous recruitment of professionals is going on.
Technology Development
Being a company that deals with alternative energy sources, Tesla has a strong R&D department. As there is a good competition in this field, availing latest technologies will make the company lead over the other competitors. So, Tesla is consistently increasing its investments in research and development and thereby improving the products.
Procurement
Procuring raw materials and other products and continuously maintaining the required inventory is an integral part of Tesla value chain analysis. Procuring all the products relating to primary activities and a good liaison suppliers are a part of this.
Convert PDF Report Using PDF Agile
The online PDF converter is very handy in converting any kind of report, data in whichever the file format is (doc, Xls, PPT) can be converted into PDF and vice versa even one can convert from PDF to any desired file format like doc, Xls, PPT.
PDF Agile is one such popular and user-friendly PDF converter that helps you to convert the required files from any format to PDF and from PDF to any format and you can extract text from any reports in any file format using PDF Agile. Among various features, the most attractive features of PDF Agile to its users are its password features, redact feature (for any information in the content text), and digital electronic signatures.
Key Takeaways
The key takeaways of Tesla value chain analysis are utilizing the emerging technologies that will always attract and reach the customers. The Tesla value chain brings a link between all the primary and support activities to achieve a competitive advantage thereby winning the hearts and minds of the customers who are the ultimate deciders of the success of any organization.
As the name implies, PDF Agile is very useful for quick editing, creating and converting PDF (to and from), compressing, merging, splitting, highlighting texts, OCR usage, cropping, easy page arrangements, page numbering, rotate option, embed hyperlinks, etc., and with all these features, it is highly recommended for you to complete all your pdf works, convert files using PDF Agile.
References
John Dudovskiy. 'Apple Value Chain Analysis', Business Research Methodology, [online]. Available at: https://research-methodology.net/tesla-value-chain-analysis-2/ (Accessed 2nd May 2022).
Dale Hart. 'The power business school,' Porter's Value Chain (with Tesla Analysis), Available at: https://www.thepowermba.com/en/business/value-chain (Accessed 2nd May 2022)
Abhijeet Pratap. 'Tesla Value Chain Analysis', Available at: https://abhijeetpratap.medium.com/tesla-value-chain-analysis-f572c834fd39 (Accessed 2nd May 2022)
Article by edrawmax.com, 'Tesla PESTEL Analysis.' Available at: https://www.edrawmax.com/article/tesla-pestel-analysis.html (Accessed 2nd May 2022)
Blog of Business Strategy Insights Team, Available at https://www.bstrategyinsights.com/tesla-value-chain-analysis/ (Accessed 2nd May 2022)