Is anyone in your circle about to leave the country to pursue their further studies? Is someone you love going to go for their next chapter in life? To wish the best for them, you consider sending them a message that would give them a good impression. For this, you definitely need something appropriate to send.
Can't think of something innovative? Worry not, as we have got the perfect list of wishes and quotes prepared just for you. Go through the list of these happy journey wishes and quotes to figure out the best case for the person you want to send. We will also discuss sending a PDF wishing card in this article.
Part 1: 25 Perfect Happy Journey Wishes
Part 2: 25 Impressive Happy Journey Quotes
Part 3: How to Edit a PDF Wishing Card in PDF Agile
Part 1: 25 Perfect Happy Journey Wishes
In this part, we will provide you with some good ideas about wishing someone the best for the journey ahead:
May you have a lot of fun on the way. May this journey bring peace to your mind and joy to your heart. Have a happy and safe journey!

May this journey of yours be full of extraordinary memories and sweet moments. I wish you a safe journey along with a safe return.

I hope to see you return healthy and happy. Have a wonderful time and enjoy your trip.

This meant "see you laters" and wishing the other person a safe journey often. While it was always difficult, having the right message always made it a little bit better!

May this journey be filled with valuable lessons, new friends and amazing memories. I'll be waiting for you patiently. Don't forget to text me so I know that you're safe. Happy journey, buddy!

Bon voyage! Tell me all about your trip when you get home!

I miss you already. What am I going to do without you? I hope you have a safe journey, and remember to text me when you land!

I hope to see you safe and sound when you finally return. Till then, enjoy everything that comes in your way. Have a safe journey!

Best wishes for the journey. Stay safe and enjoy your break. Have a safe flight!

Hope this journey will treat you well and give you the best experience. Bon Voyage!

See ya later, Alligator!

It's a bird! It's a plane! It's my BFF in the skies! I hope you're doing well, and may your journey be filled with comfortable seats and non-crying babies. Tell me everything when you get back!

Safe journey, dear friend! Have a blast and be well!

Wishing a dear friend, a safe journey! May it be smooth and may you enjoy your trip!

Friend may your exploration be incredible! May it happen, without any concern for you safety! May you come back in the same way, and happy that you decided to go on this journey!

Don't be nervous about riding an airplane because it will take you to your destination in no time! Take care and have a safe flight!

Wishing you the happiest journey! Be in good health and mind!

Wishing you a safe and stress-free journey. Happy traveling!

The world is your oyster. You're already taking the first step. I'm so proud of you, and I hope you have an amazing time. Stay safe!

I love you, son. I hope these blessings can reach you and protect you during your travels.

As your parent, I've always had a front row seat to your strength, passion, courage and character. I can't wait for others to see what I've always seen. Good luck, son. Safe travels.

I am super excited for your journey ahead, but your safety is important to me too! May you be in good health and have the safest ride!

I hope you have prepared yourself well for the journey. I'll be waiting for you until you return safely. Looking forward to hearing your experiences on the way!

I'll be praying each and moment until you get there safely. I am already waiting to see the pictures of this trip of yours. Have a wonderful trip!

Is it too late to fit inside of your suitcase? I love you, and I'm going to miss you like crazy. Have fun on your trip!
Part 2: 25 Impressive Happy Journey Quotes
Want to send something hearty and impressive to someone for their journey? Use the following quotes for giving the perfect start to someone's journey:
Words cannot describe what you mean to me. So I'll just tell you "I love you" – and see you again when you return to me soon.

If you're nervous on your journey, just think about me – because I will absolutely be thinking about you. Travel safe, darling.

This journey will be an eye-opening experience for you. I hope that it will help you to realise something important, and your mind will finally let go of all the stress you've been experiencing. Have a very happy journey!

I wish I was with you right now! But I understand that everyone needs some alone time. Use it to reflect on things that bother you, and come back with new thoughts and ideas. Take care of yourself!

The purpose of life is to live it, right? To enjoy every second of it, to try everything you possibly can. May this journey fulfil your heart with the most wonderful experiences. Stay safe!

Remember, planes actually like to stay in the air. They have lift – so you're safer in the air anyways! Have a safe flight!

Being comfortable all the time is not what you need. Run from safety, explore this world and enjoy the overwhelming feeling of freedom. Yes, it can be terrifying. But it's necessary. Take care of yourself, love!

We find after years of struggle that we do not take a trip; a trip takes us.

Wherever you go, you take yourself with you.

And of course the ever-so-classic – "Not all those who wander are lost.

It's the 'everyday' experiences we encounter along the journey to who we wanna be that will define who we are when we get there.

I can see the excitement shining through your eyes! This journey will be one of the most amazing experiences of your life, so don't be scared and enjoy every minute of it! Miss you already.

I can't wait to see how much you'll change after this journey. Every trip is a chance to grow and evolve, and I know you will use every second of your journey to become a better version of yourself.

It is good to have an end to journey toward; but it is the journey that matters, in the end.

Have a safe flight – and please let me know when you land!

May your air be clear, the flight be smooth, the plane be safe, and the sky be blue!

I'll just stand in the airport by the Arrivals terminal until you get back because I can't wait! Have a safe flight!

Stay safe on your amazing adventure! Every journey is exciting, and I hope you will collect a lot of great memories. Also, don't forget to meet some nice people out there! Wishing you the happiest journey.

Just wanted to wish you a happy journey! Can't wait to hear some stories about this experience. May this adventure help you to find what you're looking for. Stay hydrated, buddy!

I'm so jealous right now! This journey is definitely going to be one of a kind. Don't forget to meditate and make sure that you are bringing peace and harmony everywhere you go. We're waiting for you patiently.

Bright sky, big waves and wonderful people – perfect holidays. Wish you to enjoy your journey and find something new. Good flight!

Put on your sunglasses and dive into the holiday. Your trip is still waiting for you. Be ready for everything!

It's not the first time then you go to the journey but I really worried about you. You know, new places, people and other things… But I wish you a good time!

The journey of a thousand miles begins with a single step.

You only live once, but if you do it right, once is enough.
Part 3: How to Edit a PDF Wishing Card in PDF Agile
Having the perfect PDF wishing card for someone to send them before they get along with their journey? PDF wishing cards have turned out to be quite impressive in the process; however, they might need some editing before you get along with it for sending to the person. For this, you need a proper PDF editor that contains the right form of tools. PDF Agile is one great option for this purpose.
PDF Agile provides the user with a cohesive set of tools allowing them to make changes to the editable PDF in all ways possible. Combining it with other features, PDF Agile becomes a perfect free PDF editing option in the market. Following are the steps that someone should follow if they seek to edit an editable PDF wishing card for themselves:
Step 1: Customize PDF Card Text
Launch PDF Agile on your computer and tap on "Open File" to import the editable PDF. Proceed to the "Edit" tab and select the "Edit" button in the list to make changes across the editable text of the PDF card.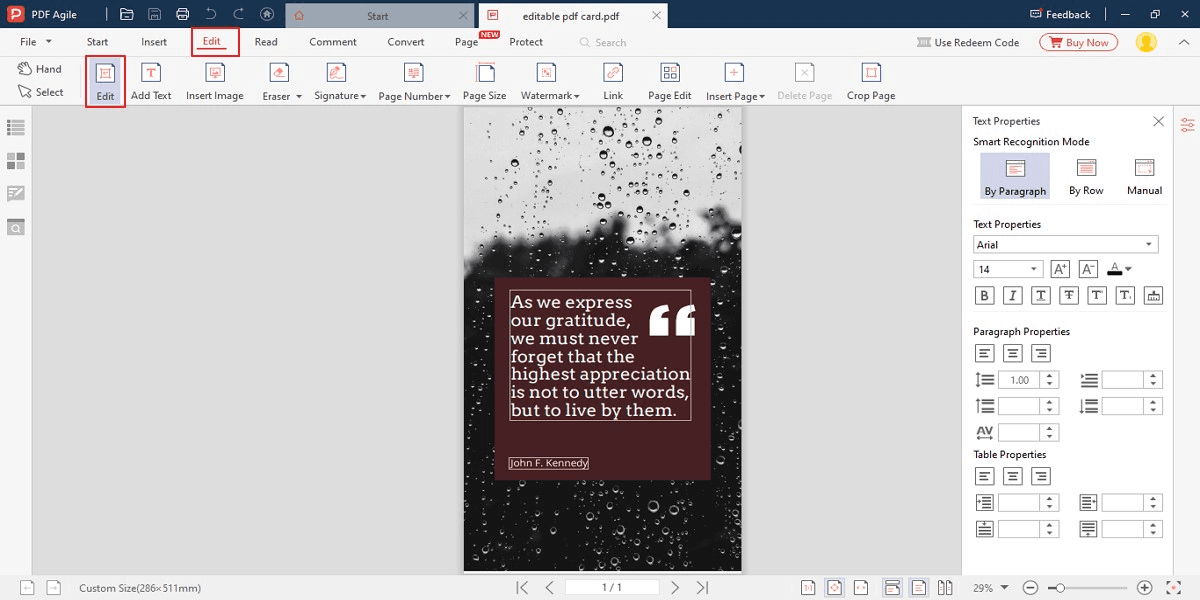 Step 2: Set up Page Size
Set up the size of the card by going across the options provided in the "Page Size" settings of the "Edit" section.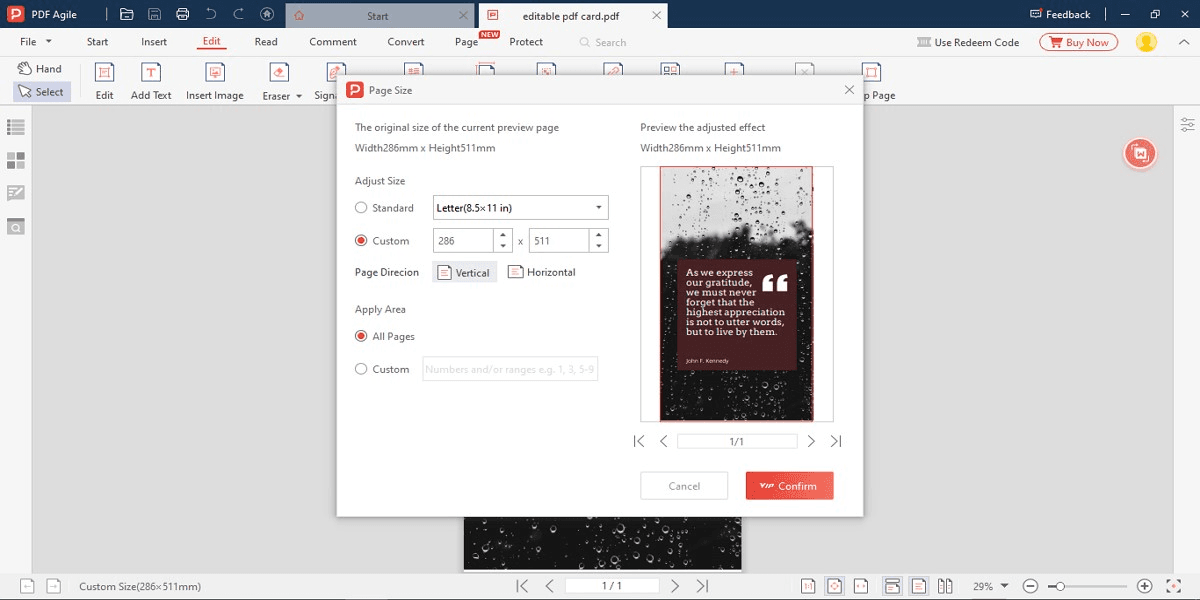 Step 3: Change Image Settings and Save
Find the options of managing the image by clicking on the image present in the background of the card. You can then change the orientation and opacity of the image. Following this, proceed to the "File" tab and select "Save" to save the changes made on the PDF.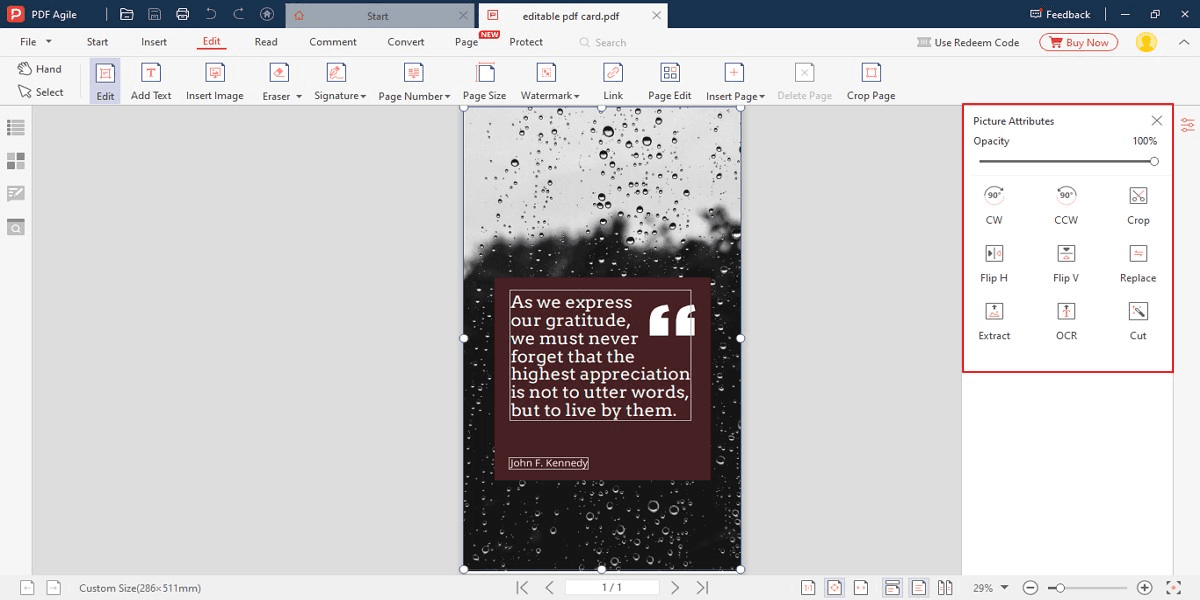 Conclusion
Do you have the right set of options for yourselves when you are about to send a journey message or quote to someone? Use these options to figure out the best possible scenario for yourselves. If you want to send a PDF wishing card, you can follow the procedure explained right above for you.