Being a husband, you should always care for the happiness of your wife and should definitely fulfill them. One of the primary needs of every wife is love and how the husband shows it. One great way of doing this is to remember the important days for your wife and make sure that you greet them perfectly. For this, you need to have a good collection of wishes and messages that you can use for them.
This article introduces you to some best wishes that you can consider for your wife in different scenarios. Along with that, you will also be introduced to a great option in the form of PDF Agile that can be used to edit any PDF wishing card that you want to create for your wife.
Part 1: Birthday Message for Wife
Part 2: Birthday Greetings for Wife
Part 3: Best Wishes for Wife on Valentine's Day
Part 4: Best Wishes for Wife on Wedding Anniversary
Part 5: How to Edit Wishes Card by PDF Agile
Part 1: Birthday Message for Wife
Is it the birthday of your beloved wife? Are you away from home for work and cannot be there for them at the moment? A perfect birthday message can cheer up your wife on their special day. You can use the following birthday messages for your wife:
Happy birthday to the woman that brings sunshine to my life, my dear, caring, and loving wife!

To My Wonderful Wife, Happy Birthday. You are the light of my life and make every day special. I love you more with each passing day and am excited for all the future holds.\

So many years have passed in no time, but your beauty didn't fade away. Happy birthday, Baby!

As I sing happy birthday to you, it is you that puts the song in my heart and the music in my life. Happy Birthday my Love!

Today is a very significant day indeed, as we get to celebrate how wonderful you are and give thanks for everything you do! Happy birthday, my dear wife! I hope your day is as spectacular as you are!

Happy Birthday To My Wife. You dazzle me. I am so happy we get to share this crazy, beautiful life together. I love you.

Since you have come into my life, my luck has always been on my side always. I am so fortunate to have you in my life. Happy birthday, honey!

Some people read books and stories to find the meaning of love. All I have to do is look in your eyes. Happy birthday my beloved wife.

Happy Birthday. Some say the happiest day of their life was when they said, "I do." For me, every morning I get to wake up next to you is my happiest day. I love you.

A very few people meet their soul mates, but I have been so lucky enough to marry you. I wish you have a wonderful birthday. Happy birthday, dear!
Part 2: Birthday Greetings for Wife
It's always best to greet the perfect birthday wish to your wife. Find out some perfect birthday greetings for your wife as follows:
Dearest wife, I can't believe that you are a year older because you look so much younger!

Happy birthday dear wife! You are the soul of our marriage. I am blessed to grow old with you and raise our beautiful children. I miss our carefree romantic days.

Hey, my lovely wife, I am so lucky to have such a magnificent wife. You are so amazingly precious to me, and I hope that every birthday is as beautiful as you are.

I cannot imagine the world without you, and all thanks to you for being there for me in every situation. Have a wonderful birthday, sweetheart!

I must have done some unique and incredible in my past life because I was rewarded with you as my life partner. Happy birthday, my love!

My love for you will always be pure and soulful. I can never stop loving you. I am not getting words to wish you on your special day. Happy birthday, sweetheart!

You're the most beautiful and smart woman I have met. For me, you are and always will be that special girl who I will not trade for anything! Happy birthday, sweetheart!

There is no gift that I can give you on the special day that equals the happiness you bring into my life. Happy birthday, darling!

Have a glorious birthday, my love, as you blow out the candles this time. May God all your desires come true!

Happy Birthday. Your life is worth celebrating every day! But today, we'll party a little more. You are amazing, and I love you so much!
Part 3: Best Wishes for Wife on Valentine's Day
Is it Valentine's Day, and you have to start the day with the perfect quote? The following examples give you an overview of what you can do under such great moments.
The more time we spend together, the more we fall in love with each other. Happy Valentine's!

You are not only my better half, but you are also my entire world. May we spend countless Valentine's days together!

You have no idea what you mean to me, my wife. I love you more than you'll ever know. Happy Valentine's Day.

Wishing my wife a happy Valentine's Day through this text. Our relationship has what it called the spark to carry on forever together, and I celebrate that loving spark between us in a memorable way.

When I look at you, I only see a woman who has completed me and my life with her love and care. Wishing a very Happy Valentine's Day to my wife.

Every love song is about you. Happy Valentine's Day!

You are the most beautiful and amazing woman, and I am proud to be loved by you. Happy valentine's, my lovely wife.

I knew I was lucky from the first time I laid my eyes on you, I am blessed to have a wife as loving and as devoted as you. You will always be my valentine, sweetheart.

I love to see you laugh because your laugh fills my heart with happiness. I love to see you smile because it fills my soul with joy. Warm wishes on Valentine's Day to you.

I never liked Valentine's Day, and then I met you, and I understood what it was all about.
Part 4: Best Wishes for Wife on Wedding Anniversary
Waiting for your wedding anniversary to give your wife the best gift? Accompany the perfect quote for her with the gift that you have planned for the wedding anniversary:
And the songbirds are singing/Like they know the score/And I love you, I love you, I love you/Like never before.

Time has stopped ever since the day we got married. I'm stuck in a warp of sunny hues, smiles, and everlasting luv. Happy anniversary.

Happy Anniversary wishes to my lovely wife. I'm so much happy to have you in my life. Thank you for everything!

It doesn't matter how many times I've told you that I love you; in fact, saying it never gets old. My sweetheart, I wish you a happy anniversary.

You are the best woman I have ever known, and when you came as my wife, my sorrows were automatically blown!!! Happy Wedding Anniversary!!

You brought real happiness into my life. You make me feel complete. I wish I could love you as much as you love me. Happy Anniversary!

When it comes to how I feel about you, I love you never seems to be enough. Happy Anniversary, my sweet wife of ten years.

It has been an honor to be your husband for all these years. I am so glad we get to celebrate the start of a new year together.

Happy Anniversary to my beautiful wife! I'm so thankful to have you as my wife. I love you very much.

When I married you, I discovered my place in the world. You have made me the happiest person. Thank you, my love, for everything that you have done for me. Happy Anniversary!
Part 5: How to Edit Wishes Card by PDF Agile
PDF wishing cards have gotten quite common in a while. Many people have started using these for making consistent wishes to multiple people. If you are looking to wish your wife on an impressive event that is underway, you can also consider using a PDF card. However, considering you have an editable PDF wishing card, you will have to make changes across it.
PDF Agile provides you with the perfect environment for making such changes across your PDF card. With highly-efficient tools in use, you can make the perfect card you are looking for. To make changes across an editable PDF, make use of the following steps:
Step 1: Import PDF Card
Turn on PDF Agile on your computer and proceed to the "Open File" button for importing the PDF on the platform.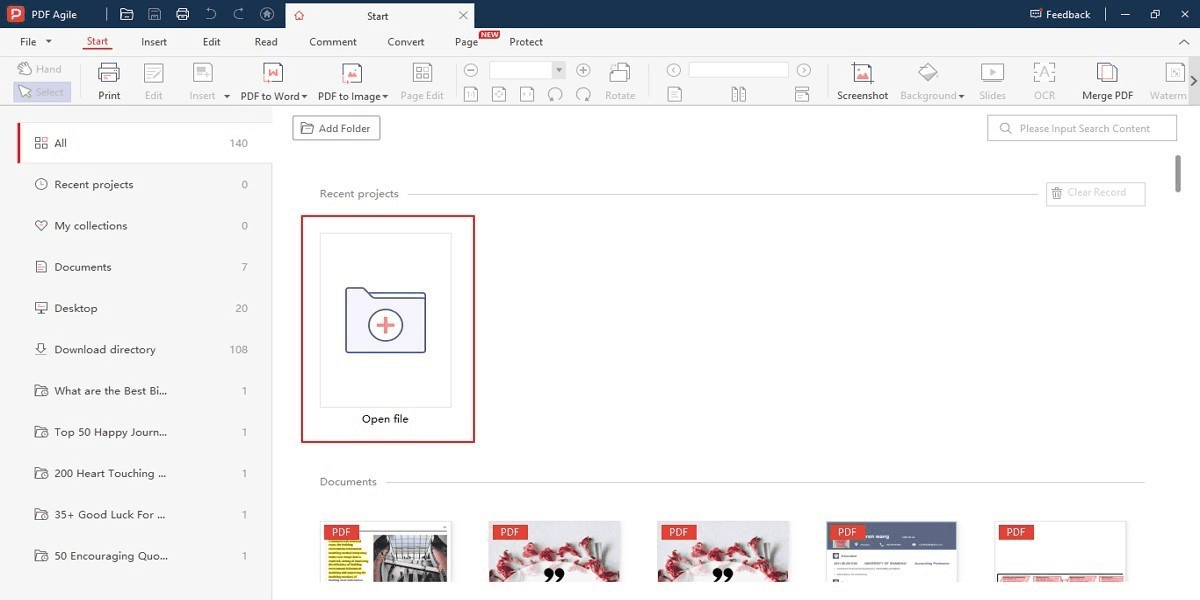 Step 2: Edit Text on Card
Lead to the "Edit" tab, and click on the "Edit" button present across the menu. You can make changes across the text with this function.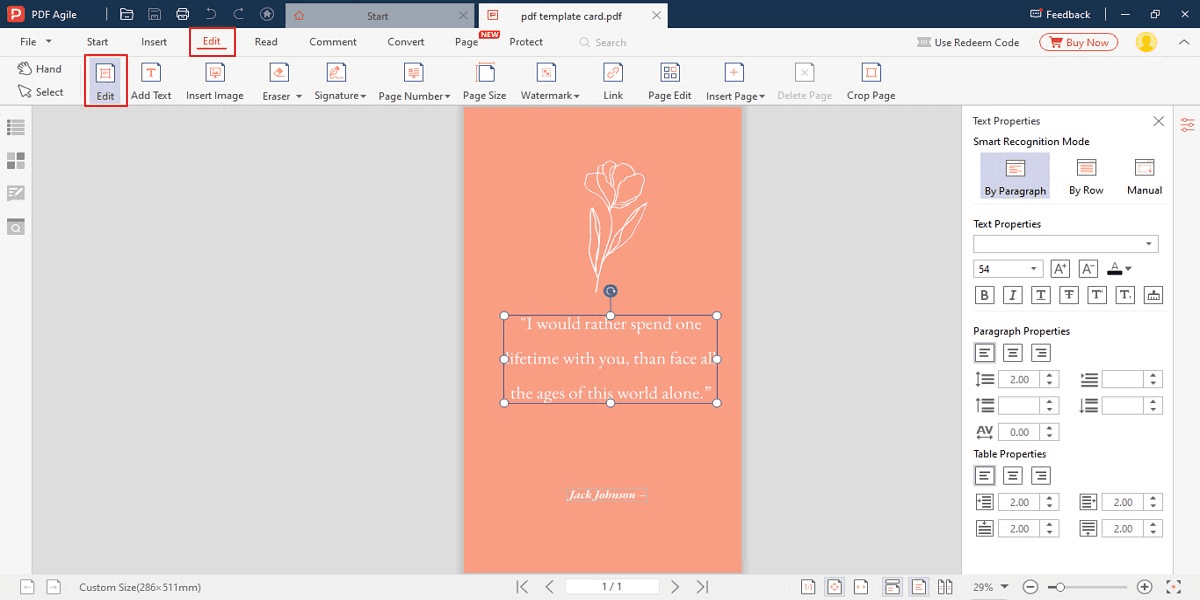 Step 3: Set the Image
To change the image that is behind the PDF wishing card, tap on it so that you can easily change its orientation and opacity.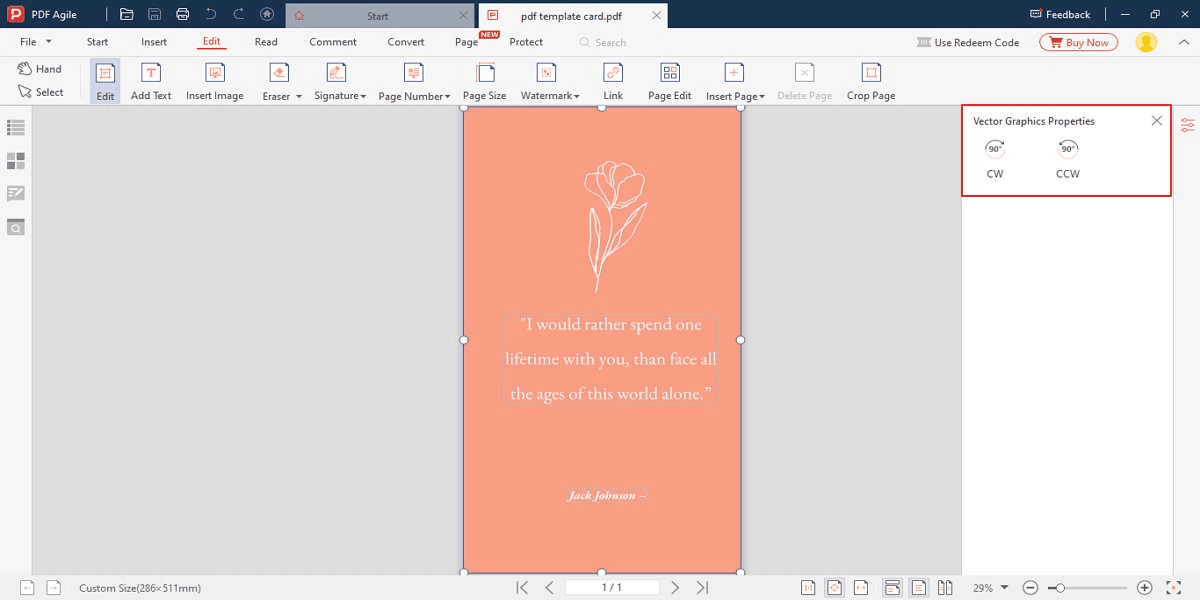 Step 4: Change Size of Card and Export
Find the "Page Size" button under the "Edit" section to change the size of the page according to your requirements. Proceed to the "File" tab to click on the "Save" button to save the PDF file.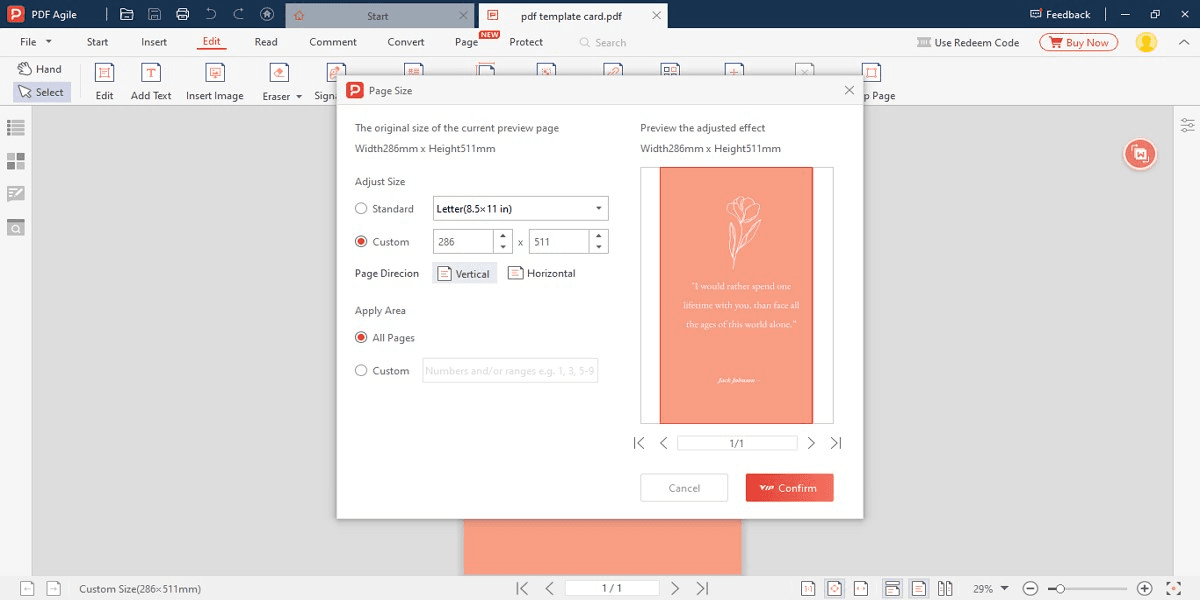 Conclusion
With a clear observation of what to send your wife at the perfect moment, you can now easily resolve all kinds of issues that you may face in such conditions. Along with that, you are also aware of how to edit a PDF wishing card perfect for your wife using PDF Agile.