Do you have the perfect boss-employee relationship in your office? Or is it really your desire to keep up with your boss and their great milestones? It is always considered great to wish the best to your colleague as a professional. Thus, if there's some great news coming ahead for your boss, your wish would make them put a smile on their face.
The article provides you with some great options that you can consider for different scenarios related to your boss. It will also guide you on how you can edit a PDF card for your boss with the best PDF editing option in the market.
Part 1: Happy Birthday Wishes for Your Boss
Part 2: Wishes for Boss Promotion
Part 3: Best Wishes to Boss For New Journey
Part 4: How to Edit Wishes Card by PDF Agile
Part 1: Happy Birthday Wishes for Your Boss
Birthdays are always an important day and a day to cherish for the person and the people around him. If it is the birthday of your boss, you should have the perfect wish prepared for him. The following examples may give you an idea for this:
Happy birthday, boss. We wish you all the best as you advance into a new year in your professional and personal life.

Happy birthday, boss. I want to thank you for having an open door and listening ears. You are simply the best. I wish you a long and fulfilling life.

May God showers you with all the blessings and success. Happy birthday, boss!

You have always supported your juniors and have been the world to us. To the real motivator, influencer, and farsighted leader of our department, happy birthday!

It is tough to be a boss and have a cool temperament, but you have proved it wrong. To the man who walks his talk, a very happy birthday! I would love to celebrate many more birthdays of yours.

Your motivation means a lot to me. Wishing you all the love and happiness on your birthday. Happy birthday to a great boss!

Wishing you a happy birthday to my role model and boss. Your honesty and gentleness have always motivated us, and I hope you keep on motivating us in the future as well. Have a great success and journey!

I have many reasons to be happy on this day because it is an occasion that reminds the day the world was gifted with an outstanding human being. Happy birthday, boss!

Your appreciations and advice mean a lot to us. We wish you well-being and happiness on your birthday. Happy birthday to our great boss!

Happy Birthday, Sir! Thanking you for being a great boss.
Part 2: Wishes for Boss Promotion
Did you recently receive the news that your boss got a promotion? Want to be the first one with the greatest ever wish for him or her? You may use these wishes for the promotion of your boss:
You do not deserve this promotion, rather this promotion deserves an amazing man like you. Congratulations on your success.

Boss, the dedication with which you approach work is truly astounding. And I believe it is a defining quality of what makes you so special. Congrats on your new promotion.

I wish you all the best as you step up the ladder of success boss. Congrats on your promotion once again.

Please accept my heartfelt congratulations on your new position. There's no better man for the role, but you.

One machine can do the work of many ordinary men, but no machine can do the work of one extraordinary man. Leadership isn't a skill, it's a talent! Congratulations!

Congratulations on your new post, boss. A new position means new responsibilities and obstacles, but you surely can overcome them—all the best to you.

Thanks for continually inspiring us to greatness. Congrats on your promotion boss.

Sir, your promotion is just a way of the corporate world to retain the best ones at the company. But I am not complaining as I will be witnessing a genius at work. Congrats anyway.

Dear Boss, we are certain that you will flourish in your new tasks.

You have been the backbone of our amazing team, and we are more than glad your hard work and contributions have been recognized. Congrats on your promotion boss.
Part 3: Best Wishes to Boss For New Journey
Is your boss leaving the company and going for another venture? To recognize the great journey that you had with them, it would be perfect if you send one of the following wishes:
This career move is a perfect fit for you, I'm so excited on your behalf.

Congratulations on your new job! Believe in yourself and keep working hard!

I salute you for standing as an example of a true leader in our organization. You have always put your staff's needs and goals ahead of your own, and we all appreciate you for it. Now that you are leaving our team, we are all sad to see you go. I hope that I will have the opportunity to work with you again someday, and I wish you the best of luck in this next chapter of your career.

Only the best are chosen, and you are one of them! You've worked hard for it and earned it fair and square. Congratulations, and more power to you as you handle the responsibilities of your new position.

You're a great fit for this new position, congratulations on earning this amazing opportunity.

You've done an amazing job in your current role, and I know you're going to grow even more at this next position. Congratulations!

Dear boss, congratulations on your new role! Your compassion towards work has always been a great motivation for us. Best wishes for your future!

Dear boss, all the best for your new job! May you shine brightly wherever you go and succeed through your extraordinary skill and sincere efforts!

The company has realized its potential candidates who deserve the next career stage in their lives. Congrats on being one of them.

I know you'll be successful wherever you go, best wishes for this new job opportunity.
Part 4: How to Edit Wishes Card by PDF Agile
Since you are looking forward to sending a wish card to your boss, it would be great to personalize it according to your needs. PDF Agile provides you the perfect platform to make this happen, as it contains a set of great tools that can be used to essentially edit all kinds of PDF files with ease. With an editable PDF wish card in your hand, you can use PDF Agile by following the steps shown below:
Step 1: Import PDF Wishing Card
You need to launch PDF Agile on your computer after installing it successfully. Proceed by clicking on "Open File" to import the wishing card for your boss.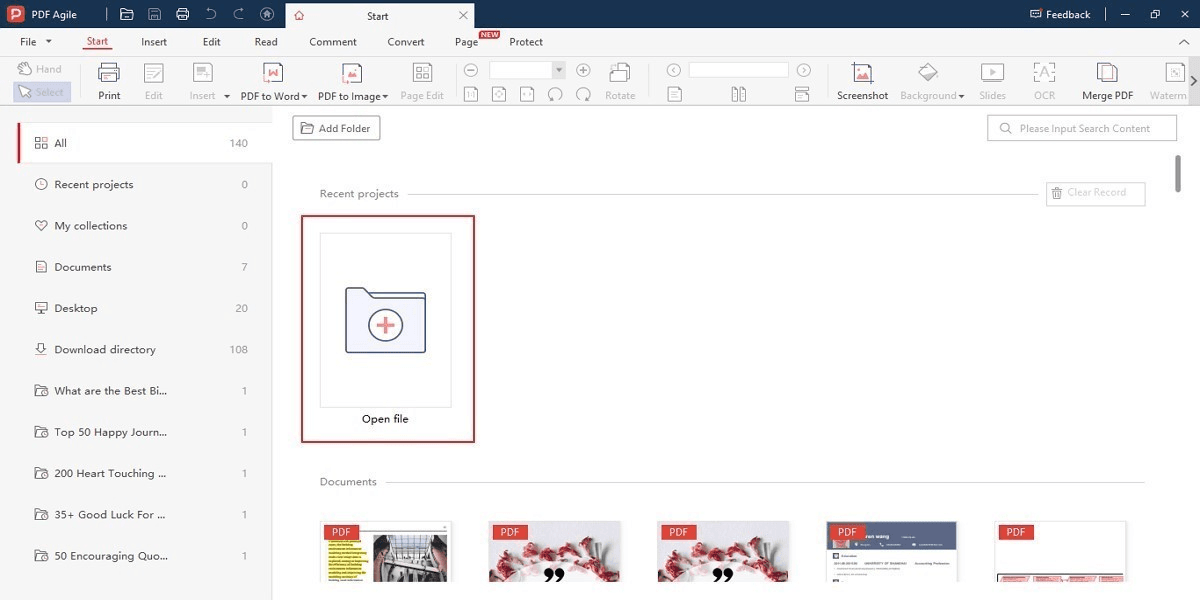 Step 2: Proceed to Edit Text
Tap on the "Edit" section and click on the "Edit" button that appears on the menu. Select the text that you wish to change on the PDF card.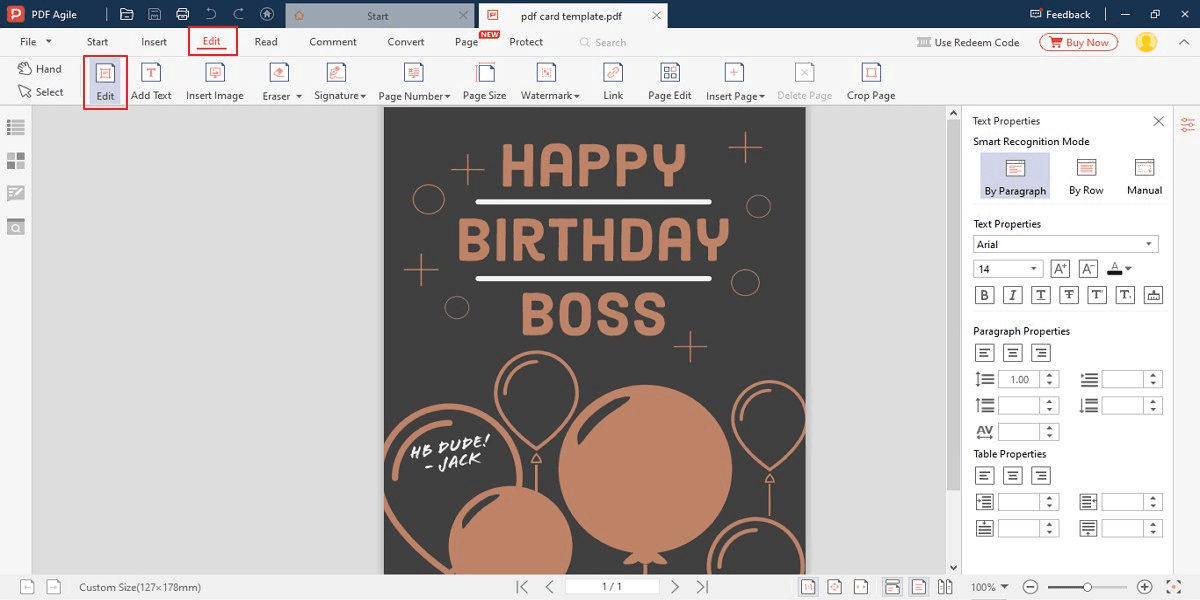 Step 3: Change Image Properties
You can also make changes in the image behind the text by clicking on it and changing its orientation or opacity, as required.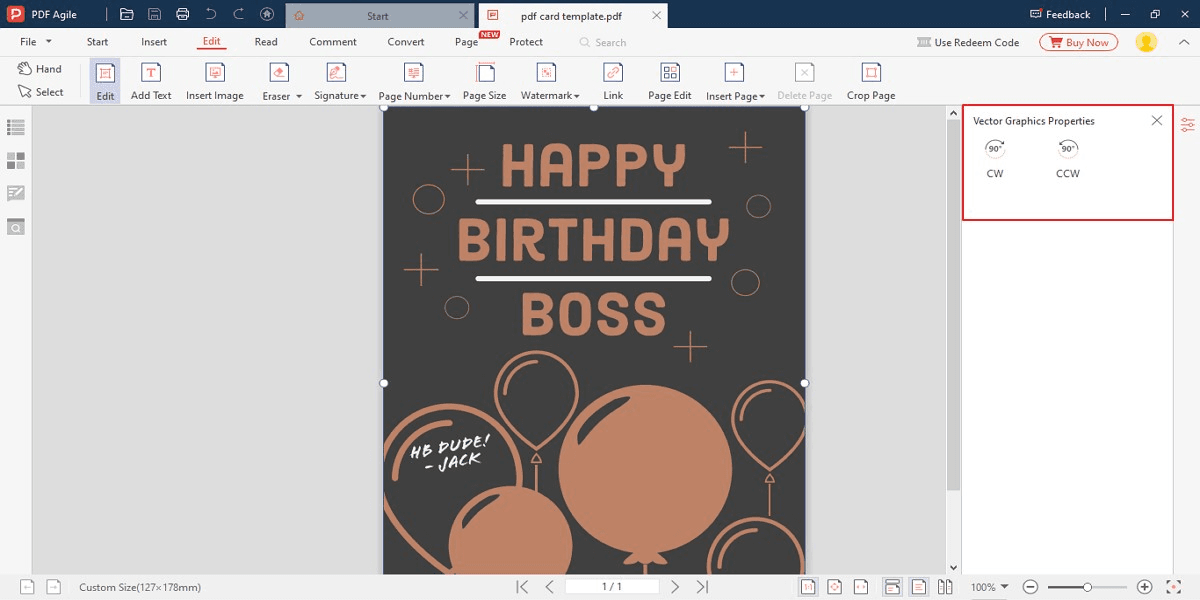 Step 4: Set Size and Save
Click on "Page Size" across the same menu and set the size of the PDF according to your requirements. Once done, tap on the "File" tab and select the "Save" option to save the changes.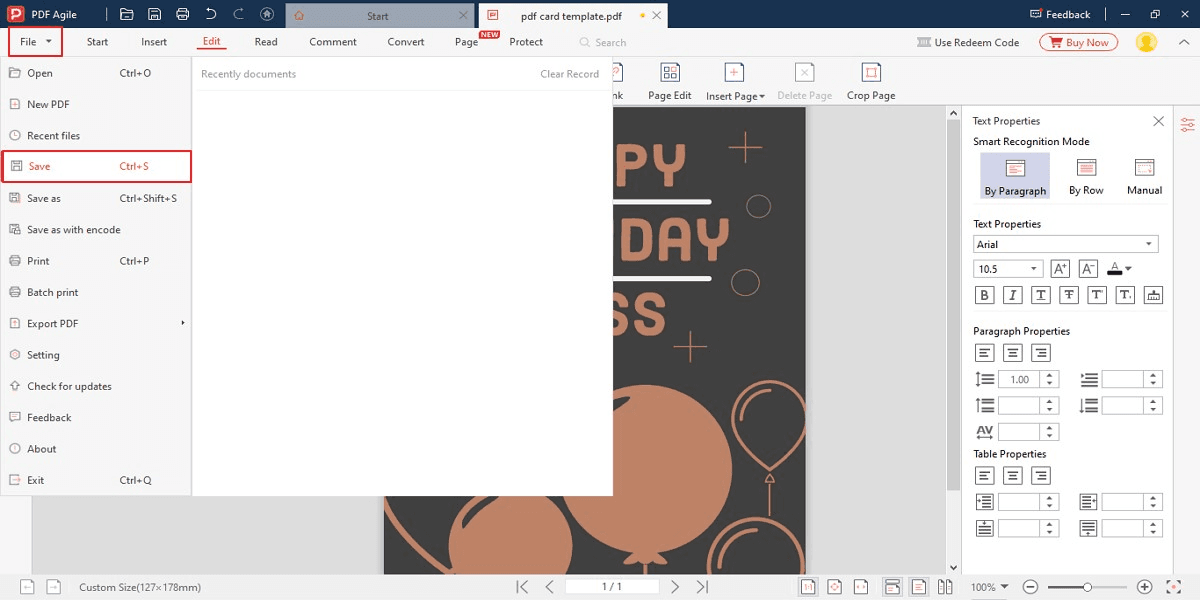 Conclusion
The article has featured some great options of wishes that you can send to your boss in different scenarios. With these examples, you will have the perfect option to wish your boss. Following this, if you are willing to design a PDF wishing card for them, PDF Agile is the best option to consider for editing it to perfection.