Introduction
Zara value chain analysis is a visual tool to plan and analyze the business processes and activities required to create high-value products, which helps the company gain a competitive advantage over its rivals. Companies use value chains to identify the primary and support activities that need improvement to make each process more efficient and reduce production costs by optimizing efforts. It allows them to increase the profitability of their superior quality products and reduce the waste of resources. Zara is a world-renowned brand in the clothing industry, and its value chain analysis represents all range of activities involved in the manufacturing of products from raw materials. Zara value chain helps the company realize that every activity in the value chain carries specific importance without the same scrutiny. Here, we will address the details and activities of the Zara value chain analysis and learn why PDF agile is the best tool to convert PDF reports.
Background of Zara
| | |
| --- | --- |
| Name | ZARA |
| Industry | Retail |
| Products | Clothing |
| Headquarters | Arteixo, Spain |
| Date founded | 1975 |
| Stores | 2000+ |
Zara is one of the most-recognized apparel retailers in the world, founded by Amancio Ortega in 1975 in Galicia, Spain. It is a flagship clothing chain store of the Inditex group, with its headquarters still based on where the company started. Zara is also famous for its fast-fashion clothing lines for men, women, and children. Its manufacturing and distribution supply chain are efficient enough to create a new product and distribute it to the stores where customers can easily buy it within one week. The first Zara clothing store featured lookalike or A+ copies of high-end clothing fashions. Ortega sold its copies of popular products at a low price to slowly expand the business, finally taking it to its current success.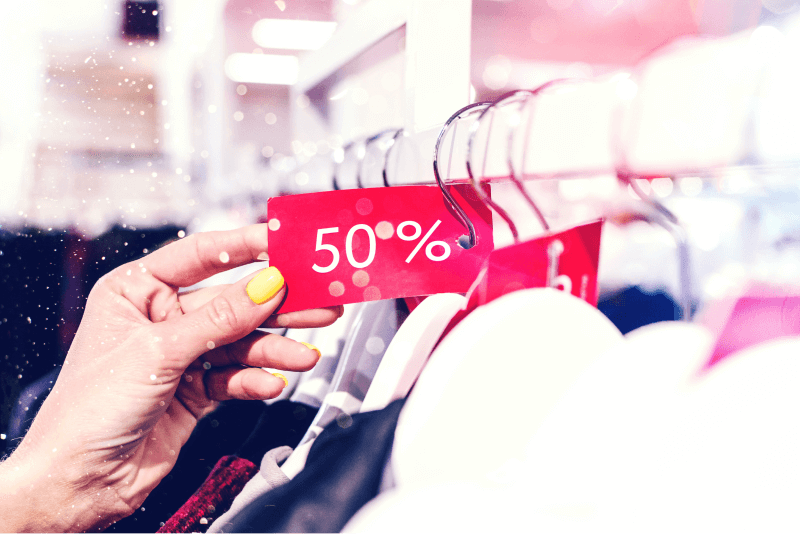 Primary Activities in Zara Value Chain Analysis
The Zara value chain outlines five primary activities essential for a compelling value chain analysis.
Inbound Logistics
Inbound logistics of the Zara value chain include the processes involved in purchasing and storing raw materials, manufacturing and warehousing products, and distributing those products to stores, outlets, and vendors. One of the main reasons behind Zara's success is the high quality of its products that the company managed to sustain with a good supply chain that allows the creation of new products and their delivery to retail stores within a week. The company's inbound logistics stay true to instant fashion, where customers get newly announced products in 10 to 15 days. Half of the products get manufactured in Spain, and half come from abroad. With efficient supply chain management, all products go to the warehouse before final delivery.
Operations
As an apparel retailer with three independent business lines, analyzing the operational activities is essential for Zara value chain. Men, women, and children are the three business lines Zara owns, and the procurement of raw materials, market changes, and decisions are separate. When the raw materials arrive, each business line performs different activities to manufacture the products and deliver them to the warehouse for distribution. All the company's main departments and headquarters are in Spain, making it easy to analyze the supply chain, make sudden changes, and make critical decisions. The integration of these departments improves productivity and the competitive business advantage of Zara.
Outbound Logistics
Zara owes its success to the loyalty of its customers, who like the high-quality clothing and accessories from the brand. To improve customer loyalty, Zara delivers new products to every distributor in every country within a week of its initial design. Customers don't have to wait for long to get newly released products, like specific fashion collections based on weather seasons and special events. The company delivers its products to warehouses where regional distribution centers send them to retail stores and outlets. People also buy Zara products online, and those products get provided 24 hours a day to ensure there is no delay in someone's order.
Marketing and Sales
As the brand is famous for its low-price fashion clothing, Zara does not spend much effort or resources on marketing and advertisement. With high-quality products and clever marketing strategies that don't cost anything, Zara forces people to buy its products. Fashion trends change every day, and as an apparel retailer of fashionable clothes, Zara tries to keep up with the trends and is always prepared to make production changes. Zara value chain analysis allows the brand to reduce its production and distribution time, which results in Zara selling out of its new line of products as soon as they are released to the customers. Zara puts up special discounts, or limited-time offers to encourage people if some stock remains.
Services
Although high-quality products draw lots of new customers to Zara, that doesn't mean that all of those customers will be loyal to Zara in the future. Zara's pre-sale and after-sale services earn customers' loyalty for the brand with some of its services, including employees of stores and outlets helping customers select clothes if they are in a hurry. There is no need for Zara to improve its customer service as a clothing store, but the company still puts customer satisfaction before everything. People can call operators for queries, and the return policy is also excellent.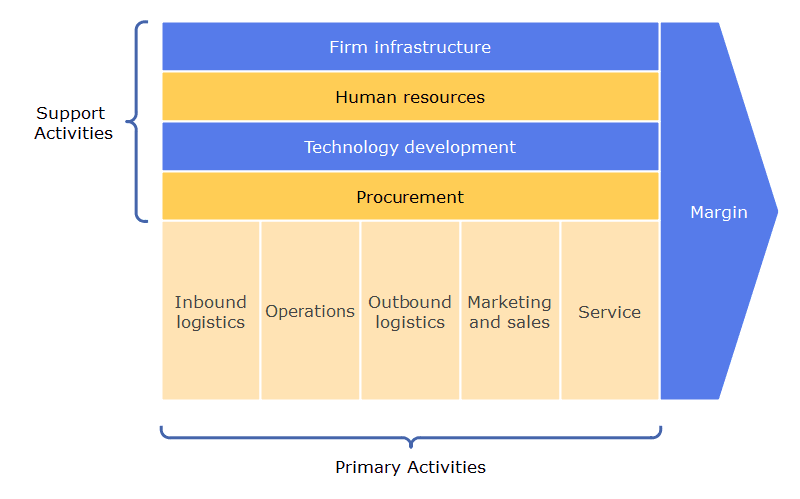 Support Activities in Service Zara Value Chain Analysis
The value chain analysis for Zara highlights four crucial support services.
Infrastructure
As a world-renowned apparel retail company, Zara's infrastructure includes developing strategies, planning, accounting, legal, quality management, and government activities performed by offices, distribution centers, retail stores, and logistics centers. Zara's value chain analysis defines work efficiency, productivity, and critical planning to support its value chain. Its broad categorical infrastructure helps the brand maintain its global presence. With the main departments located in Spain and no outsourcing of product manufacturing, the company can make fast decisions and support other departments with work integration.
Human Resource Management
Human resource management in the Zara value chain is essential for the organization to hire new talents who will help with the company's further success. It is a crucial support activity that allows the company to gain a competitive business advantage by efficiently managing its employees. Its culture help employees of different capacities and talent to place their best efforts in a healthy working environment. The HR management of Zara fosters diversity and various rules and regulations. Employees raise their rank based only on their skills.
Technology Development
Zara's focus on technology development mainly involves advanced means for better integration of all departments to make quick decisions, analyze market trends, and solve problems collaboratively. The company also focuses on environmentally friendly activities and tries to develop new technologies to reduce harmful waste. Online websites are updated routinely with unique features that make the online shopping environment more engaging and easier for customers. The machinery in Zara production factories also evolves regularly.
Procurement
The procurement of raw materials of Zara is mainly done by the Inditex group, which buys those materials at a low cost from fixed suppliers in various countries like China, the United Kingdom, etc. They also purchase inputs from outside suppliers. Procurement is the activity of buying inputs to increase the efficiency of the value chain. Zara does that by maintaining a healthy relationship with its suppliers.
Convert PDF Report Using PDF Agile
Converting a PDF report without a PDF editor is a complex and time-consuming task because you can't edit the PDF report due to its format, so you go through various steps to convert the document into other formats to make it easier to edit to copy text from the document. PDFs are the best source for key information because there are no lengthy explanations, only to-the-point data you need. Still, many students and professionals can't copy or convert that data because of the format restrictions. PDF Agile solves this problem with innovative features and an easy-to-use interface similar to Word that supports multiple formats. Now, you can edit, merge, convert, and compress your PDF documents without wasting time and easily convert PDF files to Word, Excel, PPT, TXT, image, and CAD formats.
Key Takeaways
Zara value chain analysis is the best example of how any company can improve its healthcare services while maintaining the same budget to gain a competitive business advantage using the correct value chain strategies. PDF Agile is the best PDF editor and convertor, with many creative tools for editing, converting, and compressing your PDF document. It supports multiple formats and comes with an easy-to-use interface.
References
QuickBooks "Zara Supply Chain Analysis: The Secret Behind Zara's Retail Success": From https://www.tradegecko.com/blog/supply-chain-management/zara-supply-chain-its-secret-to-retail-success

PDFCOFFEE "Zara Value Chain Analysis": From https://pdfcoffee.com/zara-value-chain-analysis-4-pdf-free.html

Prezi "Zara - Value Chain": From https://prezi.com/jvrnmclrl0jk/zara-value-chain/

Easy48 "Value Chain Analysis of Zara": From https://www.essay48.com/value-chain-analysis/13701-Zara-Value-Chain-Analysis