Online PDF compressor free tools are as good as any other pricy and promising paid applications. However, these solutions sometimes come with certain terms of usage, which may include limiting bulk uploads, exceeding PDF sizes, or requiring a free login to download the PDFs.
Easy to use interface on these PDF optimizers gives you the freedom to act efficiently and independently. While dependency on any paid plan could be stressful if not using the compressor regularly as it acts as a liability even when not used frequently, using a PDF online compressor is almost safe as it may delete the files within a few hours of your usage (to free the vendor's servers).
Here is the list of top 10 PDF optimizers available for free on the Internet that provide PDF compression without losing quality. If you want some advanced features, you can go for their paid plans as well.
Smallpdf
Smallpdf compressor is one of the online tools that allows you to act quickly without putting time into signing in. The steps to compress in this PDF resizer are simple to follow. Choose the file or drag and drop any PDF here to start the compression.
The maximum file size accepted is 5GB to use this PDF compressor online free. Smallpdf doesn't allow batch processing in the free plan but you can always process unlimited individual files.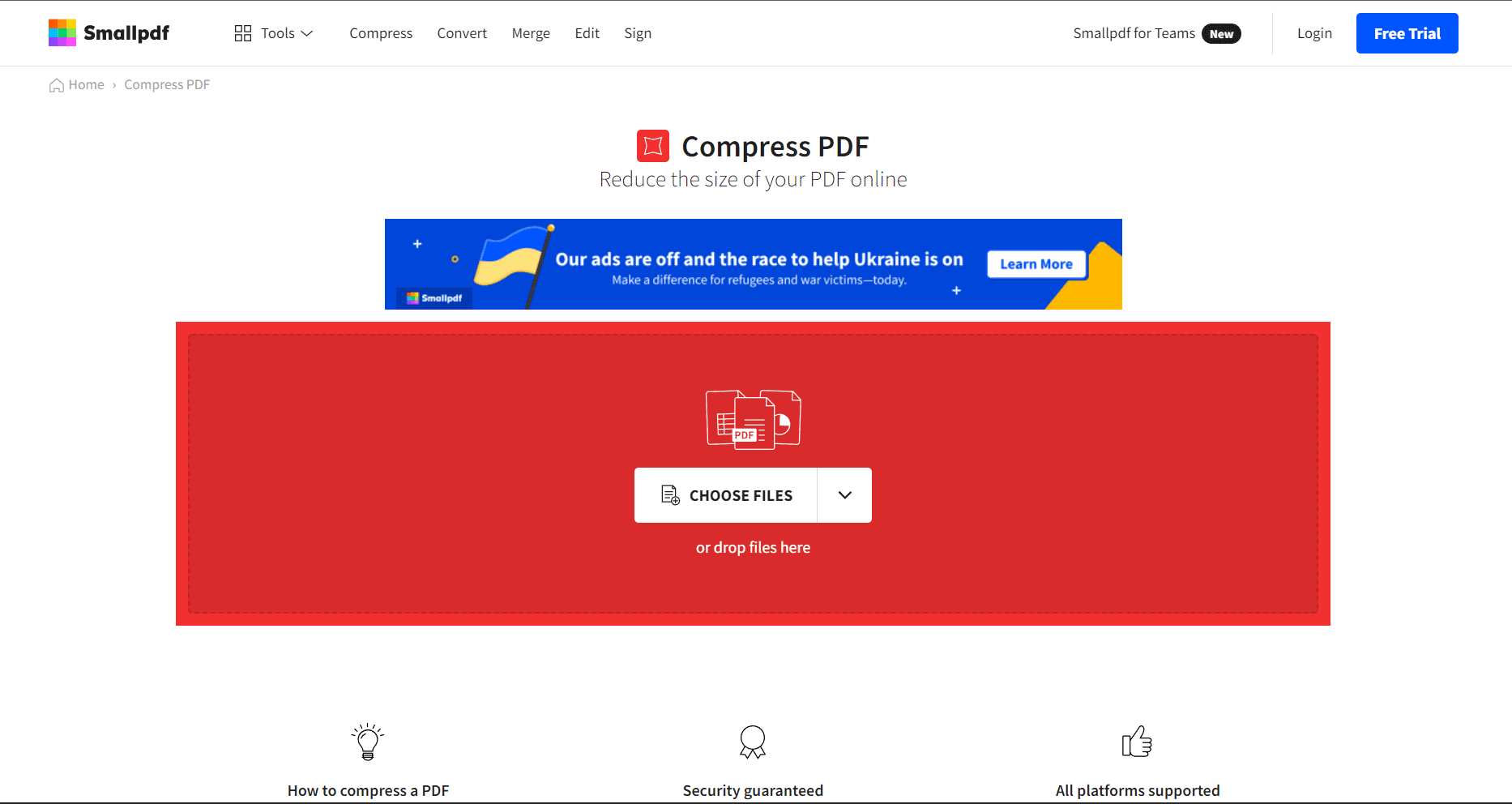 Adobe Acrobat
Despite being notorious for a pricy product, Adobe allows its online PDF size compressor to compress up to 2GB file for free. Furthermore, using simple steps post-compression, you can share the PDF directly with anyone after signing in to your Adobe account. The best thing is that the app allows High, Medium, and Low compression types in the same free plan.
This plan already answers the need for a PDF compressor online free. However, its paid plan makes it easier for someone who wants to work on refining PDF more granularly.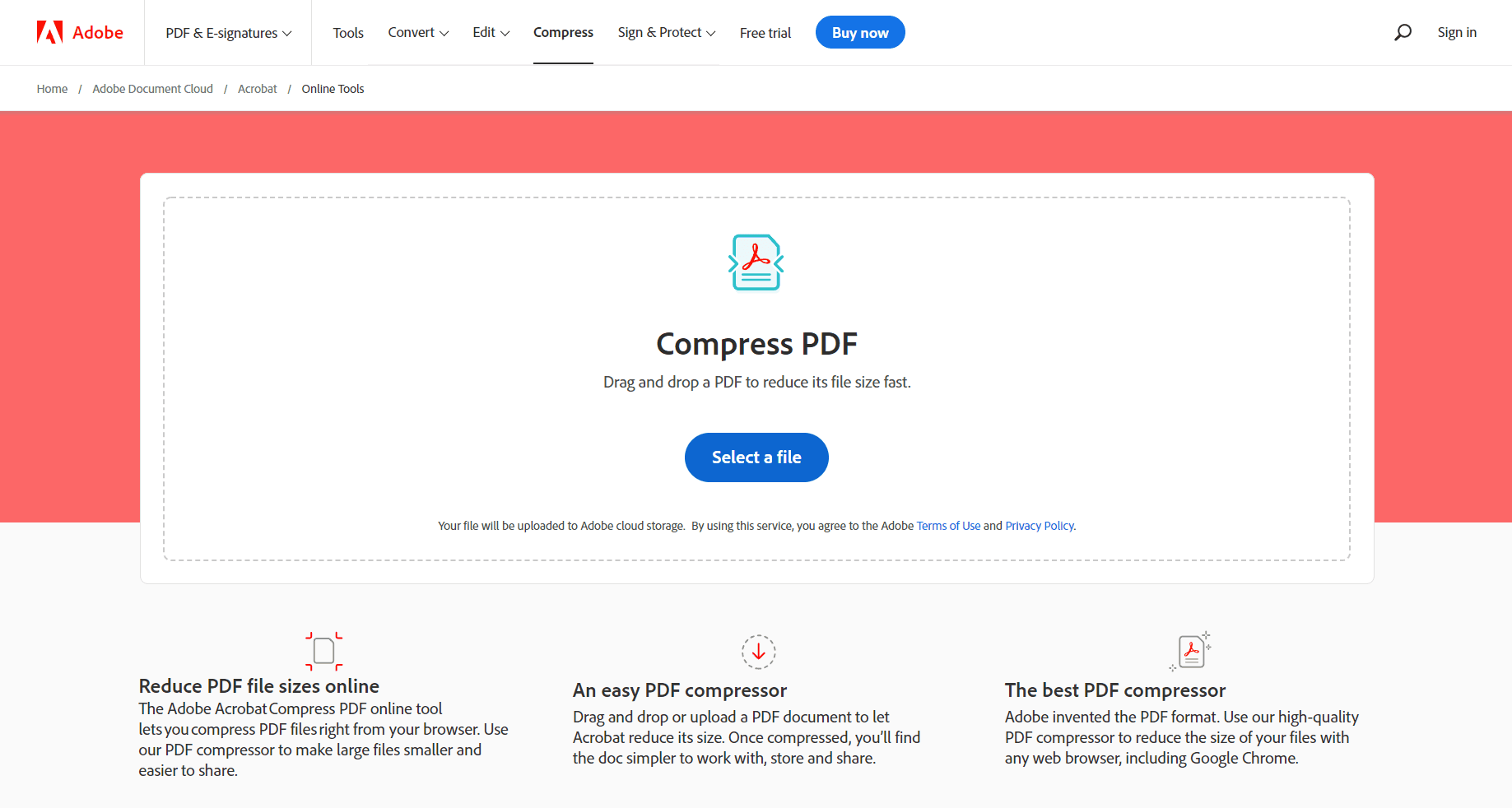 iLovePDF
In addition to being a PDF compressor online free, this PDF optimizer allows you to check the PDF quality live while selecting a type of compression. This helps in picking the right level to compress before finalizing the output. After compressing, this tool offers to directly download the PDF to your device or upload it to your preferred Cloud storage (Dropbox or Google Drive), or share its link or QR code with anyone for downloading.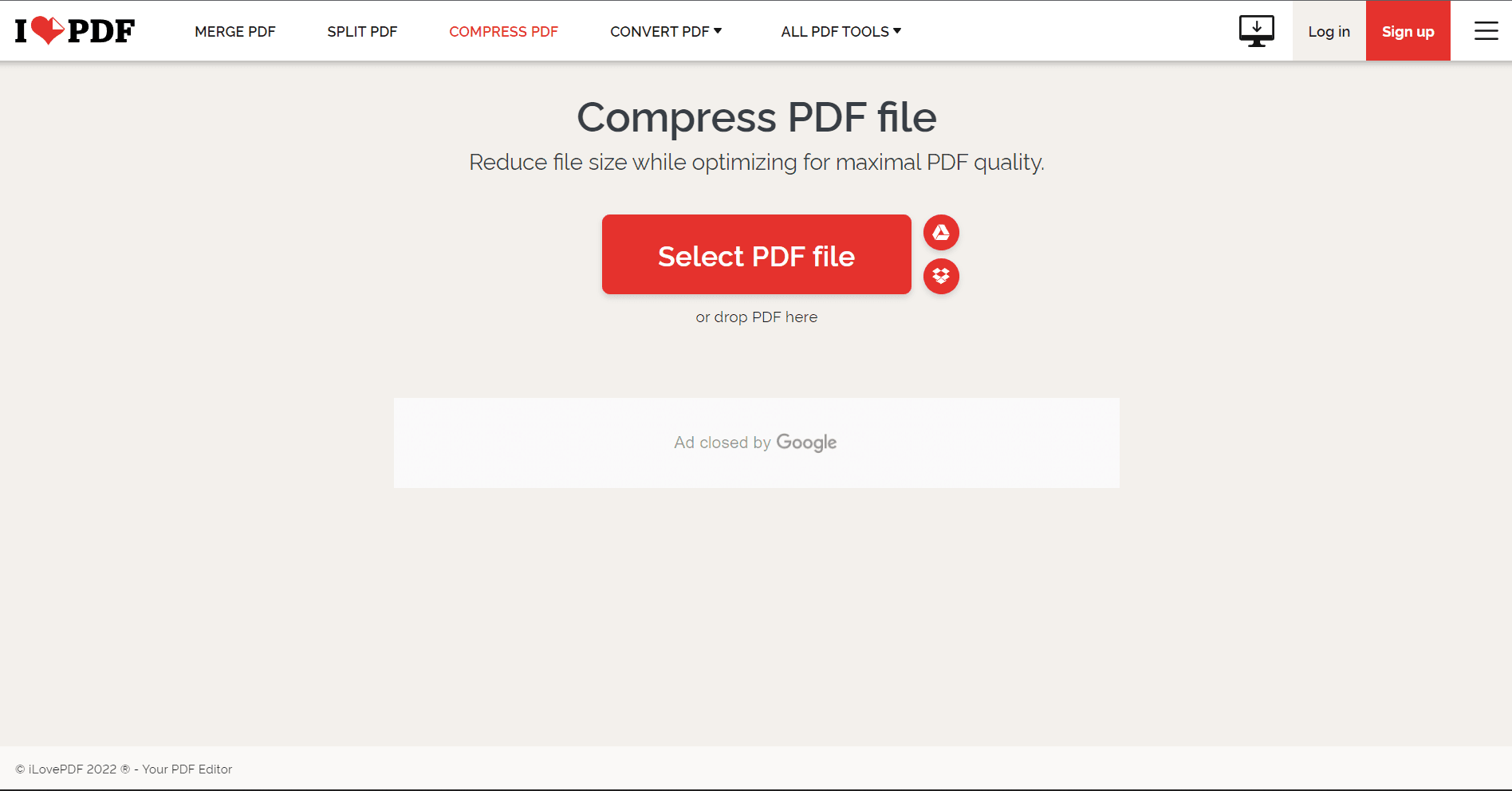 PDF Compressor
PDF compressor helps you to work on individual files. However, for bulk uploading, it is limited only to 20 files at a time. For downloading, you can either save one file at a time, or ZIP all the documents and then obtain the container.
You can always preview the percentage on the thumbnails of the PDFs which clearly explains the compression ratio applied on each file individually.
PDF2GO
PDF2GO is another free PDF optimizer for individual file uploading or maximum 3 documents at a time. The tool gives you an additional option to further compress the PDFs by selecting additional size-reducing option where you convert all pages in grayscale and optimize them a little more.
PDF2GO further allows you to choose your preferred preset from a drop-down list according to the DPI of any file.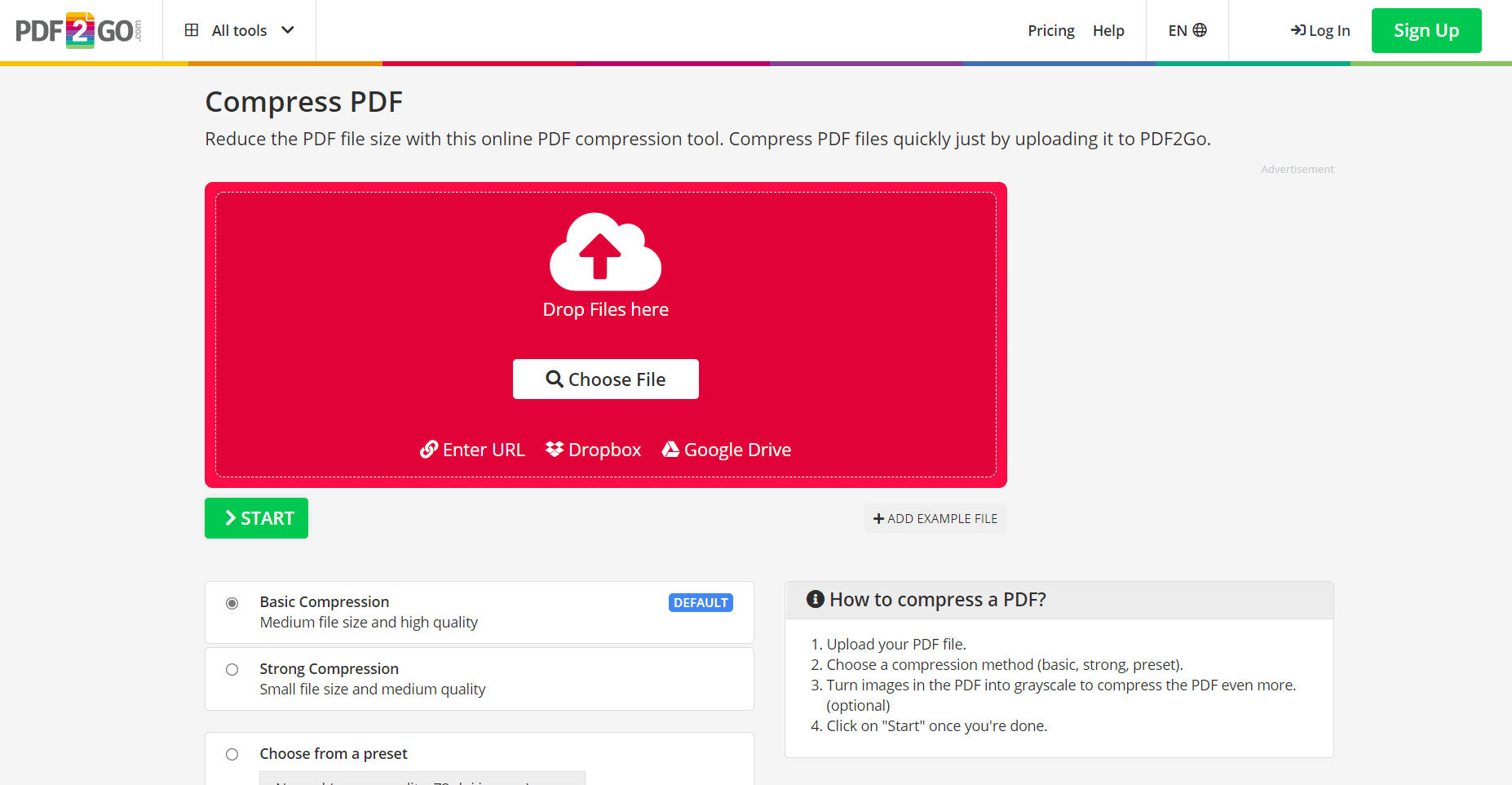 Zone PDF
While you click to upload PDF files here, unlike many other PDF size compressor tools, Zone PDF makes sure to access only your PDF files instead of showing other documents (MS Word, JPG, PNG, etc.) available in the folder or associated library.
The UI for this website is simpler than many other websites, and it allows you to easily switch from the compressor feature to split, merge, or convert PDF options.
Soda PDF
To remove the confusion, Soda PDF doesn't allow you to select multiple files for one compression session. In order to lower the stress on checking the file format, it only shows you the PDF documents present in the folder.
In addition, Soda PDF also gives you direct access to offline compressor by offering its desktop version. This further lowers the dependency on the Internet merely to compress the PDFs.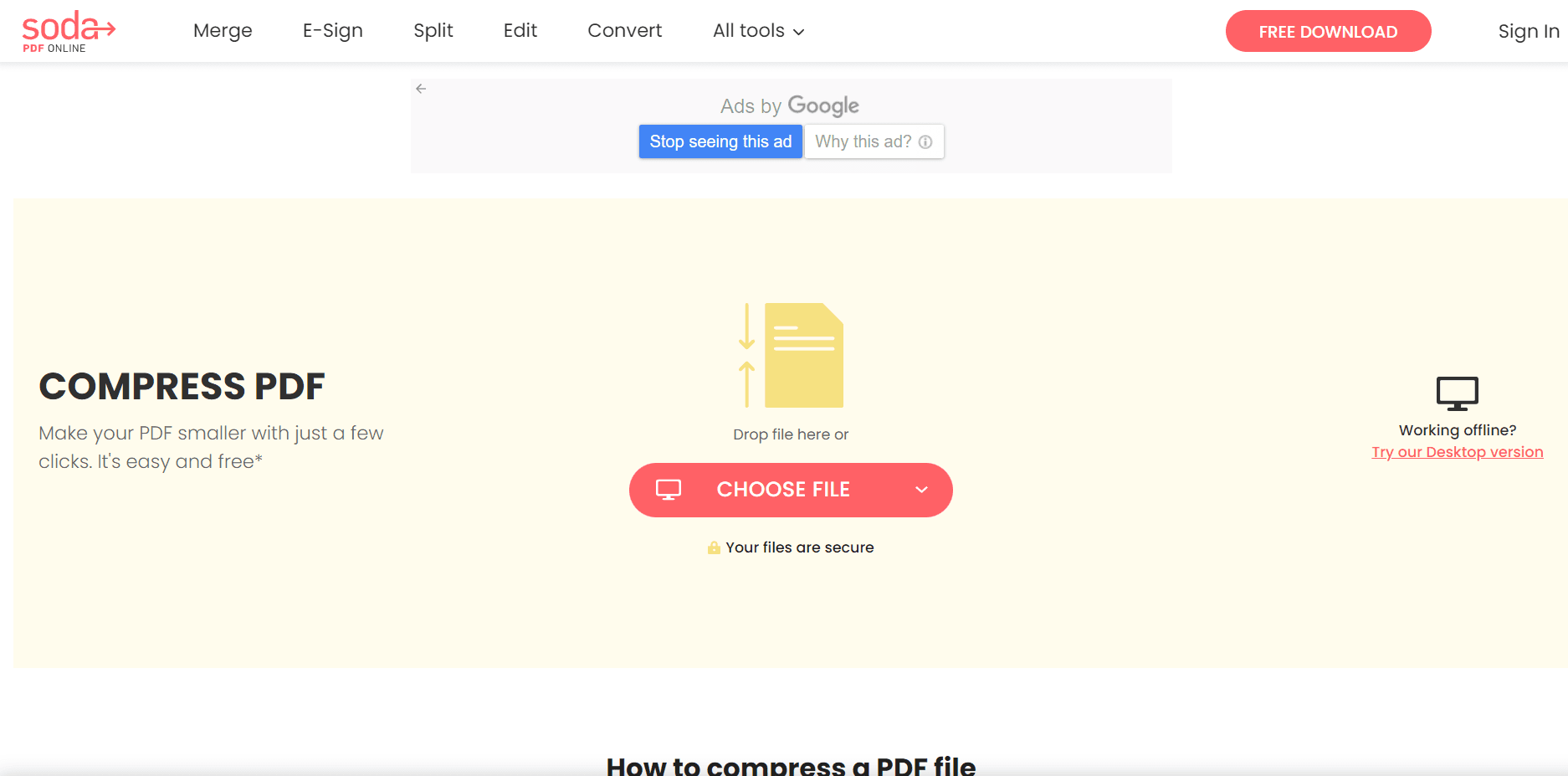 PDF Converter
PDF converter free version accepts one file at a time, without signing-in to the website and batch uploads are available only for the paid members.
Also, this PDF optimizer doesn't promise pixel-perfect compression with high-quality output as the description on the landing page clearly explains why they can't always retain the quality. This makes sure that you as a user are aware of the expected results.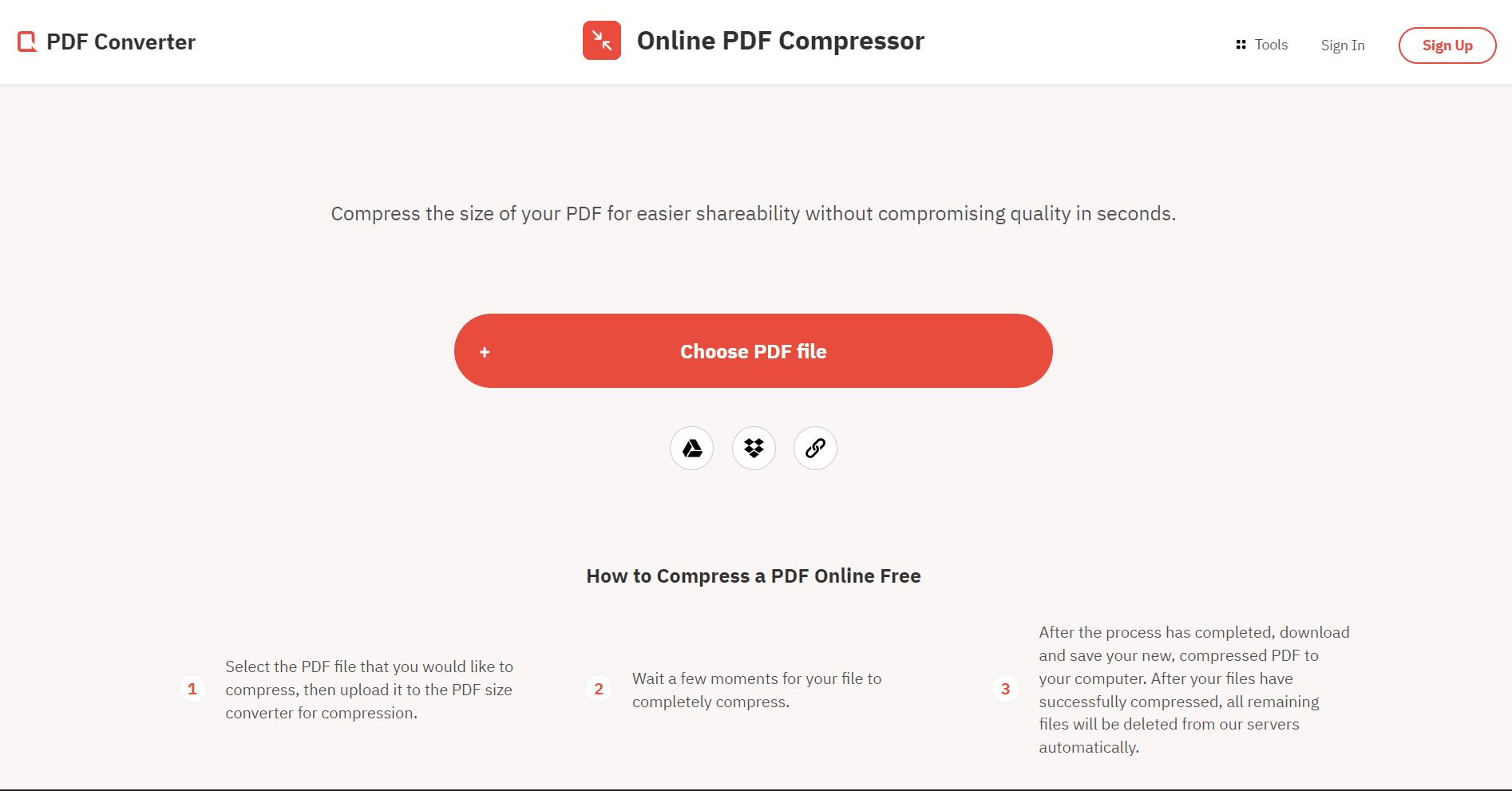 Sejda
Sejda is a PDF size compressor that limits the file size to 100MB or 200 pages. It could be your one file or a batch of multiple files that should be under the mentioned size. At the time of this writing, Sejda allows 3 activities per hour which might compel a regular user to buy a premium plan for ease of use.
While selecting, Sejda offers you to check more options to compress a file including image quality, resolution, and conversion to grayscale. This helps you to retain the resolution of the image(s) in the PDF (if any).
PDF 24
PDF 24 is a true free-to-use PDF optimizer available on the Internet. It doesn't have a file limit or login compulsion to compress PDF documents. In addition, the tool gives you options in DPI to further optimize the quality and color of the images according to your requirements.
PDF 24 not only allows you to download or email the files but also to fax them (if they are still used). As for the conversions, you can always check the percentage, visibility of the content, and quality by zooming in to the PDF before downloading.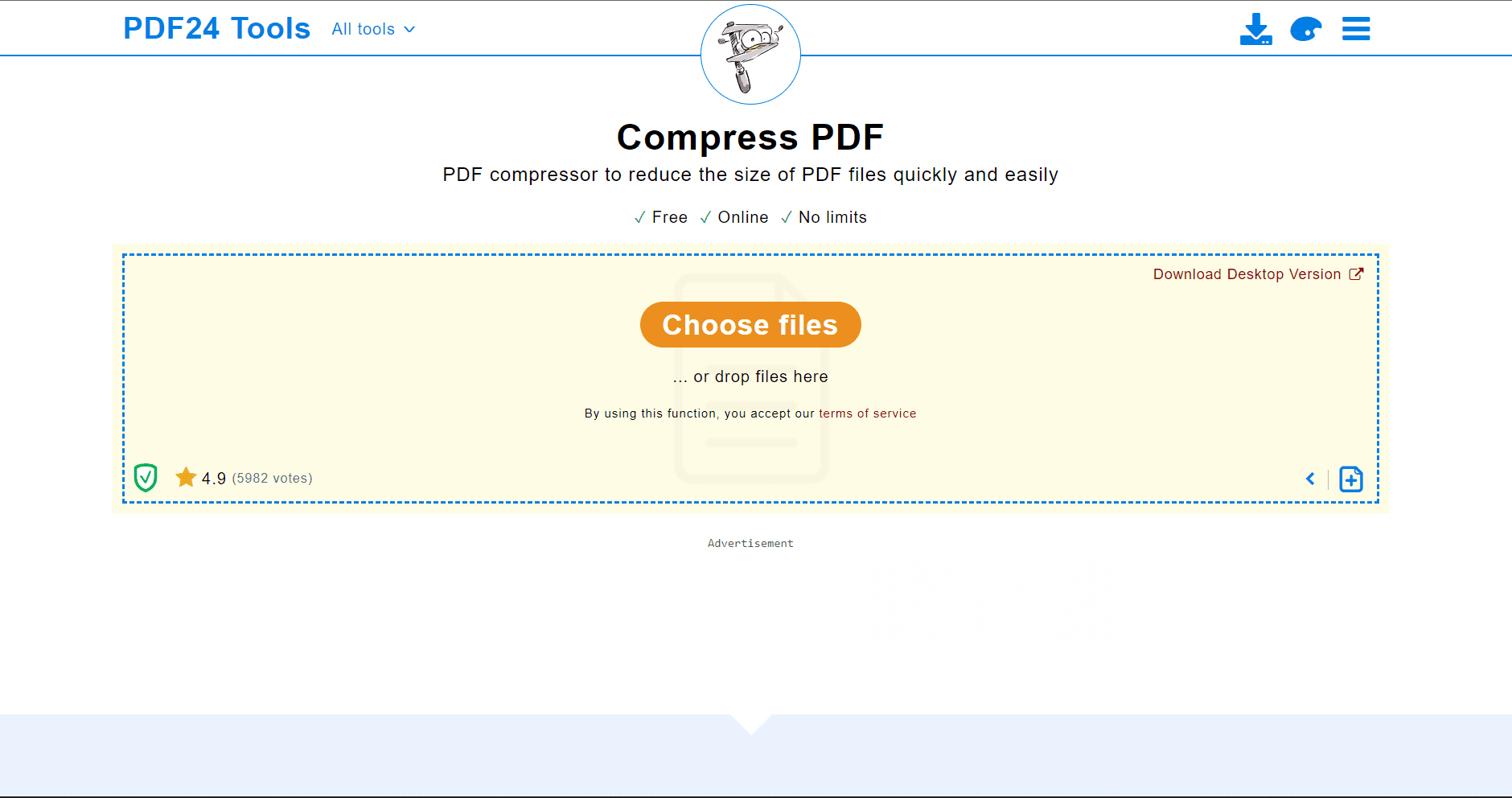 Conclusion
There are many PDF compressor free tools available on the Internet that are open to all users without signing in. Although almost all of them are helpful in individual file uploads and compression, only a few allow bulk uploads. Nevertheless, it is always a good idea to check multiple compressors before deciding on one that best fits your requirements.