Introduction
Automotive industry value chain analysis is a visual framework to evaluate the operations and processes of each segment of any automotive company. Porter's value chain analysis allows manufacturers and production companies to analyze and manage all activities involved in transforming an idea or concept into a final product. It evaluates every segment of the value chain to identify the areas that need improvement by making processes more efficient or optimizing efforts to reduce production costs and provide high-quality products to customers. Automotive companies also use value chain analysis to increase profitability and minimize waste of resources. The automotive industry covers a vast range of activities and supply chains that you can improve or efficiently manage with a values chain analysis. Here, we will discuss the details of the automotive industry value chain activities and the elements that create more value for the product. Also, learn how PDF Agile makes it easier to convert PDF reports.
Background of the Automotive Industry
The companies involved with manufacturing, designing, marketing, and selling motor vehicles like automobiles and their parts are collectively known as the automotive industry since 1860 with the invention of gasoline motor engines to run self-powered automobiles and the huge revolution in the 20th century. The automotive industry is constantly rising with new developments and environmentally friendly automobiles. It is one of the largest industries in the world that also profoundly impacts the environment. The consumption of water per vehicle manufacturing and the pollutants coming out of running automobiles results in environmental issues like a gradual decrease in underground water levels and global warming.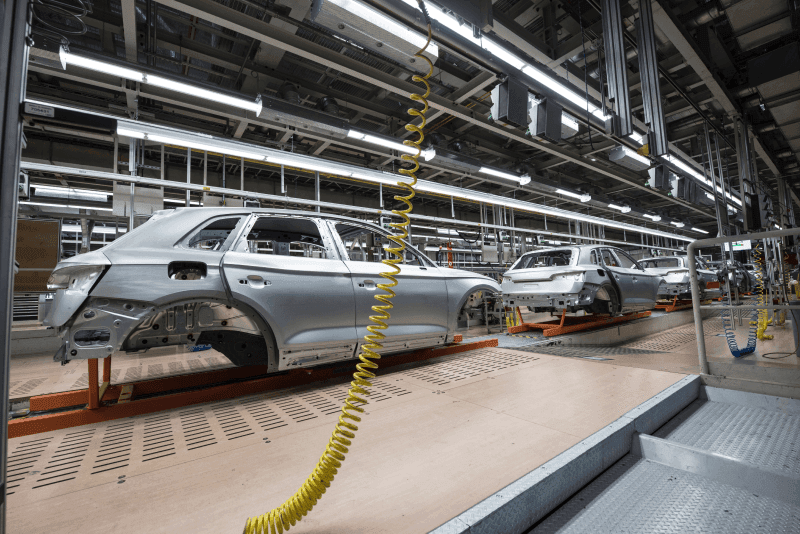 Image Source: unsplash.com
Primary Activities in Automotive Industry Value Chain Analysis
The automotive industry value chain outlines five primary activities essential for a compelling value chain analysis.
Inbound Logistics
Inbound logistics include purchasing, receiving, storing, and managing raw materials from suppliers to manufacture products. The best way to reduce production costs is to start at the first stage of product manufacturing. Maintaining a good relationship with suppliers is the best way to improve inbound logistics. The automotive industry value chain can quickly become complex because many actors play different roles in different value chain processes. We can easily create a supply chain for multiple processes in each automotive industry segment after creating divisions like companies manufacturing small and light automobiles and companies manufacturing trucks, buses, and other heavy automobiles. Inbound logistics handles the materials to manufacture engines, design and create bodies, etc.
Operations
Operations of companies in the automotive industry depend on the tradition of how the company manufactured automobile parts from materials and assembled them to create the final product. Most companies set up the assembly line in one factory or adjacent factories where they can use the raw materials procured from inbound logistics and manufacture parts for automobiles. Being one of the largest global industries, there is no shortage of local and world-renowned automobile brands. The automotive industry value chain evaluates activities segment-to-segment to identify areas of improvement.
Outbound Logistics
Outbound logistics of the automotive industry value chain analysis refers to the activities, processes, and distributors involved with delivering the company's products and services to customers. After a company manufactures its products, the final product goes to warehouses or other storage facilities before being shipped to showrooms and outlets for customers. The best way to add value to the final product is to ensure that the customers get the promised new products in the promised period. It helps them increase customer loyalty and manage products before their lifeline is over and it is time to introduce new products.
Marketing and Sales
Marketing and sales are essential for manufacturing companies because they need to advertise their products and provide information to gradually introduce their products in the market to engage customers and boost sales for profitability. Companies use advertisements, sponsorships, social marketing, TV promotions, and every other advertisement channel to promote cars, other automobiles, and their parts in the automotive industry. Automotive products are mainly sold through dealerships, showrooms, and other third-party services. One dealership can sell cars from different brands and models based on the customer's requirements.
Services
The automotive industry provides the best pre-sale and after-sale services to its customers. As you know, automobiles like cars and small trucks require regular maintenance. The customer support services in the automotive industry value chain allow customers to get their vehicles serviced for a certain period without purchase. Some companies, like Tesla, provide free charging services for their electric cars. Although there is no need for these services as the products are already sold to the customers, it helps increase customer satisfaction and loyalty which is good for its image.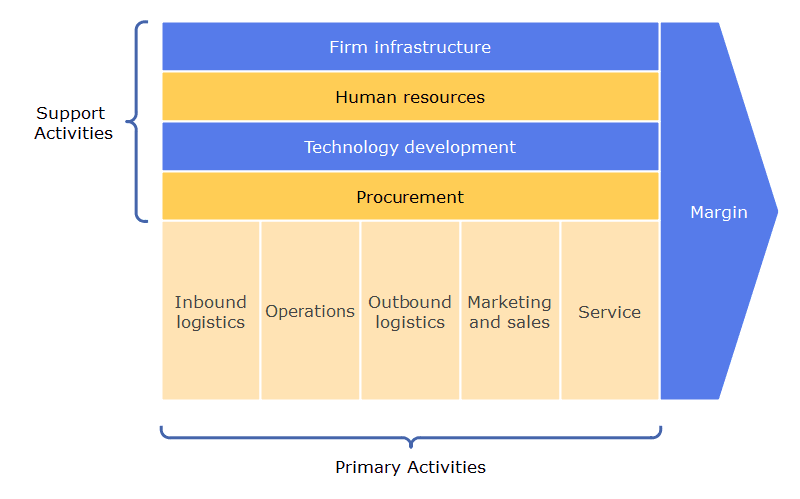 Support Activities in Automotive Industry Value Chain Analysis
The value chain analysis for the automotive industry highlights four crucial support services.
Infrastructure
Value chain analysis also evaluates support activities like the infrastructure of the company. Any company's infrastructure in the automotive industry includes multiple activities essential for a successful business. The company's infrastructure defines work efficiency, productivity, and critical planning to support its value chain. A productive infrastructure means better management of the process of product development and distribution. Automotive companies also manage third-party dealers and intermediaries because local dealerships are the best way to boost sales.
Human Resource Management
Automotive companies are a part of one of the world's largest industries, constantly expanding. New assembly lines are set up in various countries to manufacture more and more automobiles to meet customer demands. It also comes with lots of job opportunities. The human resource department is responsible for hiring new talents to help companies gain a competitive advantage over their rivals. Proper human resource management includes activities like employee training and assessment. They also try to provide a healthy working environment.
Technology Development
Technology development is one of the key elements which helps any company gain a competitive advantage over its rivals. With the integration of advanced technology and automobile improvements, companies are focusing more on manufacturing cars by putting the customer's safety. Some companies are developing A. I modules and install auto-drive features in their vehicles. The best example of technological development is environmentally-friendly electric cars that run on electricity instead of gasoline.
Procurement
Procurement is the purchasing of inputs to create products and services to increase the efficiency of the value chain. Automotive companies procure raw materials from various suppliers. The company maintains a trusting relationship with its suppliers and uses technology that makes the procurement process more efficient. Procurement support various primary activities like inbound logistics, operations, and technology development.
Convert PDF Report Using PDF Agile
PDF reports are the best source for key information related to any topic. Students and professionals download reports online in PDF, PPT, or image formats that are hard to edit or convert into other document formats. It limits the user from extracting text from the reports, as converting PDF reports takes time and effort. PDF Agile is the best tool for this job with its innovative features and a clean interface similar to Word that supports multiple formats. Now, you can edit, merge, convert, and compress your PDF documents without wasting time and easily convert PDF files to Word, Excel, PPT, TXT, image, and CAD formats.
Key Takeaways
Value chain analysis is a visual analytical tool that allows companies to innovate their business activities and gain a competitive business advantage over others. It also helps them identify the activities that need improvements and create an efficient marketing model. Automotive industry value chain analysis is the best example of how any company can improve its healthcare services while maintaining the same budget to gain a competitive business advantage using the correct value chain strategies. PDF Agile is the best PDF editor and convertor, with many creative tools for editing, converting, and compressing your PDF document. It supports multiple formats and comes with an easy-to-use interface.
References
Notesmetic "Value Chain Analysis of the Automobiles Industry": From https://notesmatic.com/value-chain-analysis-of-the-automobiles-industry/

Unido.org "Global Automotive Industry Value Chain": From https://www.unido.org/sites/default/files/2009-12/Global_automotive_industry_value_chain_0.pdf.