Despite having the same education and hard skills, why do some qualify for the interview while others keep waiting for a phone call or mail from HR? Well, the answer might lie in your resume. However, all your lifetime efforts might fail if you fail to portray it artistically on your resume.
An account manager's resume is as critical for the job as the responsibilities of account management itself. You can't afford to take it lightly. Hundreds of candidates with a single sheet of paper, topped with a six-second resume screening time frame, can definitely decide your career and future.
So here is where you can take the help of the various account manager resume templates to edit and tailor-make one efficiently in a matter of minutes. We have also assisted you with multiple account manager resume examples so you can check and apply for your dream job per your requirements. Stay tuned for a mindful reading.
Account Manager: Bridging the Organizations and Clients
An account manager serves as the link between the organization and the clients he is assigned to handle. He is bestowed with the task of managing sales and relationships with customers.
These managers hear and address the customers' inquiries and requests empathetically with the best remedy possible. But, of course, with empathy comes the skills of negotiation to make and maximize profits.
The niche of bachelor's degree required to be an account manager include:
Business

Communication

Marketing

Public relations, etc.
Why Should You Hire an Account Manager
An account manager has specific roles, duties, and responsibilities to shoulder on behalf of his organization to address his clients in the best possible manner.
Monitor clients' budgets, explains cost and negotiates with important terms (when necessary)

Acts as a mediator between the organization's department and the clients

Conveys information and builds an understanding to meet the deadlines

Train the junior employees to manage the accounts

Provides progress reports to the upper management and the clients

Keeps an eye on competitors, fluctuation in trends, and other environmental changes that may affect the client's business

Responsible for their accounts (clients)

Discusses progress with teammates to improve business ways
Network of Industries Requiring Account Managers
An account manager is critical for the success of any organization in every industry. Below is a list of a few industries that require a manager to manage their accounts. But it is not exhaustive and comprehensive. Instead, it is just a handful of mentions in the widespread network and distribution of industries.
Healthcare

Pharmaceuticals

Biotech

Event management

Food

Marketing

Online retail

Advertising

Software

Financial services
Enhancing The Required Skill Set
You must work upon the following skills to qualify as an account manager in your desired job role.
Emotional intelligence
Problem-solving
Creative and strategic thinking
Leadership and organization
Resilience in pursuing goals and results
Excellent listening
Negotiation
Communication
Relationship building
Collaboration
Business analytics
Data analysis
MS office and spreadsheets
Account planning
Project management
Software knowledge
Budgeting and pricing
Social media skills
Account Manager Resume Examples: Ensuring You Get Your Desired Job
Depending on your skills and qualifications, you can apply for the best one that suits your requirements. A few account manager resume examples to help you apply for your desired account management job are listed below:
1. Account Manager Resume: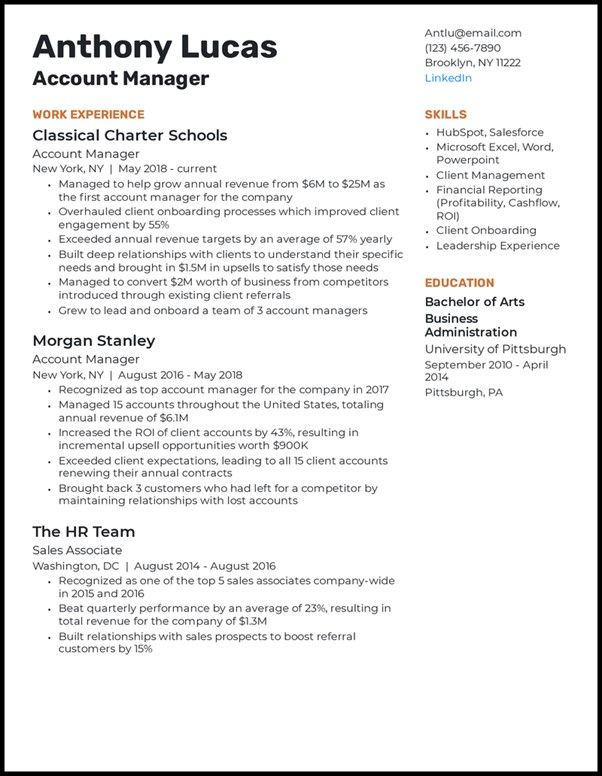 Tips to Write an Effective Account Manager Resume:
An account manager's resume requires thorough research.
Include relevant skills

Have know-how of day-to-day operations

Include positions that explain your capability for the role
2. Entry-Level Account Manager Resume: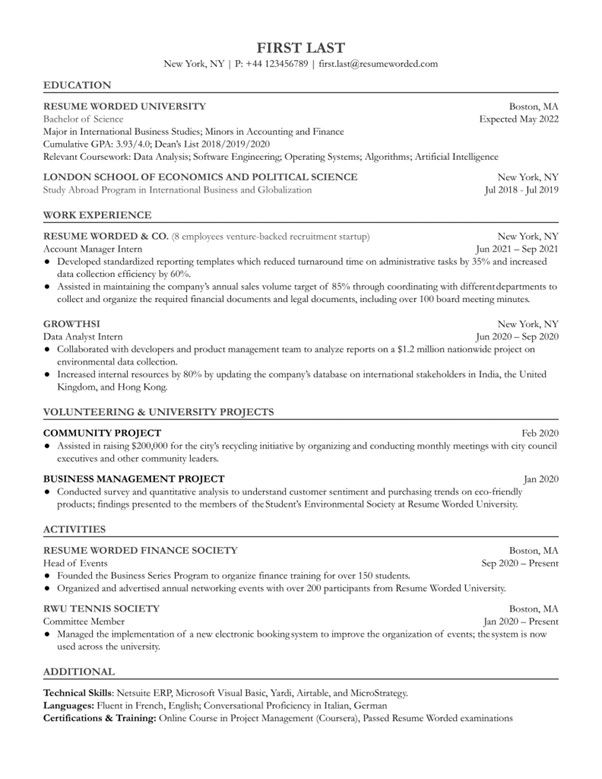 Tips to Create an Ideal Entry-Level Account Manager Resume Work:
An entry-level account manager's resume emphasizes your education and internship
Include your education details

Use bullet points to be specific

Include activities and projects that are relevant to the job role

Focus on your problem-solving and negotiation skills
3. Assistant Account Manager Resume: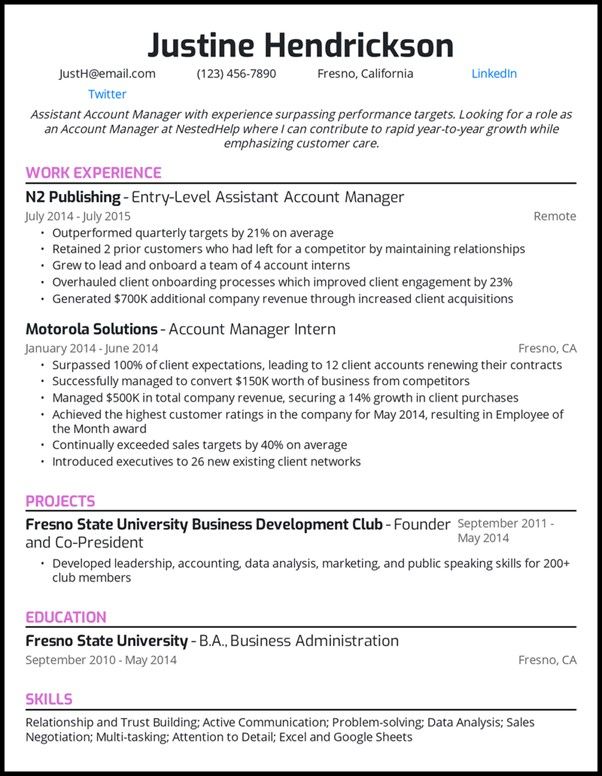 Tips to Make a Perfect Assistant Account Manager Resume Work:
An assistant account manager's resume focuses on delivering value and work experiences
Enlist the relevant work experience, including projects, volunteering, and coursework/activities

Exude leadership potential via your projects

Focus on job performance through numbers

Eliminate white space using customized objectives
4. Sales Account Manager Resume: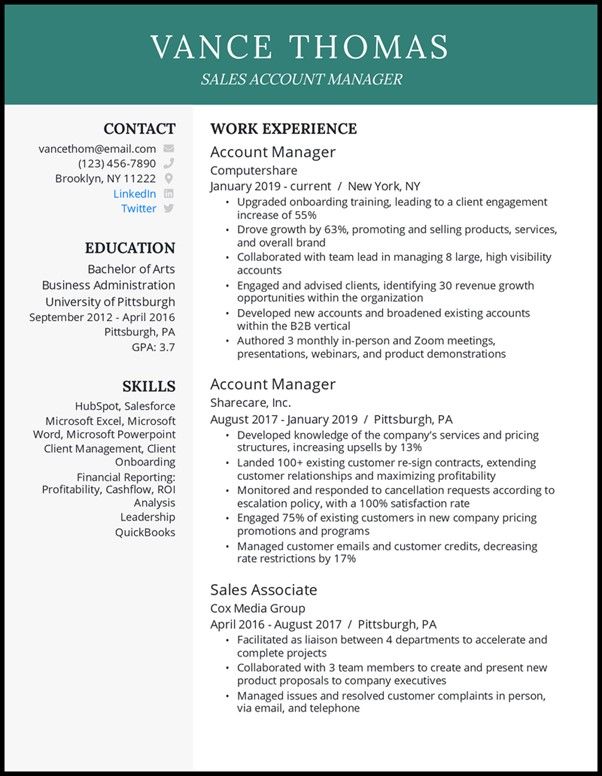 Tips to Build an Ideal Sales Account Manager Resume:
A sales account manager's resume looks at how efficiently you pitch yourself.
Pose yourself as the company's best financial decision

Exude confidence and success through facts and impacts of your job positions previously held

Use action verbs and bullet points to list your job experience and hook the recruiter's attention
5. Key Account Manager Resume: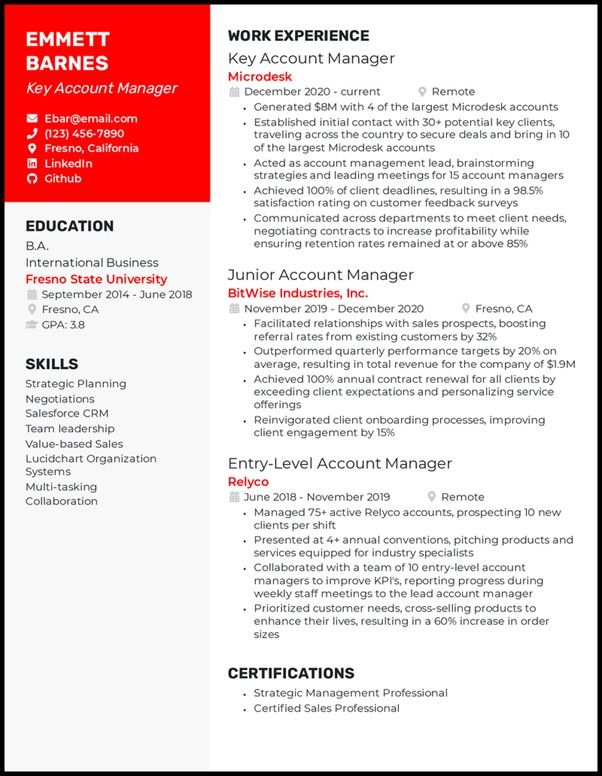 Tips to Make a Key Account Manager Resume Work:
A key account manager's resume must demonstrate the candidate's job growth.
Make your resume impressive for the recruiter's attention

List your work experience in a reverse chronological order

Quantify the impact of your skills

Highlight your growth in effortless management
6. Clinical Account Manager Resume: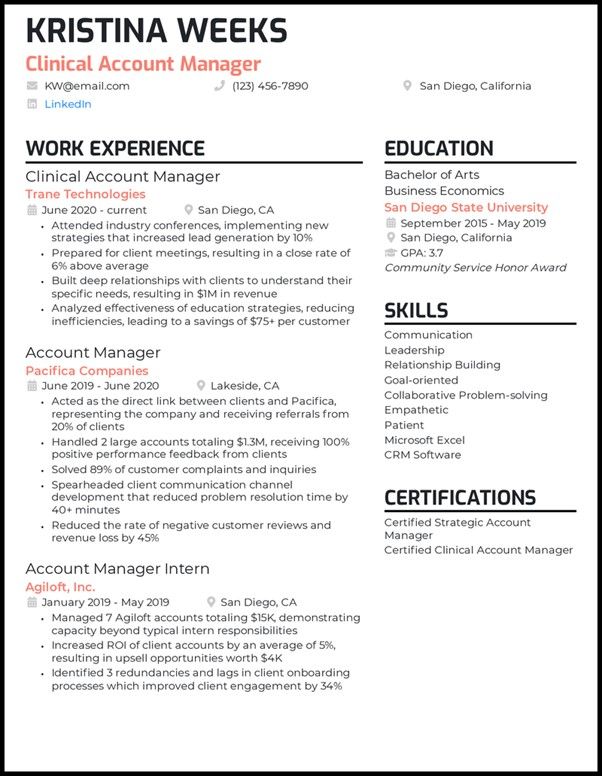 Tips to Build an Effective Clinical Account Manager Resume:
A clinical account manager's resume should highlight the balance between client needs and organization profits.
Use quantifiable metrics to demonstrate the impact of your job responsibilities

Obtain relevant certificates

Sync the client's communications empathetically with the negotiations for maximizing profits
7. E-Commerce Account Manager Resume: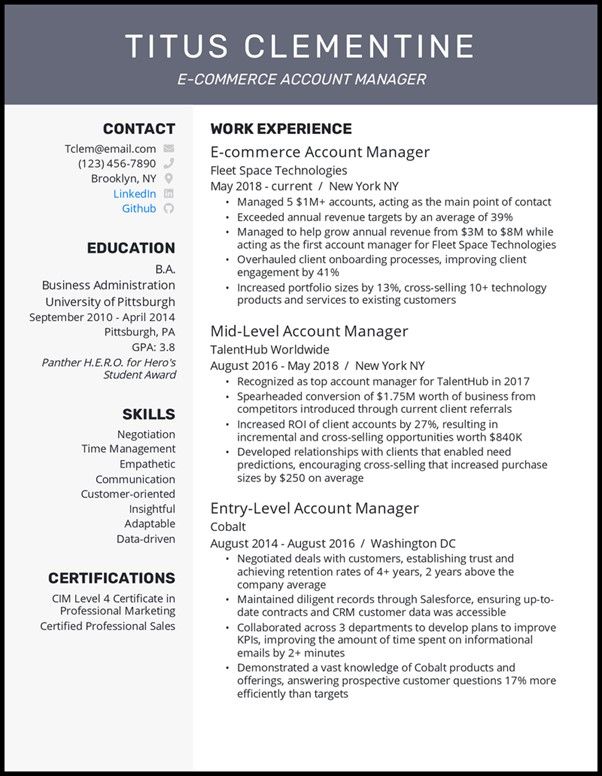 Tips to Create an Ecommerce Account Manager Resume:
An e-commerce account manager's resume demonstrates the various respect for job responsibilities.
Include client acquisitions/communications and contract negotiations

Highlight the usage of CRM, upselling/cross-selling, and retention rates

Include these responsibilities wherever necessary

Avoid cluttering your resume by writing all the duties in the same place
8. Senior Account Manager Resume: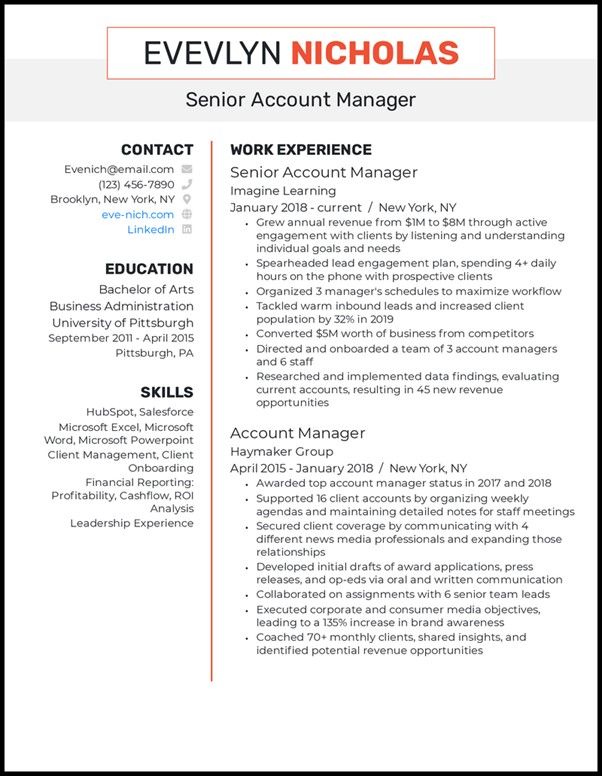 Tips to Write a Senior Account Manager Resume:
A senior account manager's resume works on metrics.
Quantify your experience

Include the impact of Key Performance Indicators (KPIs) in your performance

Mention and include KPIs in bullet points

List your work experience
Account Manager Resume Templates: Multiple Designs and Formats
The account manager resume templates are a readily available preloaded structure at a click away. Whether you are beginning to start your career or have an experience of over a decade and looking for a switch, in either case, you can use it to serve your requirements.
A template aids you in many ways. First, it helps you save strenuous efforts and time and additionally enables you to provide a standard business structure for the specific job position you desire. You can choose to download and edit it to customize your needs, or you can tailor-make one by taking the necessary guidelines from a few templates.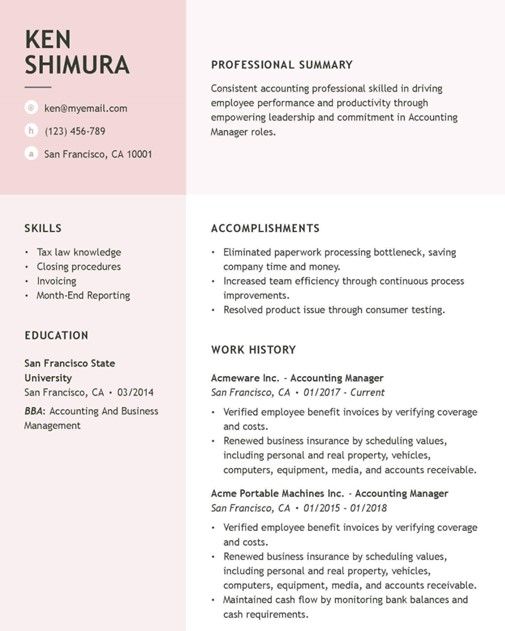 Several websites provide these account manager resume templates freely. A few websites among the pool of websites are:
Monster

Indeed

Velvet jobs

Resume worded

My perfect resume

Kick resume

Job scan

Qwik resume

Zety

Beamjobs

Job hero

Resume builder

Live career

Hiration
Usually, these account manager resume templates are in PDF formats. Despite being readily and quickly available, you will need a professional tool created to access it on your devices. For example, PDF Agile PDF editor can come to your rescue. It must be your go-to solution to open, read and access your PDF files anytime and anywhere.
But before getting into the further editing details, let us quickly see how to create an account manager resume seamlessly with the help of the below-given structure.
How to Create an Account Manager Resume: Structuring Your Resume Perfectly
With the necessary aids at a click away, you can quickly draft your account manager resume to suit your needs and requirements. However, you can download some account manager resume templates and edit them for customization. But having a blueprint at hand always ensures you are thorough with your purpose.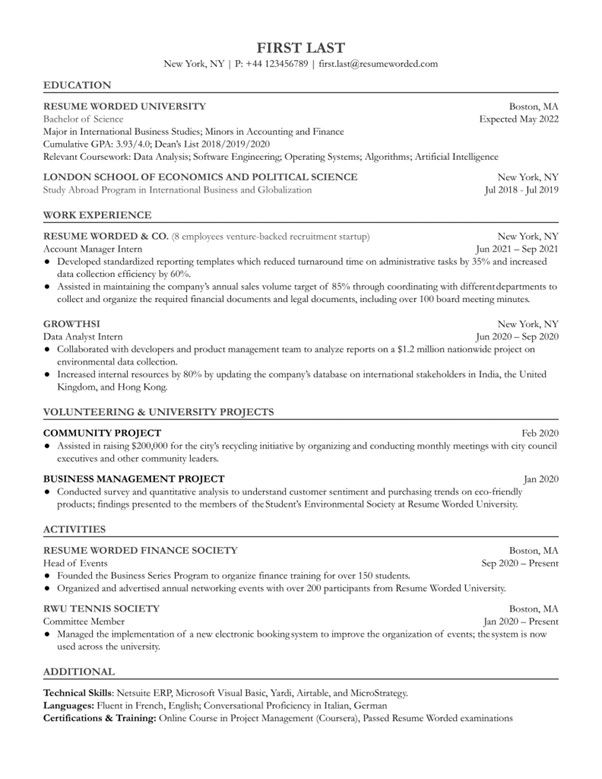 You can easily follow this structure to fill smoothly in the blank spaces on your resume.
1. Selecting the suitable layout:
You must select a reverse-chronological format to highlight your latest achievements. Using standard fonts and white space strategically can qualify you in the six-second resume screening by the hiring manager and for the ATS.
2. Include your contact information:
Your contact information is your first impression of the recruiter. Make sure it doesn't cost him an eternity to fetch the necessary details. You must include:
Your name

Address

Phone number

Email ID

Professional social handles like Twitter and Linked In
3. Include a resume objective or resume summary:
While a resume objective shows your passion, a resume summary exhibits your accomplishments. Consider writing a resume objective if you are a novice/ rookie or a career changer. But if your experience holds no bounds, you must opt to write a resume summary.
4. Describe your experience:
You must highlight your experience to show your progress throughout your career. In the absence of one, you must add a minimum of 3-5 relevant achievements to your strategic resume that is of utmost importance to your desired account manager job.
5. Include your education:
Adding the education details is needful, especially in the case of an entry-level account manager position. But you can still mention the basic education details before applying for the other job roles. It must include:
College name

College address

College years

Degree/major

GPA
6. Adding the vital skills:
It always helps to include relevant and specific skills. You must list the skills and the impact you can quantify and defend yourself during the interview. Your skills must be in sync with the job keywords. You must not boast about your hard and soft skills. Instead, allow the resume you speak for you.
7. Include additional sections:
Everyone has the primary education and skills to qualify for the job. What makes you stand out from your competitors is the 'extras' that your resume has to offer. Here you can include:
Certifications

Additional activities (like volunteering, internship, association memberships, etc.)

Conferences and publications

Hobbies and interest
8. Adding a cover letter:
Indeed a cover letter is a cherry on the cake. Whether the job description states you to write one or not, you must always include it with your resume. You must customize it by addressing your hiring manager by their name and adding how you can benefit the company and its success.
PDF Agile PDF Editor: Editing Your Resumes and Documents Seamlessly
Anyone can create an account manager resume, but it takes smartness to edit it wisely to get qualified for the interview. For example, PDF Agile PDF editor helps you edit your resumes on the go anytime and anywhere. Its additional features are:
It converts the formats and files of Word, TXT, PPT, and Excel to PDF and vice versa

It helps you edit your files and resumes without compromising on the quality

It allows you to add signatures digitally to your account manager resumes

You can crop, merge and compress your documents retaining their fonts and formats

Now resize and print your necessary documents with PDF Agile editor

Translate your resume to any foreign language to apply for the job in your desired country

You can search for the text in its inbuilt browser and edit it quickly in the document

Feel safe with the advanced security of PDF Agile. Is privacy features protect your documents and files

Add hyperlinks and page numbers to your records through this fantastic software
You have all the right reasons to use PDF Agile PDF editor. If you are skeptical, you should use it asap to edit your resumes wisely.
General Tips for Writing an Effective Account Manager Resume
Before writing your account manager resume, you must always be mindful of various aspects. However, any amount of suggestions might fall short of building a perfect resume. But you can be careful of the following tips to have the edge over your competitors.
1. Read the job offer thoroughly before writing your account manager resume.
2. Keep it simple and use a standard structure/ layout for your resume.
3. Consider writing an attention-worthy resume summary.
4. Use a reverse-chronological order to prioritize your recent achievements.
5. Focus on your achievements and experience.
6. Highlight the right skills on your resume.
7. Keep your account manager resume in sync with the job offer.
8. Remember to customize your account manager resume before applying for each position.
9. You must quantify your work and its impact in measurable numbers.
10. Understand your job market and the working of ATS, then work on your resume cindering the job keywords.
11. You must edit your resume for any mistakes and spell check.
12. You must not decorate it with graphics or other colorful elements.
13. Don't send your files in a format other than PDF to avoid formatting.
14. Remember to proofread your resume for clarity before the final submission.
A Quick Sum Up
As an account manager, you must apply for the position without any flaws. We understand your job details, so we are here to ease your pressure by providing you the insights on creating a foolproof account manager resume.
You can take the necessary assistance from the readily available account manager templates to edit and customize them according to your needs and the job offer. With various account manager resume examples, you can select the position and multiple options to explore the account manager's arena.
So hurry up and apply for your dream job today. But be careful to tailor-make your resume for each position you apply for.
Best Of Luck!