PDF files are extremely secure and safe with high compatibility. However, when you need to host this page on a web page, this compatibility doesn't work. You need to edit and create an HTML page to create a web page. But, not every person is equipped to manually convert a PDF file to an HTML page. For this reason, we use PDF to HTML converters.
In this article, we have discussed 5 important methods to convert to web page from PDF. Read on and start exploring.
Part 1: Convert PDF to HTML Online
Firstly, we will discuss the process to convert to a web page from PDF online. This means that the method involves using the internet to convert PDF to HTML. Let's explore how we can achieve it.
With Online Tools
The most obvious method is to use online tools. There are several tools on the internet that allow saving PDF to HTML without hassle. You only need to upload your PDF file to the internet software and download the HTML file.
What are the features of such a tool?
Usually, you get a one-click option. This means that with one click, we can convert Chrome PDF to HTML. All you need to do is upload the PDF file and click on convert.

These tools are user-friendly. Any non-technical person can visit the website and use simple steps to convert to a web page from PDF.

You have the power to use many free tools available online to create web pages. There's no limit on conversions in many tools.

Some tools also offer to create a ready-to-use web page file in HTML 5 directly. Imagine the feasibility.
With all these features, it is feasible and desirable to use online tools to convert Chrome PDF to HTML.
With Google Docs
The second option to convert to a web page with PDF is using Google Docs. This is an online tool from Google that helps create, edit, and use documents online. What only a few know is that Google Docs can also be used to create HTML with a given PDF file.
Let's explore the process for the same:
Open your PDF file in Google Docs. You can either visit Google Docs, go to File, and upload the PDF document, or open it as Google Doc when you have the file in your email.

When you upload or open the PDF file to Google Docs, you can convert it to HTML easily.

Go to

File

.

Scroll to

Download

.

Open the extended menu and go to open

Web Page

.
This will create an HTML file for you. This is a feasible, free, and fast method for every user.
However, it is not possible to embed images using this method into your HTML document. So, if you need to convert to a web page from PDF in a simple way, there's no better option than Google Docs. But, for images, you can try the above method, which will also allow you to save a webpage as a PDF on Chrome.
Part 2: Convert PDF to HTML Offline
In this section, we have explained different methods to convert PDF to HTML offline. This means that ideally you would download a PC app and then use it to convert to a web page from PDF. However, remember that in most cases these apps are paid. These tools also offer better features and HTML page quality, so you can consider these options for commercial use.
Adobe Acrobat DC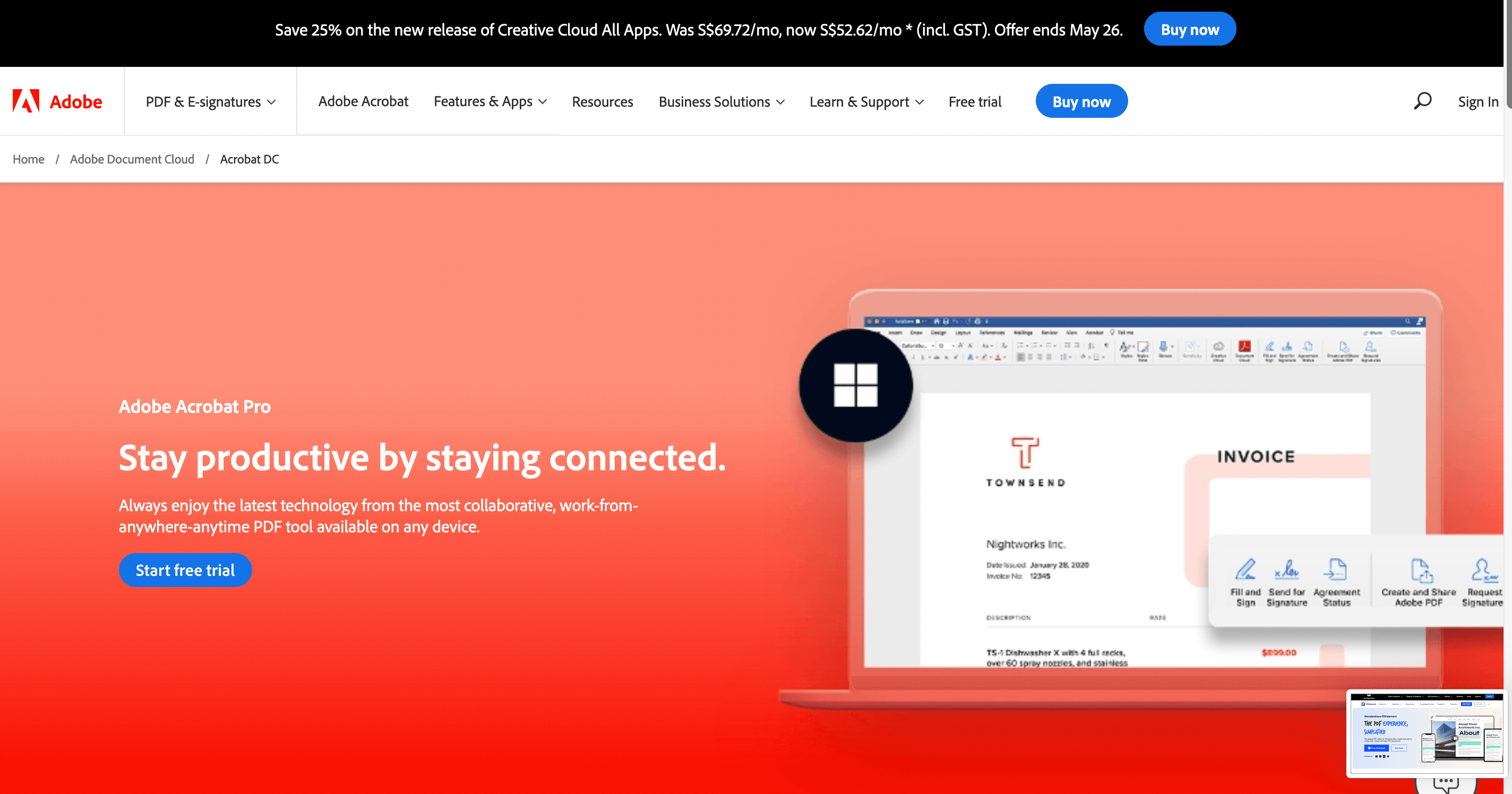 Adobe Acrobat DC is a great PDF to HTML converter designed by powerful Adobe. You only need to upload your file to the tool and convert it to HTML. The converted file will be available to you for saving.
This tool allows converting PDF to multiple formats, such as TXT, readable format, etc.

You can use its high-quality OCR support to scan a document and convert it to a readable format.

With Adobe, you also have the feasibility to convert images to different formats.
However, this tool is expensive and the free trial doesn't have much support and it is not possible to convert one PDF to one HTML page.
PDFelement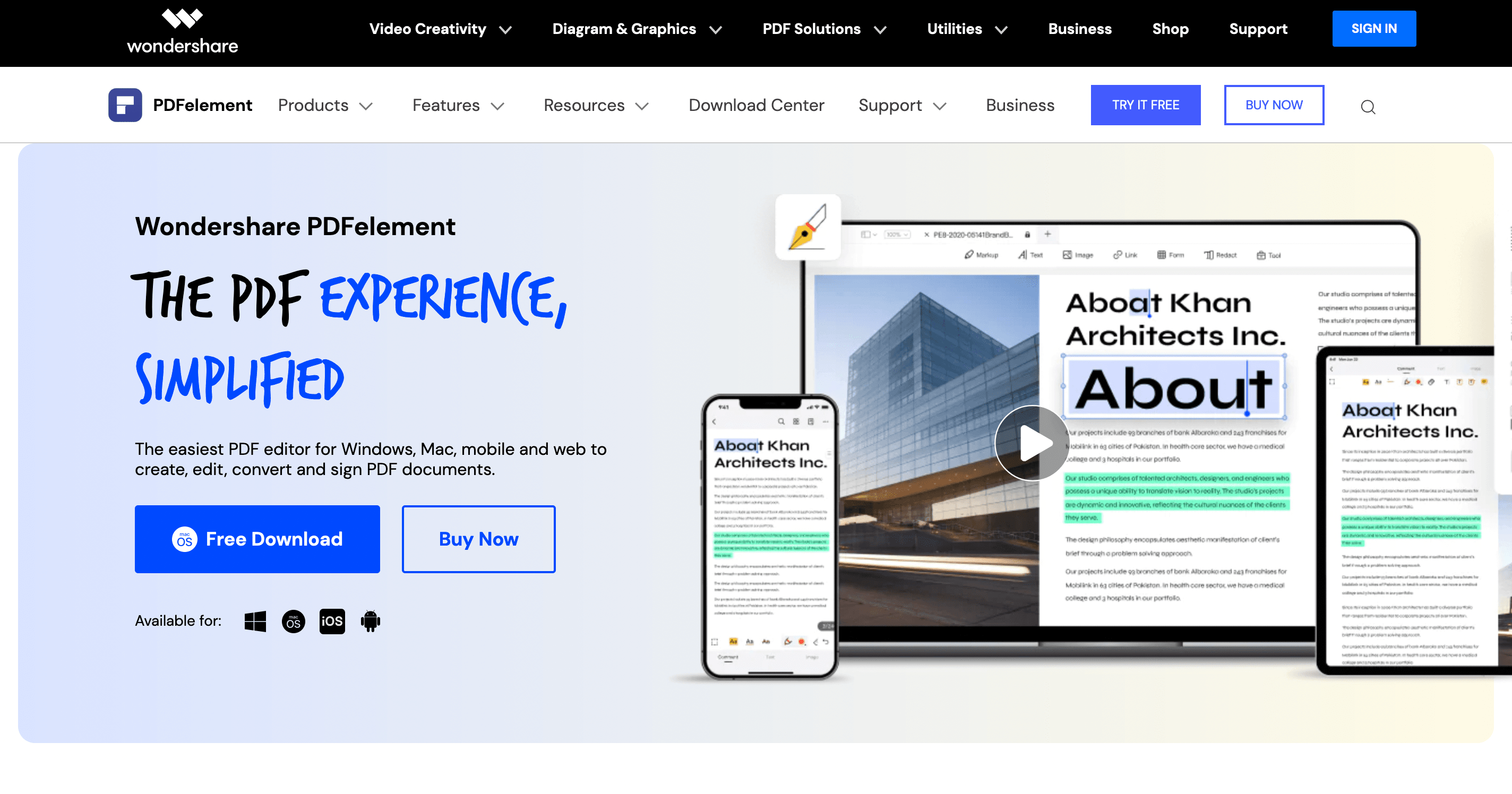 The second tool on the list is PDFElement which helps convert to a web page from PDF and Chrome HTML documents to PDF. This is another valuable tool to create, convert, and process your PDF files.
Simply download the tool and upload your file. It will give you an option to convert to HTML, selecting which will fulfill your work in minutes.

You can also use the tool to enable OCR, which helps convert to formattable documents using scanned documents.

Similar to Adobe, PDFElement also supports images, pages, and hyperlinks. So, it is easier for you to create a webpage with this tool.
The only drawback of the tool is trial is short and you need to purchase the full version for complete support.
Adobe Email
The last method on the list is Adobe Email. This is another method that is not known to many. Adobe has a robust and intelligent email service, where you can send your PDF to an email ID. They will revert with an HTML document.
The email ID that you can use is pdf2html@adobe.com.
However, when you are changing an important document, this feature may raise concerns for security.
Also, the reason we are putting it in the offline method is that you are not really converting anything online. You are just sending an email and receiving a response.
Conclusion
Traditionally, when we needed an HTML page from a PDF, we would create the page manually. However, we are now living in a modern world with various technologies and tools. This means we now have the power to convert to web pages from PDF without knowing the technical aspects of it. In the above discussion, we have explained five such valuable methods. Go through each proven trick, compare your requirements, and select the one feasible for your purpose.