What is a living will?
A living will is important as it provides peace of mind to those with certain healthcare conditions. The will is important as it will give instructions with regard to any medical procedures or treatments that need to be performed. The individual would clearly state, in writing, whether any medical procedure is permitted or not. In this regard, the will would also indicate who the final decision-maker would be.
A living will is specifically aimed at those who wish to appoint someone to make the final decisions for them, specifically around healthcare. The importance of a living will is that, even though the individual gives another person authorized decision-making, they are still in control as it is their decision.
The parties involved in the making of a living will are:
The individual who is making the will. This person is called the "principal." This is the person giving another individual the authority to make decisions around healthcare, in particular, when they are not able to do so.

The person selected as the one authorized to carry out the wishes of the "principal" is known as the "agent." This person will make the decisions based on the instructions from the "principal."
A living will template is available on most lawyer sites and can be modified for the "principal's" unique situation. This means that healthcare institutions are compelled to follow the instructions provided. As a legal document, it gives the "agent" the authority to confirm and follow through on the choices of the "principal."
A "principal" can complete such a document, as an online living will template, at any time and any place. It will be legally binding.
The Making of a Living Will
Any individual can make use of a living will template. It is an easy way to set up a living will. It is a legally binding document that requires the agent to make healthcare decisions on behalf of the principal. These documents are clear directives and, specifically, the more advanced directives.
The principal makes provision, in terms of advance directives, should they suffer severe health issues. This could include instructions to, and choices given to, doctors and caregivers should the person suffer from late dementia, a terminal illness, fall into a coma, or be seriously injured. Instructions might include near-death situations where the principal waives the right to be resuscitated.
In drawing up the living will, the agent is the most important person or individual. They are known as those who have the "power of attorney." The individual in this role could be any one of the following:
A healthcare agent could also be the caregiver – the agent could be a family member as well.

A medical, or healthcare proxy, is another way of designating a documented agent who would make healthcare decisions on your behalf. This is especially true if you are unable to speak

A healthcare surrogate is the one who would make the final healthcare decisions on your behalf. This means that the principal can no longer decide on which medical procedures or treatments to accept for their condition.

A medical or healthcare proxy is another way of designating a documented agent to make healthcare decisions on your behalf should you be unable to speak.

A healthcare attorney-in-fact is someone named in a written document who is known as a durable power of attorney and makes healthcare decisions on your behalf. One aspect excluded from this choice is that the individual does not have the authority to direct the withdrawal of life support systems on their behalf.

A patient advocate is an individual who is appointed by the principal to communicate healthcare decisions to doctors or other healthcare providers. The advocate is appointed to set up doctor's appointments, medical tests, as well as other support such as legal, social, and financial support.
For each of these, the individual has to check with their local state to see which would apply for their specific purpose. A living will is an important document that could provide another layer of protection, especially when it comes to healthcare issues. Most importantly, choosing the right agent is imperative. You, therefore, need to choose a person who qualifies to take care of your wishes. Someone who would:
be in line with the requirements of the state laws in which you live.

not be your medical doctor or personal healthcare worker, or be part of their staff.

be in a position to talk you through your medical issues, the care around them, and your end-of-life issues.

be a reliable person who will carry out the decisions you make in your living will.

Be an individual who can be trusted to advocate for your best interests if there are disagreements about the care you should get.
How to write a living will?
Writing a living will is not that difficult as most states have forms available online and provide a living will sample or a living will example that could be used as a guide. The living will sample provides all the components necessary for such a will. Even though it is a sample, it provides guidance to create a formal document.
The only difference is that the principal has to indicate which life-sustaining treatments they do not wish to be administered. The living will sample provides the choices, and it is simply a matter of ticking the appropriate boxes. Any other directives can be included as well.
The living will example also includes the withdrawal or withholding of artificial nutrition and hydration. This will be included if particular state law requires it. It is important to download the exact form that you require for your state. It will provide you with the pre-populated living will information that will make it much easier to fill out. Below is a living will example to give an indication of what it entails to write a living will. It is an excerpt from the living will form of the State of Arkansas.
A Living Will Sample or Example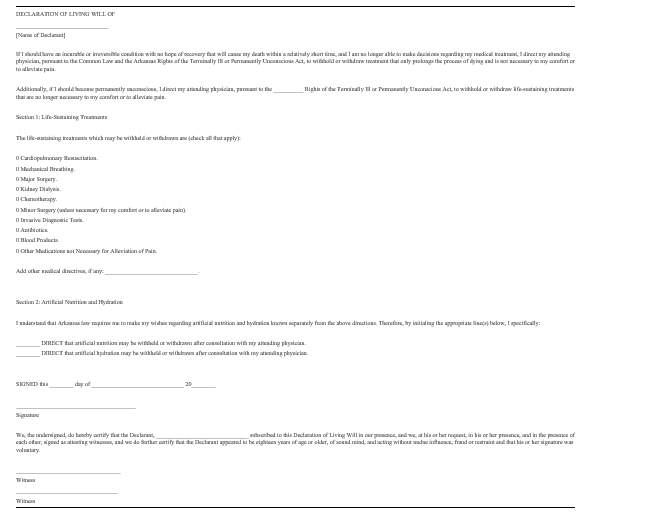 What You Should Include in a Living Will?
The living will example above indicates what needs to be included in a living will. For a better understanding of the need for a living will, it is important to recap and summarize some of the aspects here. Furthermore, it is necessary to reiterate that the living will is specifically there to formally document your wishes for medical care. This is especially true when you are incapacitated.
You would, therefore, include the following:
Whether you want treatments that provide life-sustaining support, such as respiratory support, surgery, dialysis, blood transfusion, CPR, drug administration, or diagnostic tests.

Would you want food and water administered intravenously?

Are you opting for palliative care instead of life-prolonging treatments?
You can create a living will at any point in your life. It will provide the necessary medical protection.