Whenever a friend or a person close to you departs, you always look to give them the best prayers for their future. Being an ethically motivated person, you consider sending them a good luck message for their future, which not only gives them the energy but also influences a sense of appreciation in them. Being a good person, you look for the perfect wish or message to send to them.
This article introduces you to some effective techniques that you can apply with the help of a perfect PDF editor for sending them a good gift card in goodwill. Along with that, you will also be introduced to multiple wishes or messages that you can send to give them your prayers.
Part 1: 20 Good Luck for Future Wishes
Part 2: 15 Good Luck for Future Messages
Part 3: How to Edit PDF Wishing Card with PDF Agile
Part 1: 20 Good Luck for Future Wishes
Since you are looking for a perfect good luck wish for your friend or family member, you can follow these examples that enhance the idea of the message to perfection:
We believe in you, but you have to believe in yourself. Good luck, give it your best!

Try a little harder to be a little better. All the best!

It's kind of fun to do the impossible. All the best.

May you fly high in life & success be with you always.

Good luck to you as you move toward the next chapter life brings your way.

Keep your best wishes, close to your heart and watch what happens.

Don't be afraid of moving forward. The future is bright.

Wishing you all the best for your future endeavors.

I truly hope good things happen for you, you absolutely deserve it! Good luck!

I find my heart singing a chorus at your happy news. Good luck to you during this joyous time.

You are the best author of your future. Best Wishes..!!

Here's wishing you success in everything you do. Good luck.

Don't let your mind wander into the past and the future. Conquer your present, and you will conquer your life. Good luck!

Dream Big..Sparkle More..Shine Bright.

Dream it. Wish it. Do it.

I wish nothing but the best for you.

May success be with you, always. Wishing you good luck.

Keep moving forward with determination, many great things are in store for you in the future. Good luck.

You've freaking got this!

You have worked incredibly hard. Good luck! We are proud of you.
Part 2: 15 Good Luck for Future Messages
When sending a good luck message to someone for their future, try to follow these efficient examples provided below:
You have proven yourself to be a very skilled individual who has the capacity to do great things with their life. Continue to make us proud as you face new challenges and adventures!

Congratulations on your new job! You worked hard for this, and you absolutely deserve it. Wishing you the best of luck, and I hope that your new job will make you look forward to every day.

I am certain that you will overcome any challenge that comes your way with courage, determination, and strength. Good luck.

Hurdles and difficulties are part of the life. Make that part your life a past and think about tomorrow, because what matters at the end of the day is tomorrow.

Be strong as you fight your way to success, the difficulty you face is nothing compared to the joy of success.

Good luck and tons of best wishes. God bless you in whatever you do. This is my heartiest wish just for you.

A little smile, a word of cheer, a bit of love from someone near, a little gift from one held dear, best wishes for the coming year. These make a merry Christmas.

Tomorrow is the first day at your new job, and your opportunity to make a lasting first impression. Wishing you an enjoyable and successful day. Best of luck!

A hard worker attracts good luck like a magnet, and you are a worker with unwavering resolve. If you put your mind to it you are guaranteed to succeed!

I am overjoyed to know that your life is filled with such good luck, and may it always be that way.

Moving on to a new stage in life can be a challenging process. We wish you the best of luck in all of your future endeavors, you will be great!

Keep your best wishes and your biggest goals close to your heart and dedicate time to them every day. If you truly care about what you do and you work diligently at it, there's almost nothing you can't accomplish.

Best wishes to you as you progress from one stage in life to another. While this can be a difficult time, the results that you will achieve are worth all of the hard work that you will put in.

The path to success is a challenging one, but hard work and determination are certain to make the journey just a little bit smoother. Good luck.

May you always get what you want, and may you be at the right place. I wish you a very good luck for the future and may you have a wonderful life with no worries.
Part 3: How to Edit PDF Wishing Card with PDF Agile
Once you have a good wishing card in the form of an editable PDF, it is time to get a good PDF editor that can help you in editing it to perfection. PDF Agile provides you with a platform that not only helps you in editing a PDF but making it as perfect as it can be. Its editor gives out the best results under a high-quality system.
Not only this, but PDF Agile also is the perfect source for managing all kinds of functions involving the PDF file. If you are looking to understand how to edit PDF with this platform, go through the steps provided below:
Step 1: Launch Tool and Open PDF
You need to launch PDF Agile free PDF editor and click on "Open File" to import the PDF wishing card.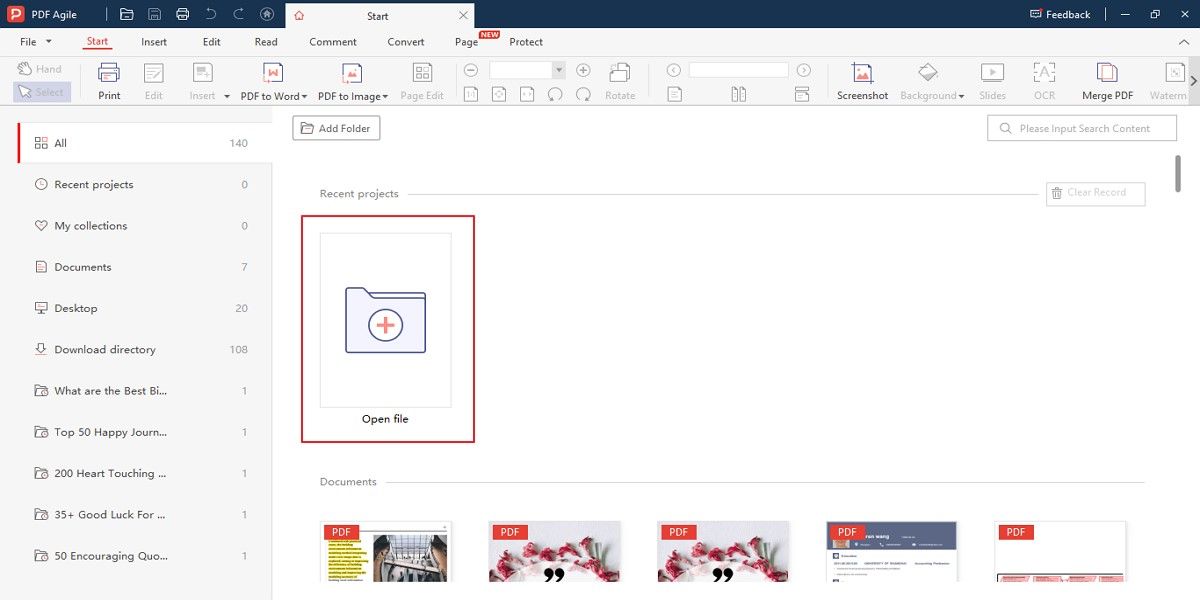 Step 2: Edit PDF Card Text
As it gets imported, proceed to the "Edit" section and find the "Edit" button, which allows you to edit a PDF file as desired.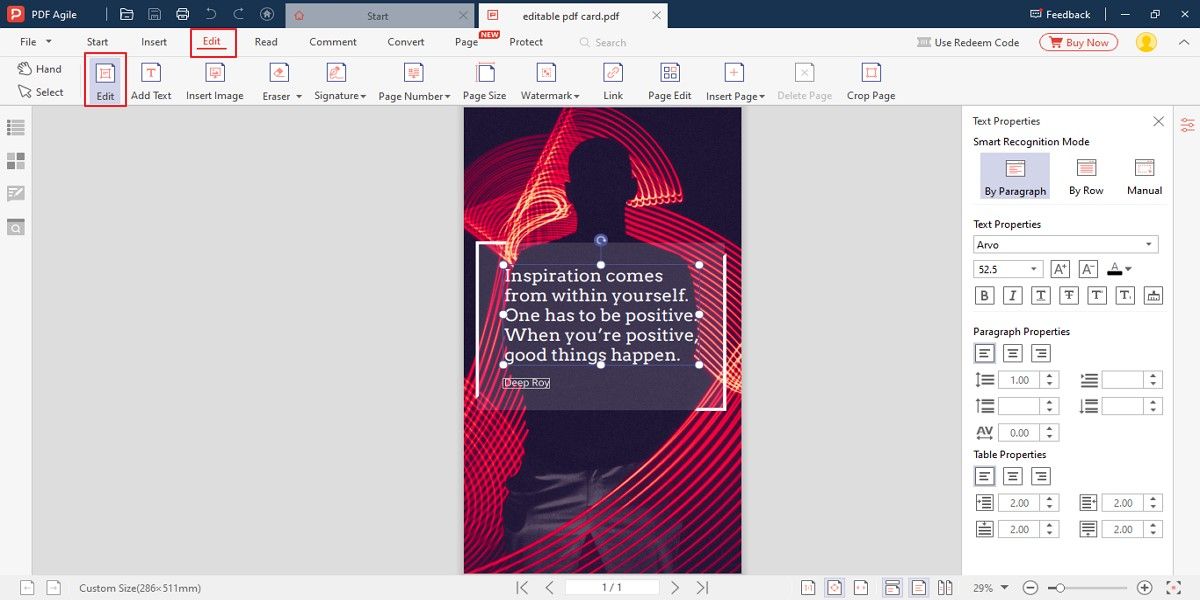 Step 3: Set Size of Card
Proceed to the "Page Size" option under the same section and set the size of the card according to your requirements.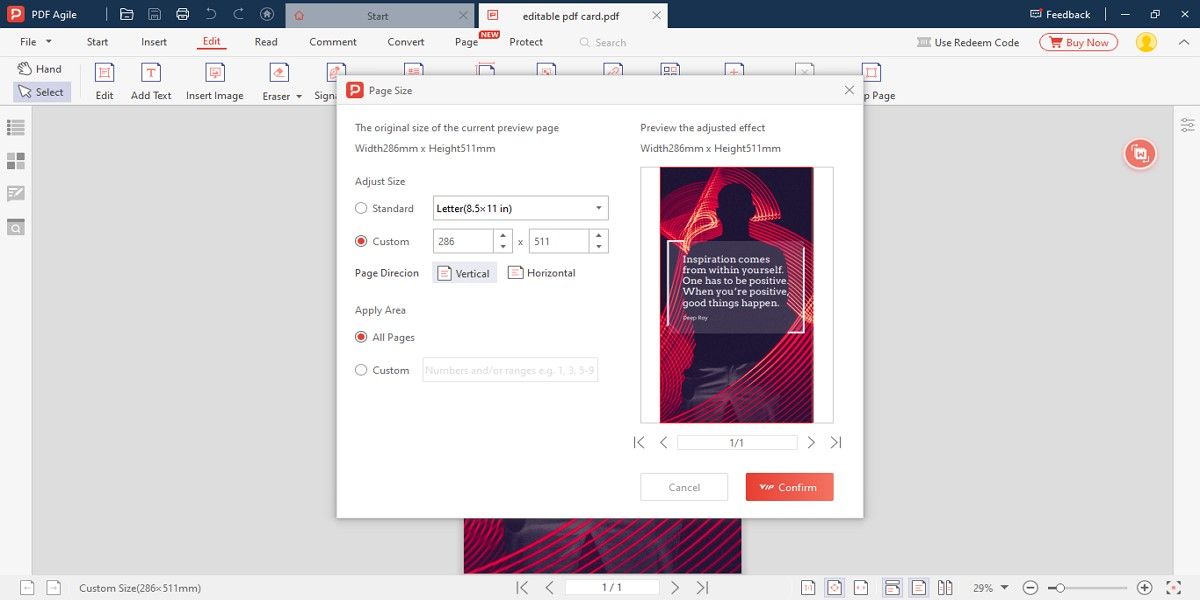 Step 4: Change Image and Save
Click on the image present in the background of the card and change its orientation or opacity from the panel present on the right. Click on the "File" tab and select "Save" to save changes on the PDF card.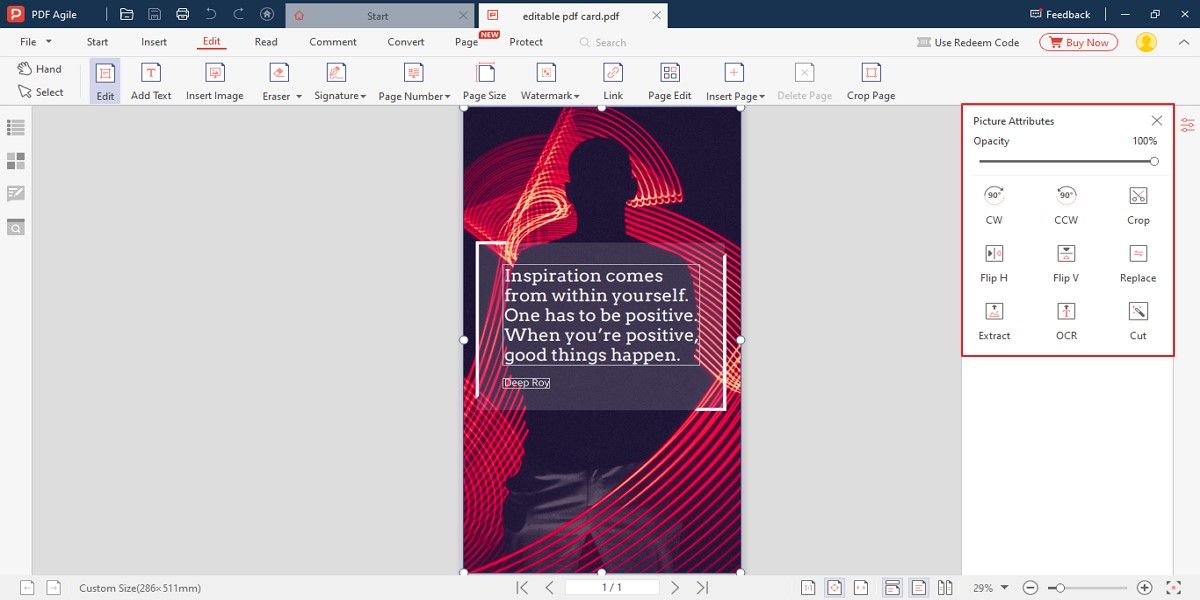 Conclusion
Are you aware of what to send as a good luck message whenever you come by such a situation? This article has covered quite a list that will help you in sending the best wishes to someone at any instant. Along with that, you have also come to know about how to edit a PDF file with the help of PDF Agile.