It is always best to express love and gratitude through the use of quotes and lines that express the emotions to perfection. There are many love and happiness quotes that you can go through; however, there are always some that are believed to be the best. This article presents you with some of the best wishing love and happiness quotes that you can use for your lover.
Following this, the article will also address users on how to edit a PDF wishing card on PDF Agile, a PDF editor that features some of the most exceptional features available in the market.
Part 1: Best Wishing Love and Happiness Quotes for Lover
Part 2: How to Edit the Card with PDF Agile
Part 3: 10 Best Greetings for Lover
Part 4: 10 Best Wishing Messages for Lover
Part 1: Best Wishing Love and Happiness Quotes for Lover
This part presents 20 impressive and intuitive quotes that you can send to your lover expressing love and happiness:
Wishing you lots of love and happiness for today, tomorrow, and always.

You are always thought of in a very special way, and you're wished the finest things in life today and every day!

I cannot say how much I love you and how special you are. All I can say is that my world is full of happiness and smiles whenever I am with you.

Only happy people understand love.

Two extremely elusive things are happiness and love; finding them both has to be the most unlikely occurrence on Earth but whenever you do find them, never let go.

What I need to live has been given to me by the Earth. Why I need to live has been given to me by you.

Thank you for being you… for sharing your love with me, for inspiring me to accept myself, for helping me see the unique beauty in imperfection, for showing me that love is something you do, something not just to be said but also to be shown.

I wish that you know how much I feel happy when we are together. You add colors to my life. Thank you, my love, for being there for me all the time.

This day is one like no other, it's the day we choose happiness and love, and it's a day that will be like no other because we will make sure it never ends.

The easiest way to attract love is to be the happiest version of yourself, and it's practically impossible not to love someone who's truly happy.

You are my always and forever. My happily ever after. My soulmate. My best friend. My dream has come true. My one and only. My shoulder to lean on. My heart to melt into. My husband. My everything. For always!

Wishing you a sweet day full of joy, love, and happiness. Have a good day. Take care!

All I know about love is just because of you. Please always be with me and do love me this way the whole life.

Happiness is the nectar; love is the Bee.

May your life be full of happiness, success, and love. Sending my best wishes to you!

You deserve to be held, hugged, kissed, and loved. You deserve anything and everything you desire; you deserve your heart and your soul. You deserve the absolute best, and you are only willing to be with someone who can give that to you. You deserve to be treated like a lady. You deserve the truth, not lies. You deserve to be treated with respect. You deserve to laugh, have fun, and enjoy yourself all of the time. No negativity, You deserve the world.

You have made my heart brighter than the brightest candle. Thank you for being in my heart and completing me.

If loving them is what makes you happy, then your decision is made, and there are no alternatives that should distract you from this goldmine you have found.

Love and happiness are complementary, you cannot have one without the other, and you get the best of them together.

Don't ever forget those whose happiness depends on you because they are the ones who would cheer you on and show you all the love you need.
Part 2: How to Edit the PDF Card with PDF Agile
Do you have a wishing card, and you want to have it sent to someone you love? With an editable PDF file in your hand, you may have to make some changes so that it becomes something unique. However, this requires a proper PDF editor that can help you make amendments to the wishing card. PDF Agile makes sure that your experience with editing PDFs is the best and most appropriate, combining with PDF features that no other tool is able to provide.
Key Features of PDF Agile
Make changes across the contents of a PDF file without going back to its source.

Change modes between the PDF to view it according to your required mode.

Utilize the variety of annotation features offered across the platform.

Redact information of your choice to protect information that is confidential to all users.
Learn How to Edit the PDF Card with PDF Agile
To understand how you can edit a wishing card across PDF Agile, go through the following steps in detail:
Step 1: Import Editable PDF Wishing Card
Launch PDF Agile on your device after successfully installing it. Click on "Open File" to import the editable PDF wishing card.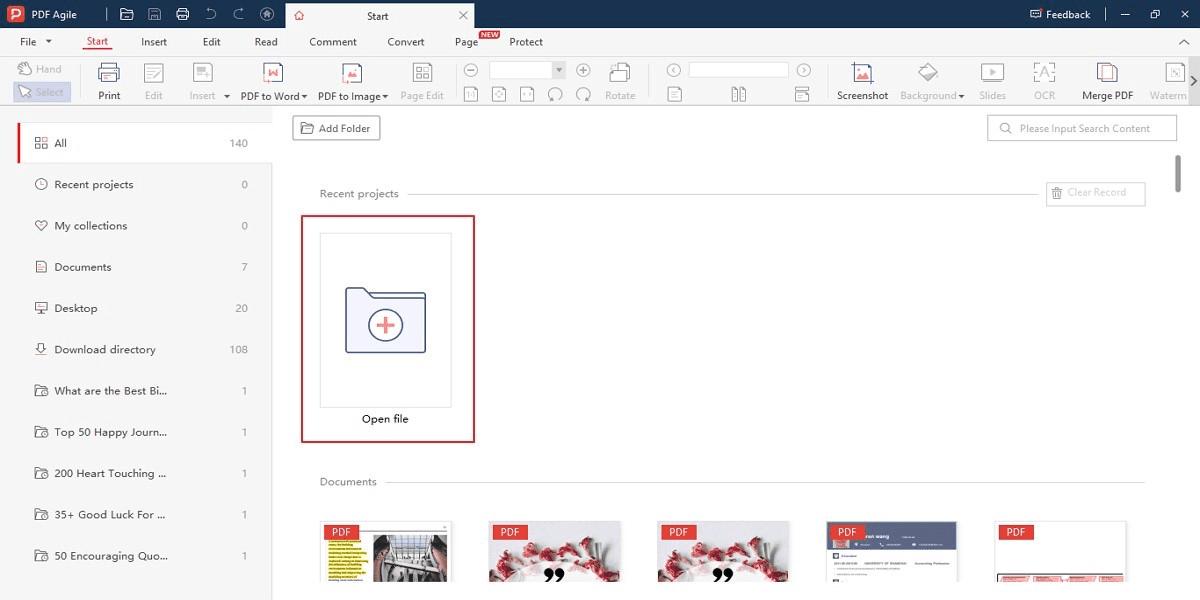 Step 2: Edit the Text of the Card
Once imported, click on the "Edit" tab, followed by the "Edit" button in the menu to make changes across the text of the PDF card.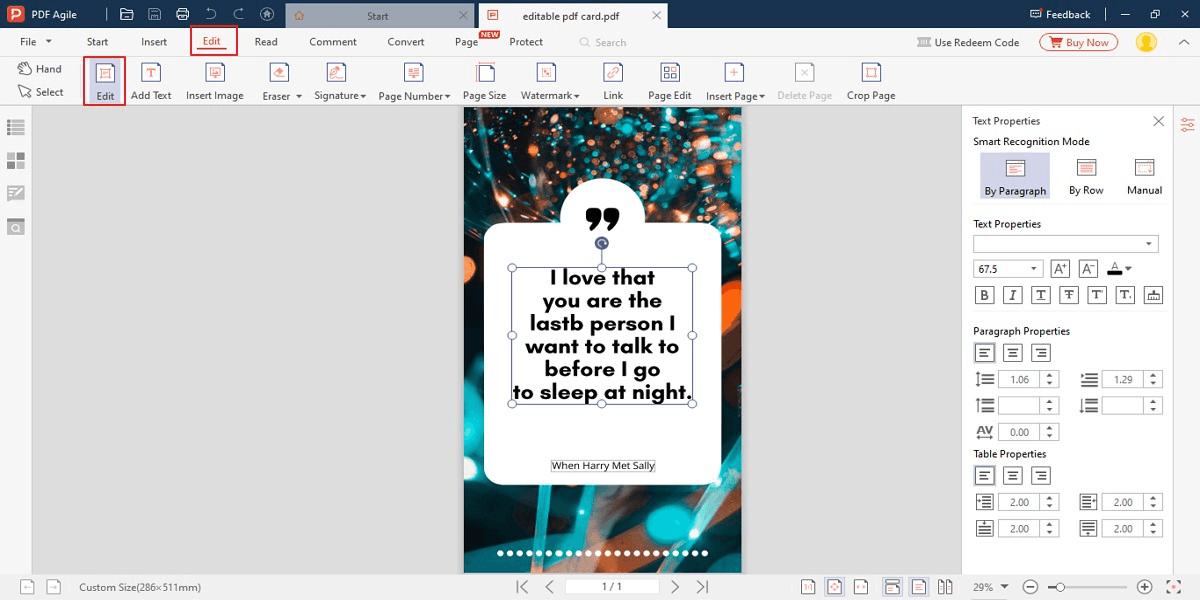 Step 3: Change Page Size of Card
You can also change the size of the page by clicking on the option "Page Size" and selecting the appropriate option according to your choice.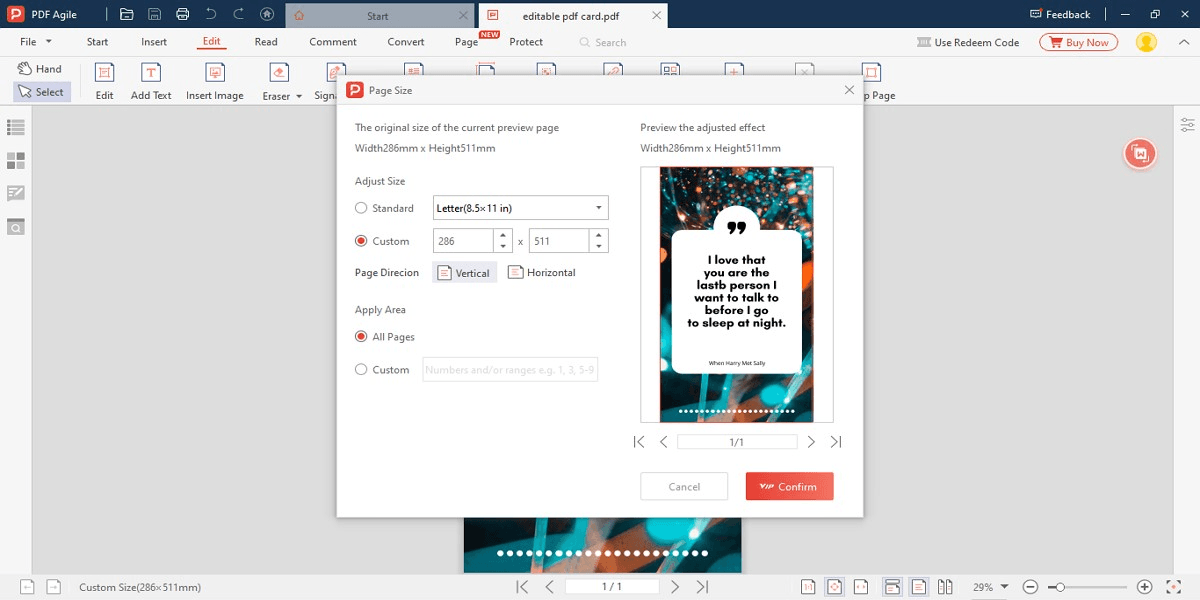 Step 4: Make Changes in Image Properties
Click on the image used behind the text while selecting the "Edit" button. You can make changes across the properties of the image with ease.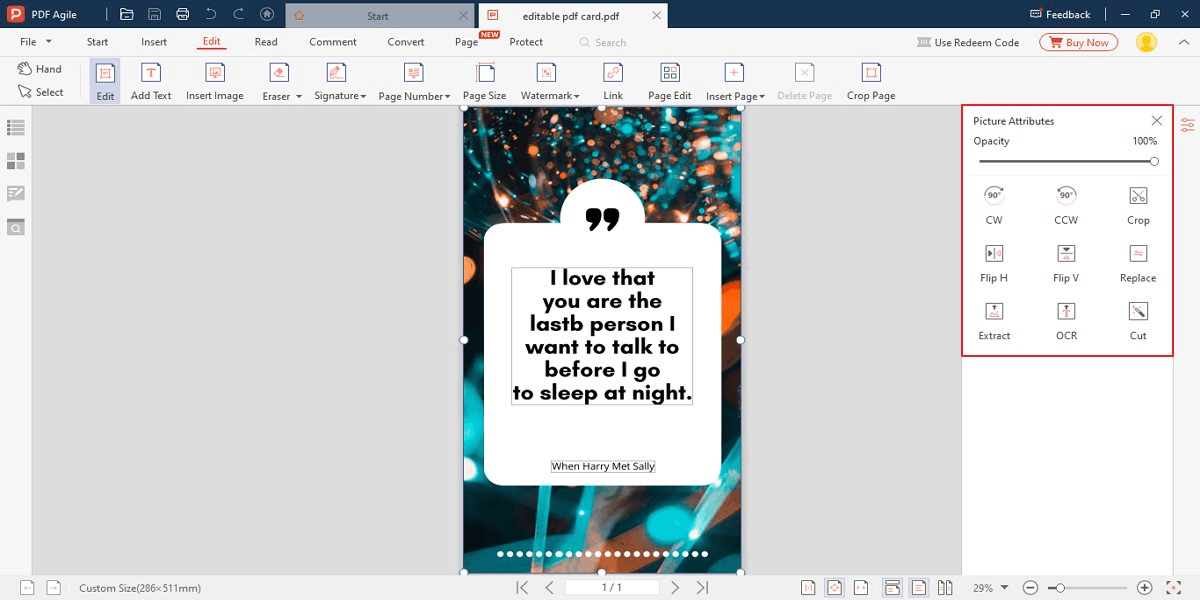 Step 5: Save PDF Wishing Card
Once you are done editing the file, proceed to the "File" tab and select "Save."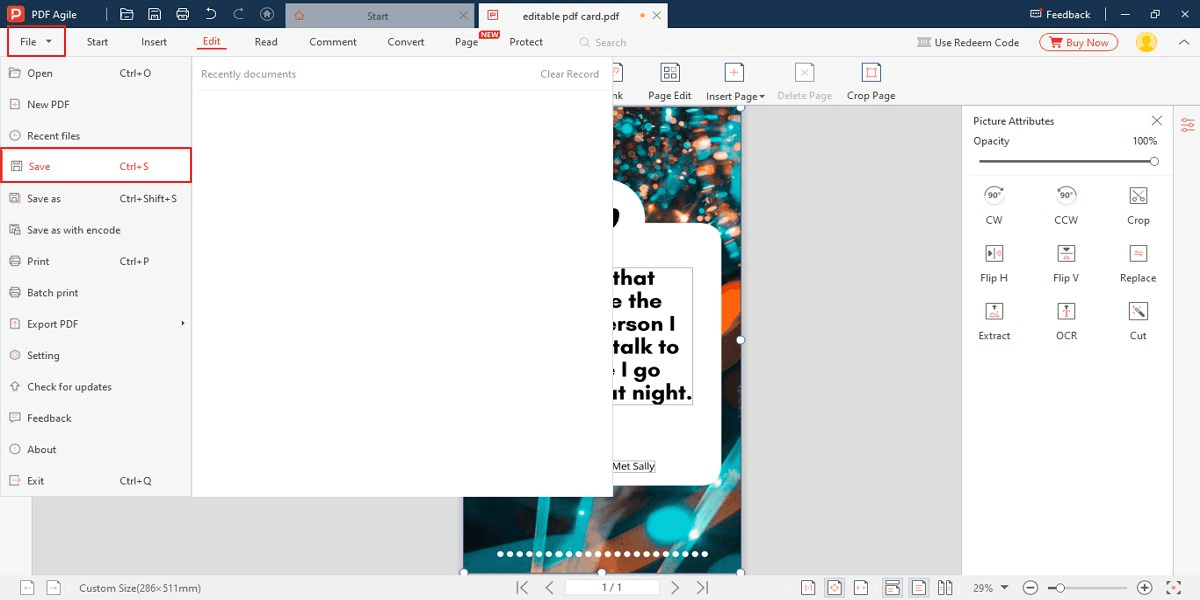 Part 3: 10 Best Greetings for Lover
What would be great than greeting your lover after getting in touch with them after a long time? Or are you really into sending great messages to your lover every morning? Regardless, we present you with the best greetings for lovers that you can use for yourselves:
Special Delivery for my special one. (Love You Baby) Smushed all my love into this card!

So far, every moment we've spent together has been awesome. But I promise you that the best is yet to come.

Just when I think that it is impossible to love you any more than I already do, you prove me wrong.

You know you're in love when you can't fall asleep because reality is finally better than your dreams.

You're bacon me crazy. Crazy in love. With you.

If nothing lasts forever, can I be your nothing?

Take my hand, take my whole life too. For I can't help falling in love with you.

Love always. All the tomorrows, my love is yours.

Hello, Beautiful. You captivate me. One look and I'm blown away all over again. You have my heart, today and always.

You are the finest, loveliest, tenderest, and most beautiful person I have ever known, and even that is an understatement.
Part 4: 10 Best Wishing Messages for Lover
Want to wish something great to your lover? Try out these wishing messages to get the best ideas for your lover:
You mean the world to me; without you, the world is meaningless. I wish to be with you every day.

Every single day that I spend being your wife and mother of our children, I realize how lucky I am to live such an exciting life all because I have you by my side. I love you, honey.

Happy birthday from one gorgeous lover to another! I fall deeper in love with you each day, as you're the other half that completes me and makes my heart whole.

You are so far, yet so near, I can feel you near me, I can't touch you, but I can hold you close, No Matter Where You Are, you are always in my heart.

I love you with all my heart. I never understood that, really. But now I do. And all my heart is yours, full of love that's yours alone.

I love you for all that you are, all that you have been, and all that you will be.

I am so fortunate to have you in my life, and so your Birthday is extra special for me. Happy Birthday to my heartbeat!

I heard that those who don't believe in magic would never find it. I did, and I found you! I Love You.

When I look at you, I realize how much you've been part of my life. How special you are and how much you have always made me happy.

You are the reason I work so hard to make that perfect moment for you. I love you.
Conclusion
This article has provided you with some of the best quotes, wishes, and greetings that you can use to express love and gratitude to your lover. Make the perfect use of these quotes to bring out the best results for yourselves and your loved ones.