Porter's five force analysis was postulated by Prof. Michael E. Porter in his book "Competitive Strategy: Techniques for Analyzing Industries and Competitors" in the year 1980. The analysis provides a strategy to understand the 5 forces of the industry, which would have a potential impact on the competitiveness and profitability of any industry. Porter's five forces Starbucks helps to understand how Starbucks has managed the external forces of the industry successfully. Let us discuss each of the forces in detail in this article.

Background of Starbucks
Starbucks is a US-based multinational company that runs a global chain of coffeehouses across 80 countries. In the early 1980s, Howard Schultz became the owner of the company, and he expanded the company to various parts of the world. Starbucks started as a coffee shop selling just espresso coffee, but now sells a wide variety of coffee, beverages, fresh juices, snacks, and Starbucks-logoed merchandise like coffee mugs, coffee presses, and tumblers, which gain attraction among the customers.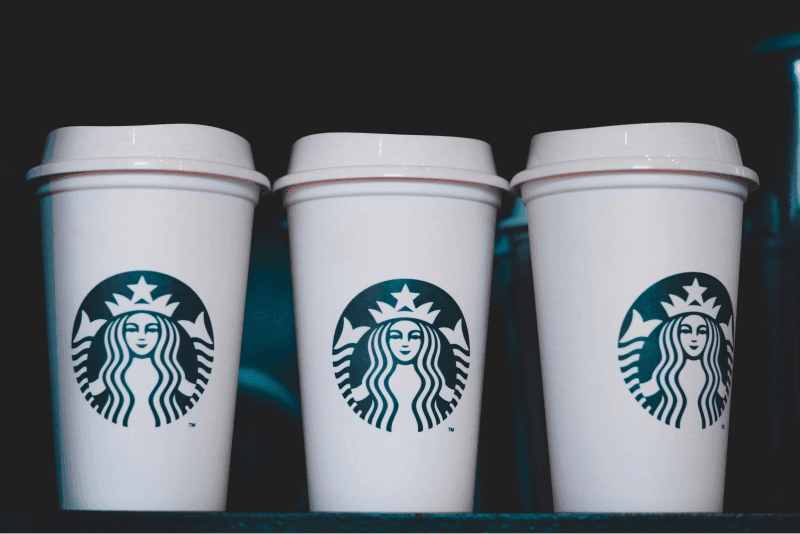 Image source: www.unsplash.com
Starbucks porter's five forces
Porter's five force model shapes the industry structure by analyzing the external forces and determining the competitive intensity of an industry. The main purpose of this analysis is to find the basic causes of profitability in the industry concerning the competitive forces and help to strengthen the positives, overcome the weaknesses, and thereby avoid problems in the future. Porter's five forces example Starbucks helps us to understand the company's position and the impact of the key forces: Rivalry or Competition, New Entrants, Suppliers, Buyers or Customers, and Substitution.
Competition in the industry (Strong Force)
First, Porter's five forces Starbucks deals with how many other competitors there are in the market, and it is an important question in determining the profitability of a concern. The concentration ratio of the market share is a key factor. If more competition exists, the profitability will be decreased.
Rivals in the market: Starbuck has many rivals, like McDonald's, Caffe Nero, Costa, Coffee Bean, and even a large number of local coffee shops. But the diversity of the products is less as most of the products offered by all the companies in the industry are similar. It can be considered an advantage.
Marketing Strategy: Starbuck implements an intelligent marketing strategy that attracts its customers by making them feel that they are given importance and as a part of the family. They want to insist to the buyers that they provide more than just coffee, a complete satisfactory coffee house experience. They want the customers to have their outlets as a neighborhood gathering place and a part of their routine.
The threat of new entrants (Moderate Force)
New entities entering the industry are another force that determines profitability. The impact of this force relies on some barriers like the cost to be incurred on establishing, creating brand popularity, and building marketing and supply chains. According to Porter's five forces Starbucks when barriers are strong, the force will be low to medium.
Secured customer base: Even though new companies incur low initial start-up costs; they have larger barriers to building a loyal customer base. Securing the customer base requires time and because Starbucks is established and customers like the flavor of their product, it is harder for the new entrants to catch their customers.
Consumer's Switching Cost: According to customers, switching to new products is not a great deal, especially if they provide a lower price, but at Starbucks with a well-established brand name and loyal customers, the external force due to the entry of new entrants is moderate.
The bargaining power of suppliers (Weak Force)
Suppliers provide the raw materials, and their power of bargaining is another force, which can affect the cost of production. Quality is yet another concern that depends on the supply of raw materials. According to Porter's five forces Starbucks, in an industry where more choices are available in terms of suppliers, the force will be less, and if the suppliers are few then the force will be high.
Steady supply: Starbucks procures its main raw material coffee beans from different suppliers from more than 30 countries, including Latin America, Colombia, and Brazil. By using different suppliers, Starbucks ensures a steady supply of products.
Starbucks' Switching cost: With a greater number of suppliers, Starbucks would not need to incur a higher switching cost. Except for the premium Arabica coffee beans all the other raw material suppliers are abundant in number, the suppliers possess low bargaining power, and it is a weak force concerning Porter's five forces Starbucks.
The bargaining power of customers (Strong Force)
Customers can affect the profitability of any entity. When there are more competitors in the market, the customers have various choices, and they can easily switch to other products. Due to the availability of information online, customers can very well have a comparison between all the available choices. Porter's five forces Starbucks analyses the bargaining power of customers and its impact on profitability.
Unique Taste and Environment: Since the early days, Starbucks attracts the customers by providing a unique taste and an attractive European atmosphere.
Availability of alternatives: Because of the high competition in the coffee industry, the bargaining power of the customer irrespective of the size, which is even a single buyer has the power to switch from one to another brand. So, the bargaining power of customers is a potent force in Starbucks porter's five forces 2021.
Threat of substitute products or services (Strong Force)
The availability of substitutes has a powerful force in determining the sustainable profit of any business. As more substitutes are available in the market, the chances of customers getting switched to other products are high, and even at no switching cost.
Various kinds of substitutes: Not only coffee and tea, but other products like energy drinks, soft drinks, and homemade coffee and tea are also considered to be substitutes for Starbucks products. Even though they have a specialty brand, people can easily switch to alternatives. So, the impact of substitute products is a formidable force relating to Porter's five forces Starbucks.
Strategies for success
With the analysis of Porter's five forces Starbucks, following strategies for success must be followed by Starbucks to retain its success and legacy in the industry.
As Starbucks provides top-quality products to its customers, the price of its products is comparatively higher than the prevailing price of other rivals. With its large-scale production and global reach, it can very well avail cost leadership.
Porter's five forces example Starbucks suggests that product differentiation is a key to retaining the customers and attracting new customers. Starbucks is already known for its specialty products. In 2022, Starbucks launched a new product namely "Baya" a caffeine drink that is prepared from the fruit of coffee. Innovative products like single-use coffee capsules and a variety of holiday merchandise are introduced by them from time to time. It is a winning strategy.
Focus on providing quality products and services to the customers with a better understanding of the market and the rivals using Porter's five forces Starbucks is the way to retain the success.
Starbucks porter's five forces analysis example PDF Download
Click here to download the PDF of the article Starbucks porter's five forces analysis example. You can use PDF Agile, a user-friendly PDF converter to edit PDF documents and convert any format into PDF and vice versa.
Key Takeaways
Porter's five forces Starbucks would have provided you with a better understanding of the strategies any entity to follow to attain competitive advantages. Starbucks uses them in an effective way for their sustained success.
References
Marinell Falcon and Team. 'Porter's Five Force Starbucks.' Available at:

https://www.studysmarter.co.uk/explanations/business-studies/business-case-studies/porters-five-forces-starbucks/

(Accessed: 17 May 2022).

Abey Francis. 'Starbucks Porter Five Forces Analysis. Available at:

https://www.mbaskool.com/five-forces-analysis/companies/18282-starbucks.html

(Accessed: 17 May 2022).

Lara de Bruin. 'Porter's Five Forces.' Available at:

https://www.business-to-you.com/porters-five-forces/

(Accessed: 17 May 2022).