Some might wonder what is Netflix porter's five forces. If you are wondering the same thing, this article might help you remarkably. Simply, these five forces are an indication of Netflix's business tactics and profitability. So, after studying these five forces you will get a good idea about how Netflix's business model works. For instance, these factors help Netflix to outmaneuver other competitive companies.
For any business, knowing their competition is vital. Therefore, Netflix is no different. Porter's five forces help them gather information such as competitors' services, products, and marketing strategies. We can consider these porter's five forces as a macro tool that can be used in Netflix competitors' analysis. So, here is a detailed explanation of a Netflix porter's five forces.
Background of Netflix
If you did not know, Netflix was launched in 1997. At that time, they started as a DVD renting business. They carry out the renting process via mail. In 2010, Netflix transformed into a video streaming service. They provide their customers with various TV shows, anime, movies, documentation, and much other content. With this change, the users were able to watch ad-free video content without any disturbance.
However, nowadays, there are numerous streaming services available. So, having a proper grasp of Netflix industry analysis is crucial for Netflix.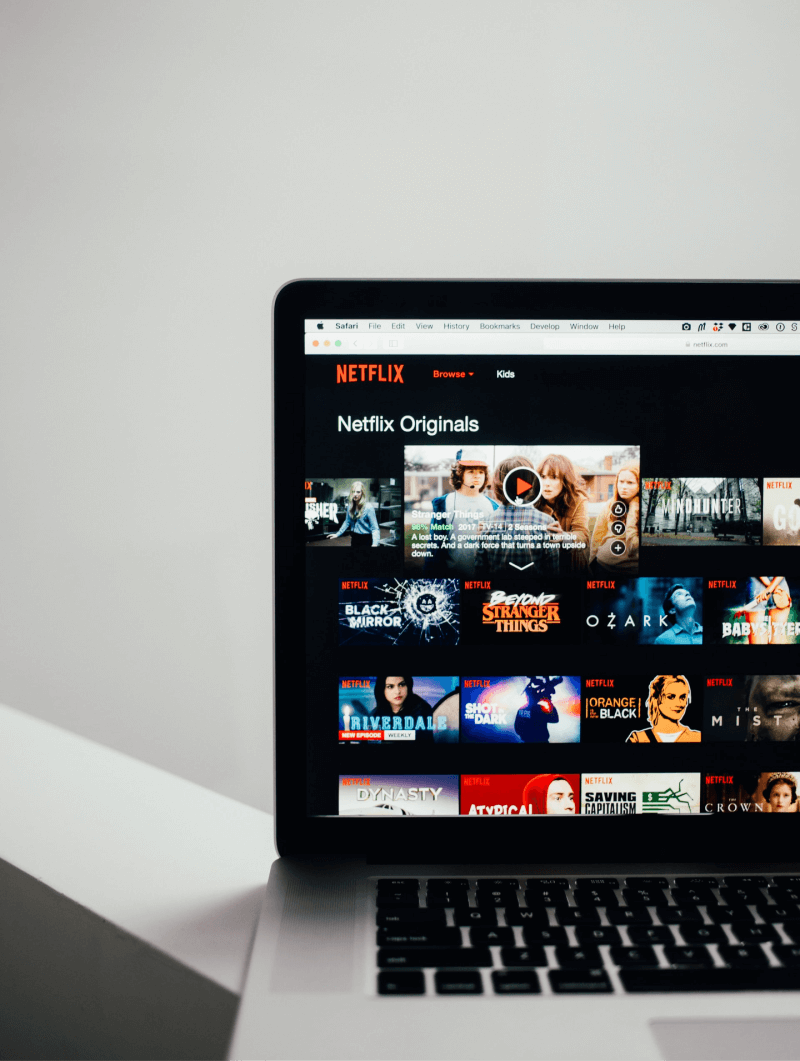 Image source: www.unsplash.com
Netflix Porter's Five Forces
For an effective and strategic decision-making process, porter is five forces help greatly. Having said that, here are porter's five forces.
Competition in the Industry (Strong Force)
This force is excellent for measuring the level of intensity of the competition. It studies the number of competitors and their abilities. So, according to that, here is a Netflix competitors analysis.
For instance, if we consider a competitor such as Amazon Prime, they provide full access to their video content. At the same time, they also provide services such as 1-day delivery of books and music. So, the top-rated TV show providers are leaning toward the Amazon prime. In 2018, Netflix streamed 8 out of the top ten TV shows in the UK. Now they are losing those shows. The best examples are Friends and BBC News.
So, it is safe to say the competitive rivalry is high for Netflix. Amazon Prime is the best porter's five forces example Netflix. Apart from that, here are some more reasons that showcase a higher competitive rivalry.
Introduction of Amazon TV Stick and Google Chromecast

The emergence of the Google Play, Hulu, Amazon Instant, Crave TV, Shomi, and other streaming services
The Threat of New Entrants (Moderate Force)
For Netflix, the threat of new entrants is moderate, and it will remain at that level. In the last few years, we have all been able to witness significant organizations such as HBO, Disney, Apple, and Britbox launch their own streaming services. These are prominent levels of threats. And they affect the Netflix business strategy. However, here are some valuable facts that we need to consider while sizing up the threat of new entrants.
Nowadays is extremely difficult to launch a new streaming service. Because finding fresh content is a challenge, and this is a positive sign for Netflix.

New competitors tend to give free trials of their respective streaming services.

New streaming services might find it difficult to establish their position in the market.
The Bargaining Power of Suppliers (Strong Force)
This is one of the most valuable Netflix porter's five forces. For instance, Netflix faces a big challenge from cinemas. Usually, Netflix must wait 90 days to stream a new movie because of the cinemas. However, they are fighting back to reduce the duration to 45 days. Apart from that, here are some of the other factors related to the power of suppliers.
Some suppliers have their own streaming services such as Hulu. So, Netflix will not be able to provide those suppliers' content.

Suppliers tend to change the streaming services regularly.
The Bargaining Power of Customers (Strong Force)
When it comes to Netflix, its customers have a considerable amount of bargaining power. For instance, customers can cancel their Netflix subscription anytime they want. There is no termination fee. Also, the user information will remain in the Netflix database for one year.
In 2011, Netflix divided the streaming service and DVD by mail service, which led to losing 800000 subscribers in three months.

In 2014, Netflix increased the monthly price from $7.99 to $8.99. It led to more subscribers leaving the platform.

The availability of alternative streaming services gives customers more bargaining power. And some streaming services are free.
The Threat of Substitute Services or Products (Moderate Force)
Even though substitute products for streaming services have declined in the last few years, they still provide a considerable threat. These substitute products come in many forms such as cable television, satellite, DVDs, and movie theaters.
Most substitute products are expensive compared to Netflix's monthly subscription.

We cannot get the movie theater experience via a streaming service. So, people always will go to movie theaters.

Movie theaters allow people to watch a movie immediately after it releases.
Strategies for Success
You now have a good understanding of Netflix porter's five forces. If we consider these five forces, you will realize that Netflix is in a troubled position right now. So, to be successful, Netflix needs some good strategies.
Cost Leadership
Reducing the cost is the best method to increase the profit level. Also, Netflix can increase the market share or change the standard prices.
Differentiation
For this, Netflix needs to provide better video content than the other competitive streaming services. This method will increase the value and competitiveness of Netflix.
Focus
Netflix should focus on niche markets where it can be successful. For this, they need a better understanding of the buyers, sellers, and competitors.
Final Takeaways
We hope that you were able to learn about Netflix porter's five forces with this article. Besides, you got the Netflix Porter's Five Forces Analysis PDF file. Keep in mind to use the PDF Agile to edit and convert your downloaded file. You can use PDF Agile for any PDF file.
Reference
TFLIU90. 'Porter's Five Forces Analysis of Netflix, Inc. ',
Available at: https://toughnickel.com/industries/Porters-five-forces-analysis-of-Netflix-Inc (Accessed 17 May 2022).
Marci Martin. 'How Porter's Five Forces Can Help Small Businesses Analyze the Competition ',
Available at: https://www.businessnewsdaily.com/5446-porters-five-forces.html (Accessed 17 May 2022).
Shannon Szabo-Pickering. 'A Porter's Five Forces Analysis of Netflix ',
Available at: https://pdfslide.net/documents/a-porters-five-forces-analysis-of-netflix.html (Accessed 17 May 2022).
Adamkasi. 'Porter's Five Forces of Netflix ',
Available at: https://www.porteranalysis.com/porters-five-forces-of-netflix(Accessed 17 May 2022).
Md. Sakib Hasan Khan Srijon. 'Porter's 5 forces analysis of Netflix-converted ',
Available at: https://www.studocu.com/row/document/institute-of-business-administration/supply-chain-mgt/porters-5-forces-analysis-of-netflix-converted/10025086(Accessed 17 May 2022).