Introduction
As an HR professional, since you have previously been there and done that, neither can you afford to make mistakes, nor will you be spared if you make one. After screening various resumes, you must have an idea of what goes into making one and how you shall stand out while creating your HR resume sample.
Suppose you are running short of time. Say no more. Here we have provided you with multiple HR resume examples to help you switch your career and excellent tips with each to make the most of the recruiter's six-second resume screening rule.
Here, we will also be guiding you with multiple websites that can assist you with various HR resume templates to guide you in making one. We will also be sharing a structure and some essential tips to make your HR resume worth the read. So let us quickly check who is an HR and what makes him valuable for an organization.
Human Resource: An Organization's Most Valuable Resource
Human resource (HR) is the most cherished asset for any organization. Therefore, he is solely responsible for managing the employee's life cycle from recruitment to training and administering his health benefits.
He is also responsible for managing the human capital concerns in an organization, which motivates him to work to the best of his limits. He acts as a link between the employees and the organization. In addition, an HR department contributes heavily to the organization's culture.
What Are the Vital Skills Required to Be an HR Manager?
An HR professional must have a perfect blend of hard and soft skills to fit the organization's needs and help achieve its goals. Apart from the essential functions of recruitment and screening, he must have a broader skill set to fit the job.
Some of the skills and competencies that you can develop to apply for the role of an HR manager include:
Technical Skills:
Practical human resource management skills

Human capital development skills

Organization skills

Business management skills

Finance skills

Data analysis skills

HR software (HRIS or HRMS)

Strategic thinking skills

Strategic planning skills

Workplace culture development skills
Soft Skills:
Communication and interpersonal skills

Decision-making skills

Emotional intelligence skills

Leadership and teamwork skills

Time management skills

Employee relations skills

Conflict resolution skills

Adaptability skills

Multitasking skills
What Makes an HR Valuable to an Organization?
Every employee is valuable to the organization. But what makes HR special? Let us find out:
Recruits suitable candidates

Conducts and handles disciplinary actions

Processes pay sheets

Arranges interviews

Makes necessary changes to the company's policies

Maintains records of employees

Analyses competitor's health benefits
HR Resume Examples: Get Hired for Your Desired Job
There are many different roles of an HR manager. Depending on the job you are applying for, you can choose any of the below-given HR resume examples.
1. Human Resource Resume: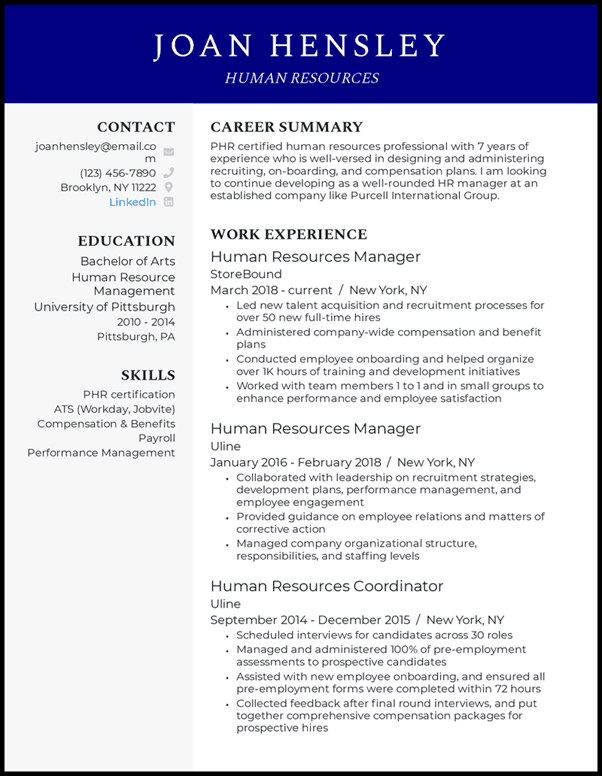 Tips to Make an Effective HR Resume:
It is a simple resume that aims to highlight your work and experience.
Quantify your work experience and its impact

Be specific to your area of expertise

In your cover letter, mention the technologies you used to work efficiently

Mention your relevant certification
2. Entry Level Human Resources Resume: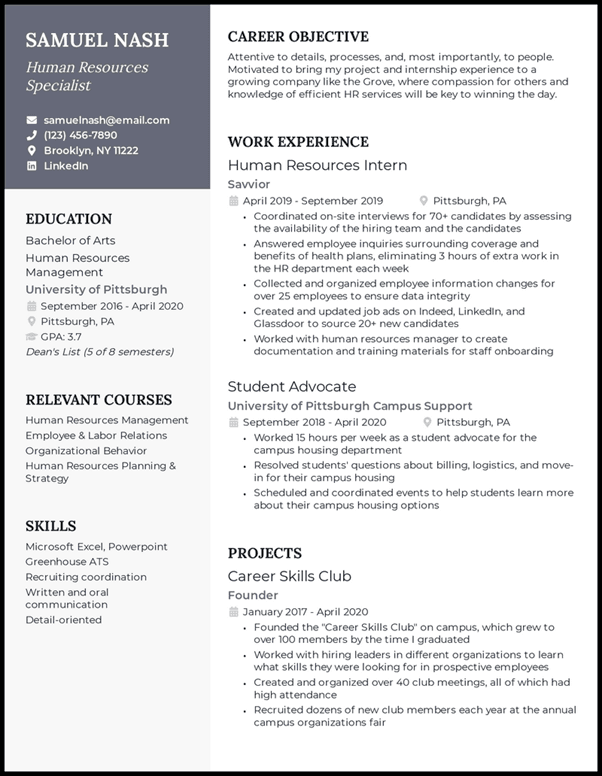 Tips to Write an Ideal Entry Level Human Resources Resume:
You can make an entry-level HR resume when you are seeking your first job in the HR field. Here you must reflect upon your leadership skills in your college career.
Demonstrate the right skills

Add any volunteer experience

Include any part-time job experience

Focus on your strengths

Mention any relevant courses

Highlight your education, GPA, awards
3. Human Resources Assistant Resume:
Tips to Create a Human Resources Assistant Resume:
The resume objective is the defining factor for your selection as a human resources assistant. Ensure that it is bang-on.
Mention your qualifications

Prove how you can be a valuable asset to the company

Define the impact of your work on metrics

Pose to be organized and considerate of others' needs

Mention your area of experience
4. Human Resources Manager Resume: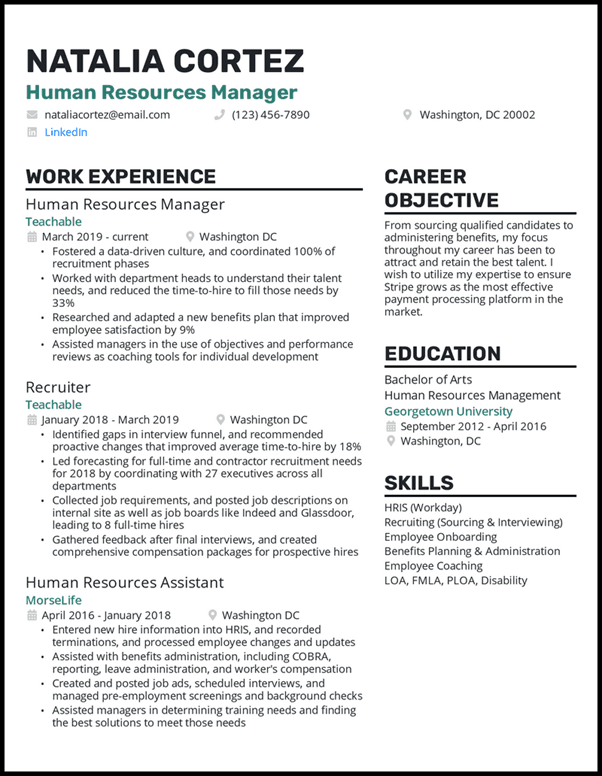 Tips to Make a Human Resources Manager Resume Work:
HR manager resumes focus heavily on resume skills.
Include your hard skills relevant to the job

Highlight your expertise in specific areas

Focus on the growth of responsibilities in your career

Explain how you progressed from Hr assistant to HR recruiter and HR manager

Quantify your achievements

Mention how your skills made an impact on the organization's success
5. Human Resources Generalist Resume: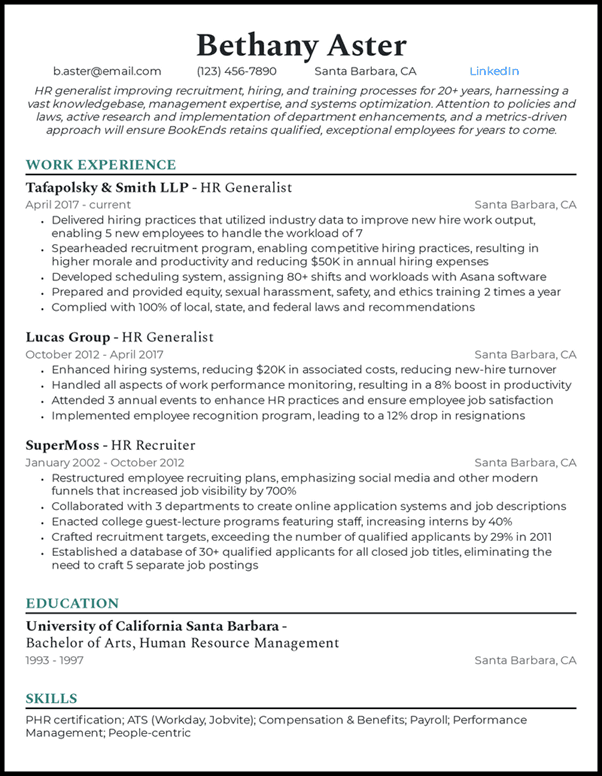 Ideal Tips to Build a Human Resources Generalist Resume:
Generally, an HR generalist's resume includes a lot of content. To avoid the monotone, you must use colors or other strategies to draw the recruiter's attention.
Differ the header and body fonts

Be creative in your resume summary

Include at least an experience of over ten years in your resume

Include only relevant soft skills

Add the technical skills according to the job offer
6. Human Resources Data Analyst Resume: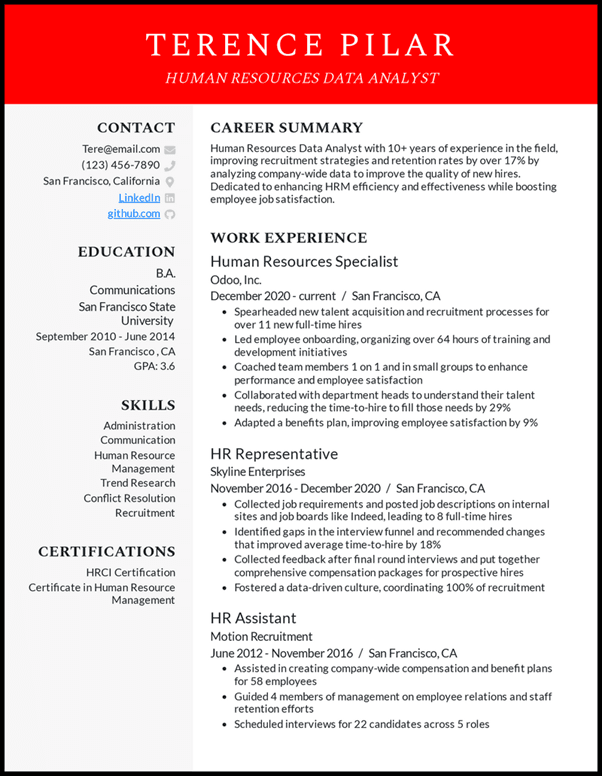 Tips to Create a Perfect Human Resources Data Analyst Resume:
Your HR data analyst resume must be appealing to the recruiters. You can add colors to highlight your resume and grab your recruiter's attention.
Style the fonts of your resume

Make your resume interesting

Add colors to highlight your resume
7. Human Resources Benefits Specialist Resume: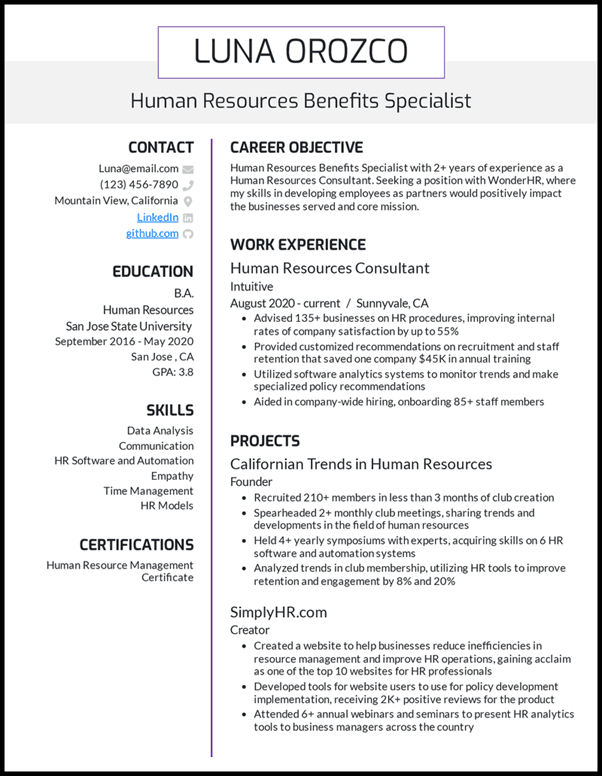 Tips to Make a Human Resources Benefits Specialist Resume Work:
Your HR benefits specialist resume must speak volumes of your work and experience.
Include metrics on your resume

Demonstrate your capabilities

Exemplify your work experience

Prove your worth to the organization
8. Human Resources Coordinator Resume: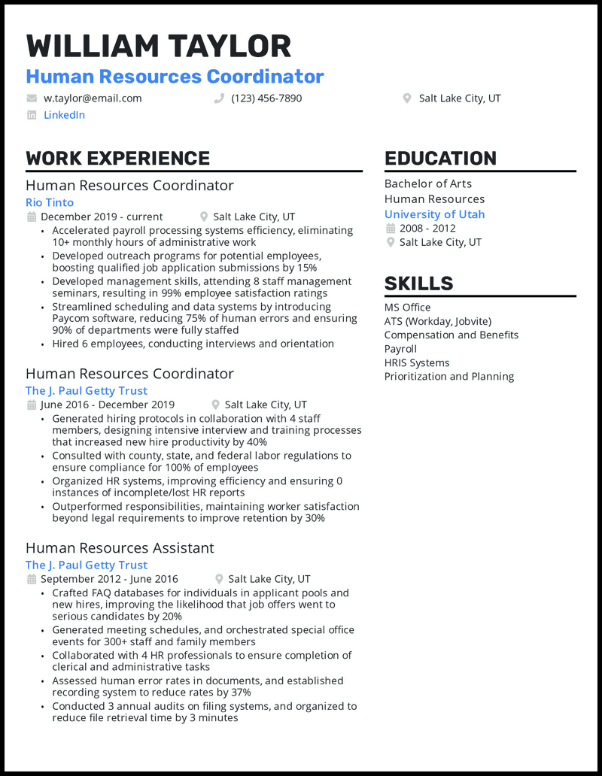 Tips to Write a Human Resources Coordinator Resume:
Since a resume takes only six seconds from your recruiter, ensure it's worth it. Applying for the post of HR coordinator, you must be vital in coordinating the relevant data on your resume.
Include critical quantifiable data in your resume

Include employee retention time, ROIs, error reductions, etc.

Prepare your resume in a reverse-chronological format

Ensure to add only crucial information on your resume
9. Human Resources Director Resume: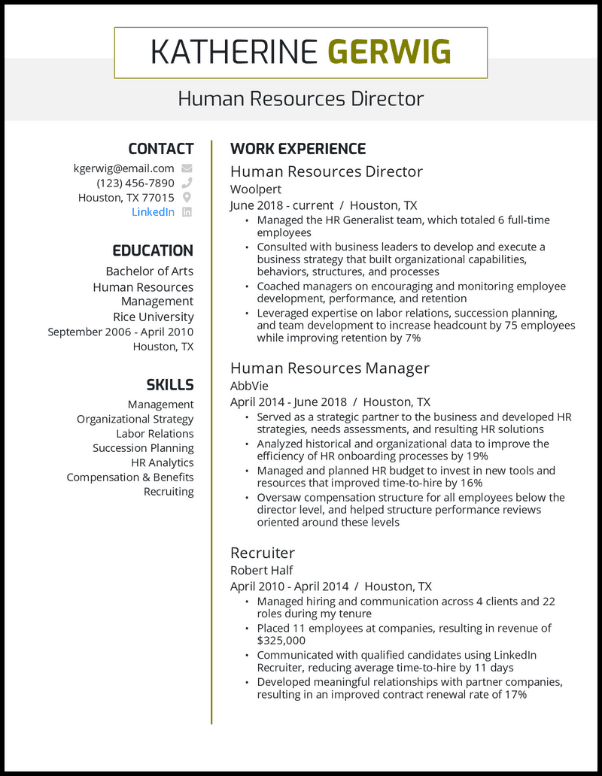 Tips to Build a Human Resources Director Resume Effectively:
An HR director is supposed to command all the functions of HR. However, you must be thorough with all the HR insights. In addition, you must know how to run an HR department effectively.
Spill concrete facts on your resume

State the impact of your experience and wisdom in metrics

Explain the situations and team size that you have managed

Highlight the growth of responsibilities in your career span to date

Convince the employers to lift greater responsibilities
HR Resume Templates: Designs and Formats
HR resume templates help you guide and assist in making an HR resume effectively. You can either edit them or take help from their set structure to tailor-make your resumes for your desired job and position.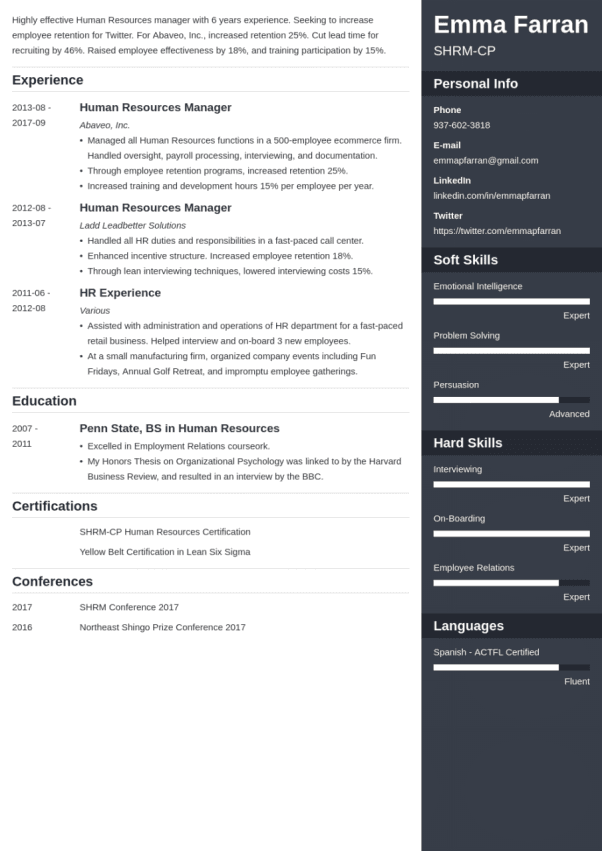 Some of the popular websites that provide you with HR resume templates for your ease and convenience are:
Zety

Indeed

Canva

Resume genius

Resume worded

Live career

Job seeker

Beamjobs

SHRM

Novo resume

Resume now

HR cabin

Job scan
HR resume templates are available in PDF format. Such templates require a reliable, professional tool explicitly designed to cater to even your uncalled PDF needs. Talking about professionalism, you can always use PDF Agile PDF Reader to open, read and edit your PDF documents.
Let us quickly check how to create an ideal HR resume sample, and then stay tuned to learn about this fantastic PDF software in detail.
How to Build a Perfect HR Resume Sample: A Meticulous Structure
Taking help from various HR resume templates, you can build your HR resume sample. We have already listed multiple HR resume examples for your assistance. While customizing your resume for your desired position, you can choose to follow the below-given format:
1. Select the best format:
You must select the best format to present the content on your resume. The commonly used no-fail format is the reverse-chronological format. Strategically design your resume's structure and font style to be catchy enough.
2. Add an HR resume summary/objective:
Include a summary of your qualifications to grab the recruiter's attention.
3. Describe your HR experience:
Highlight your HR experience using:

Former organization name

Position name

Responsibilities and achievements

Dates
4. List your education details:
Your education must include:
Degree type

Major subject

Name of University

Graduation and PG years

GPA and relevant courses
5. Mention your skills:
Always mention the specific skills that are relevant to the job. For example, don't clutter your resume unnecessarily with generic skills.
6. Include certifications:
Certified HR managers always make more money than the general ones. Make sure to add certifications to your HR resume to build your worth.
7. Include other sections:
Your other sections must include:
Accolades

Conferences

Publications

Awards and honors

Additional activities

Projects

Volunteer experience
8. Add a cover letter:
A well-written cover letter always complements your resume. Ensure to attach one to qualify your resume for an ATS check.
9. Remember to add your contact details:
You can add your relevant contact details, including:
Full name

Professional title

Phone number

Professional email ID

Location

Appropriate social media handle ( Twitter and Linked In profile)
Tips to Format Your HR Resume Effectively
Successful formatting speaks volumes of your work and experience in your resume. Almost all the applicants must have similar experience or education. What differentiates you from others is your skill of presenting the same output. Here is what you should know about formatting your resume best.
For your resume to be readable and logical, you must format it effectively. Some of the most common formats for formatting your resume are:
1. Reverse Chronological Format:
It is one of the standard formats used in making all resumes. It highlights the current status of the applicant and then moves backward. Though it is recruiter friendly as it denotes the latest position and progress of the applicant, it makes it easier to draw attention to the loopholes of the gaps and career changes as well.
2. Functional Format:
Though functional formats are not as common as the reverse chronological formats, these were traditionally used to highlight the relevant skills, especially for beginners. However, since this format is not much in use, it can confuse the applicant tracking system and the recruiters.
3. Combination/Hybrid Format:
The combination format is a blend of reverse chronological and functional designs. It focuses on the applicant's skills, work experience, and history. But it is tough to format and does not comply with the applicant tracking system.
PDF Agile: An All-Rounder PDF Editing Solution
After going through multiple HR resume templates and HR resume examples, you can create your customized HR resume sample easily. A lot depends upon the position, work experience, and type of your HR job to make the most suitable resume.
Make your HR resume with PDF Agile PDF reader effortlessly for seamless results. It not only helps you build your customized resumes but also assists you in editing them. Needless to say that it is an all-rounder for your PDF needs.
Apart from enabling you to open and read your PDF documents, it performs the following functions editing and making your resume stand out from your competitors.
Convert PDF files to Word, Excel, PPT, TXT, etc. formats.

Convert Word, PPT, Excel, TXT, etc., to PDF formats.

Edit your HR resumes anytime on the go.

Add hyperlinks and page numbers to your HR resume and other essential documents.

Convert your HR resume without losing its format and font size.
If you are applying for an HR job in another country, you can translate your HR resume into their local language.
You can access your saved HR resume examples for a quick guide.
You can take help from the saved HR resume templates to edit it in an emergency.

Crop, compress and merge your PDF documents while retaining their quality.

Attach your signatures electronically to your HR resume sample.

Search for texts in your resume to edit them.

You can print your Hr resume through PDF Agile after resizing it.
Its advanced privacy protection keeps your resumes and other PDF documents safe and secured.
Now you have the right reasons to use PDF Agile PDF reader for a complete solution to your resumes and other necessary PDF documents.
Essentials Tips to Create a Customized HR Resume Sample
You can always create and customize an HR resume sample, but to make it effective, you must be thorough with its inclusions and placements. It is where these tips come in handy to guide you to write a foolproof HR resume.
Read the job offer carefully

Build your resume ATS and recruiter friendly

Keep your resume short and crisp- no longer than a single page

Follow a reverse chronological order format

Highlight the required skills and responsibilities in your HR resume

Ensure the size of your fonts and margins are standardized

Mention your skills in bullet points

Mention what makes you different

Highlight your experience

Quantify the outcome of your skills in metrics

Include an 'other' sections to highlight your additional points

Don't forget to highlight the critical HR keywords

Boast your achievements in metrics

Mention your previous organizations

Build your HR resume to qualify for ATS

Use action words to highlight your resume

Be on point and direct- spit facts

Ensure to submit your resume in a Word or PDF format only.
Wrapping Up
Making an adequate HR resume sample is a child's play when you have all the necessary tips and tricks in your hands. A well-structured HR resume gives you an upper edge and helps build confidence.
Here we have provided you with multiple HR resume examples and their respective tips to qualify for the desired position. Depending on your chosen role, you can follow its tips and brush in the relevant skills to crack the interview deal.
We have also listed HR resume template websites so you can edit them or create one from its guidance. Of course, you can always edit these readily available templates to suit your needs. Following some additional tips act as a cherry on the cake and help you create a resume to have a lasting impression on the recruiter.
Now we have assisted you thoroughly. All you need to do is nail the interview and get hired for your desired job.