Introduction
Tesla Motors Inc. was established back in 2003 by Marc Tarpenning and Martin Eberhard in Palo Alto, California, USA. Today, this highly successful alternative fuel production company is merely called Tesla Inc.
In the beginning, Tesla focused mainly on the manufacture of electric vehicles. However, over the years, it has expanded its range of services. Tesla is now involved in the following activities;
Energy generation.

Manufacturing of energy storage systems.

Production of solar-powered equipment.

Installation and maintenance of Tesla sustainable energy systems.
As a matter of fact, the vision of Tesla is a world driven by renewable, sustainable, and environmentally-friendly energy. Their mission statement simply states their desire "to accelerate the world's transition to sustainable energy."
Currently, the California-based alternative fuel vehicle production company has several galleries and stores in the US. Tesla also has stores and showrooms in more than 30 countries worldwide. They also have a global staff strength of over 70,000 skilled and semi-skilled individuals.
By 2020, Tesla had recorded an industry high operating margin over 6%, with over USD$2.5 billion in free cash flow. The free cash flow recorded in the final quarter of 2020 only was just a hundred thousand US dollars short of 2 billion.
Despite the global economic downturn at the height of the COVID-19 pandemic, Tesla would still post comparatively high sales turnover, revenue, and profit margin figures. This was mainly due to the well-crafted business development plan driven in no small way by a thoroughly researched and prepared Tesla market segmentation, targeting, and positioning strategy.
Market Segmentation of Tesla
Tesla as an organization is divided into five key departments or divisions, namely;
Energy,

Engineering and Production,

HR and Communication, and

Sales and Software.
Tesla segmentation, targeting, and positioning involve a series of activities that are carefully planned, prepared, and implemented by the sales division with the full support of other divisions under Tesla's organizational structure.
These activities involve the identification of particular population groups, otherwise called segments. The segments share a similar vision/mission statement as Tesla. These segments are also seen by Tesla as the most likely to provide regular consumers with their products and services.
The identification of population segments is subsequently followed up by identifying the wants and needs of these segments. Tesla then manufactures products, including electric vehicles, that are capable of satisfactorily meeting the needs of consumers within their identified population segments. Tesla then came up with a marketing mix to position itself as the leading brand in the industry and marketplace.
Market Segmentation is the first in the series of activities carried out by Tesla's sales division. Tesla identifies four main types of segmentation, and these include; Geographic, Demographic, Behavioral, and Psychographic segmentation.
The Tesla Geographic segmentation has to do with the region and population density. Demographic segmentation incorporates age, gender, occupation, and the life-cycle stage.
The Behavioral segmentation looks at the status of consumers, their degree of loyalty, personality traits, and the reasons why they need Tesla products and services.
For Psychographic segmentation, the main focus is on the social class and lifestyle of prospective Tesla target market groups.
Targeting of Tesla
It is no secret that Tesla's targeting strategy primarily focuses on the high-income earning upper-middle class. This consists of entrepreneurs and business executives living in plush urban areas. These individuals are often appreciative of the green movement and even ardent supporters in their own right.
They are also tech-savvy, trendy, fashionable, and sophisticated people. Tesla's target consumers are craving the unique and a taste for the exotic. Often these customers actively seek out premium quality luxury cars, and they are not too bothered about the price range.
Typically, any individual with an annual income above USD$100,000 would be an attractive prospect for this high-end company. Tesla targets the wealthy baby boomer generation, but its doors are still open for other generations.
Industry observers suggest that the average age of customers of the Tesla Model S electric car is about 54 years. On the other hand, the median age for customers of Model X is about 52 years. The demographic for owners of Tesla products may be on the older side, but many young people between the ages of 25 and 45 years are known to purchase Tesla products equally. The Tesla Model 3, for example, is known to have a greater appeal to a younger age group compared to Model X or S.
Ultimately, Tesla fully understands its target market group and uses all its resources to provide sustainable energy products that meet the needs of this high-end target audience.
Positioning of Tesla
It is interesting to note that this electric vehicle producing company has adopted two main positioning strategies. The first Tesla positioning strategy is known as 'Mono-segment Positioning,' while the second is called 'Anticipatory Positioning.'
Tesla's positioning involves not only the selection of a marketing mix but also the implementation of the marketing mix that is best suited for Tesla's target audience.
At this point, Tesla is mainly interested in meeting the needs of those consumers greatly concerned about the adverse effects of oil and gas on the environment.
This segment of consumers is willing to take action to improve their immediate environment. They do so by purchasing products powered by renewable, sustainable energy, such as; electric vehicles, energy storage systems, and other related Tesla products.
For now, the Mono-segment positioning strategy targets only the wealthy and affluent members of society. Those that can afford the high cost of owning a one-of-a-kind Tesla alternative fuel vehicle. However, the long-term goal of Tesla is to provide sustainable energy products and services that are affordable to everyone on the planet. To achieve this, Tesla has put in place plans to move from a Mono-segment positioning stance to a more multi-segment positioning focus.
However, Tesla also acknowledges that this would take time, a lot of grassroots orientation, lower production costs, and changes in government policies globally, amongst many other seismic changes.
This is where the Anticipatory-segment Positioning strategy of Tesla is most effective. Tesla positions some of its products and services to meet the needs of a market segment with a comparably low turnover. This is done with the anticipation that the turnover of the market segment will improve in the long run.
The Anticipatory-segment positioning strategy of Tesla is better exemplified by the launch of Powerwall 2 and Powerpack 2. These are two affordable energy storage systems designed, produced, and made available for sale to upper- and middle-income earners.
Table - Tesla Segmentation, Targeting, and Positioning Illustrated
TESLA SEGMENTATION TYPES
CRITERIA FOR SEGMENTATION
TESLA ELECTRIC VEHICLES
TESLA ENERGY STORAGE & SOLAR SYSTEMS
GEOGRAPHIC
REGIONAL
ASIA, EUROPE & NORTH AMERICA
ASIA, EUROPE & NORTH AMERICA
POPULATION DENSITY
RURAL & URBAN
RURAL & URBAN
DEMOGRAPHIC
AGE GROUP
OVER 30 YEARS OF AGE
BETWEEN 25 & 65 YEARS OF AGE
GENDER
MAINLY FOR MALES, BUT FEMALES ARE NOT LEFT OUT
MAINLY FOR MALES, BUT FEMALES ARE NOT LEFT OUT
LIFE-CYCLE STAGE
FULL NEST I, II & III
FULL NEST I, II & III
OCCUPATION
WORKERS, EXECUTIVES, SENIOR MANAGERS & PROFESSIONALS
WORKERS, EXECUTIVES, SENIOR MANAGERS & PROFESSIONALS
LEVEL OF INCOME
HIGH
MIDDLE (UPPER) & HIGH
BEHAVIORAL
LEVEL OF LOYALTY
VERY LOYAL, MODERATELY LOYAL & NON-LOYAL
VERY LOYAL, MODERATELY LOYAL & NON-LOYAL
REASONS FOR OWNING
IMPROVED STATUS, ENHANCED IMAGE AS A SUPPORTER OF GREEN TECHNOLOGY, AND COST-SAVING BENEFITS IN THE LONG-RUN
LONG-TERM COST-SAVING BENEFITS, IMPROVED IMAGE AS A SUPPORTER OF ENVIRONMENTALLY RELEVANT TECHNOLOGY
CONSUMER PERSONALITY
AMBITIOUS, GO-GETTER & RESILIENT
AMBITIOUS, GO-GETTER & RESILIENT
STATUS OF CONSUMER
FIRST-EVER CONSUMERS, PROSPECTIVE CONSUMERS & NON-CONSUMERS
FIRST-EVER CONSUMERS, POTENTIAL CONSUMERS & NON-CONSUMERS
PSYCHOGRAPHIC
SOCIETAL CLASS
BOTH UPPER & MIDDLE CLASS
BOTH UPPER & MIDDLE CLASS
CONSUMER LIFESTYLE
ENVIRONMENTALLY AWARE, REFORMER, ASPIRER, EXPLORER & SUCCEEDER
ENVIRONMENTALLY AWARE, REFORMER, ASPIRER, EXPLORER & SUCCEEDER
Mind Map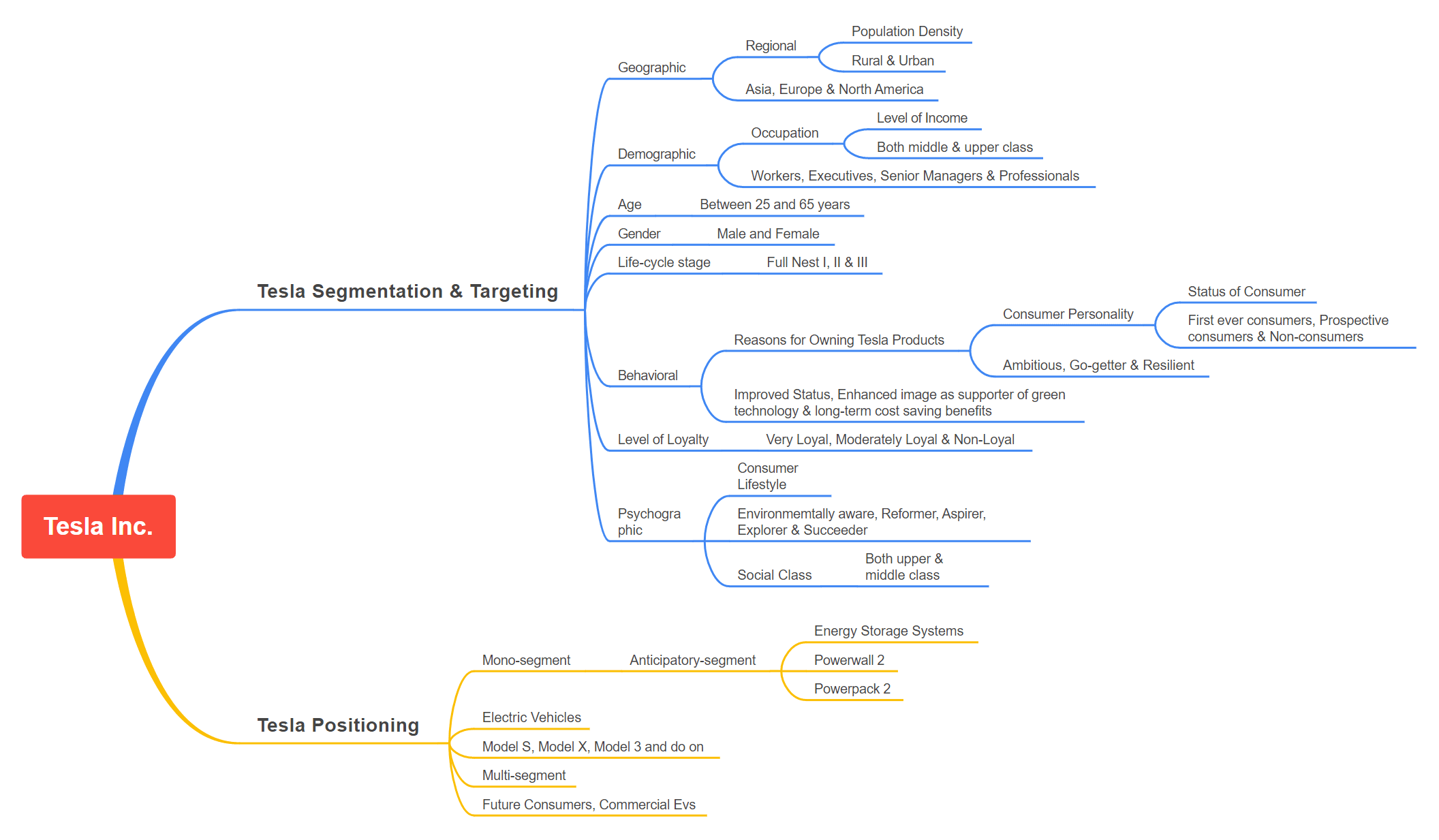 Key Takeaways
Tesla Inc. specializes in the production of environmentally-friendly products, including electric-driven vehicles, energy storage, and solar-powered systems. They have been able to cater to their short and long-term future through the use of the Tesla segmentation, targeting, and positioning strategies highlighted in this article.
You can have regular access to this report by downloading it in PDF format. The PDF format allows you to view the Tesla segmentation, targeting, positioning table, and mind map Illustrated above with more clarity. If you want to be able to compress, split, edit, convert or even redact information on your PDF file, you can do so by downloading 'PDF Agile.'
PDF Agile is a complete PDF desktop solution that offers you a variety of features, including background change, text and area highlights, bookmark, page resizing, and print options. PDF Agile is available for free download on Windows OS desktop computers today.
References:
Tesla Segmentation, Targeting, and Positioning: overview
By John Dudovskiy, May 1, 2021
https://research-methodology.net/tesla-segmentation-targeting-and-positioning-overview/
Marketing Strategy of Tesla
May 29, 2019, By Hitesh Bhasin
https://www.marketing91.com/marketing-strategy-of-tesla/