Introduction
Nike value chain analysis is a management tool used by the company to analyze the activities and processes required to create a superior and highly-valued product and identify areas of improvement in each process to increase productivity and reduce production costs. The value chain analysis covers every activity, including product lifecycle, development and research, sales and marketing, to optimize efforts and reduce waste. As a global brand, Nike increases profitability by creating an efficient value chain. They have a huge and loyal global fan base due to their high-quality sports shoes and products. Nike value chain analysis makes it one of the world's leading sportswear and equipment brands. It helps the company gain a competitive business advantage over its rivals. We will discuss the Nike value chain's primary and support activities here. Also, learn how PDF Agile makes it easier for you to convert PDF reports.
Background of Nike
Nike is the world's leading athletic apparel company established by Phill Knight and Bill Bowerman on January 25, 1964, formerly known as the Blue Ribbon Sports and later changed its name to Nike in 1971. Nike comes from Greek mythology, referring to the goddess of victory. The company operates worldwide with more than 80000 employees. Nike launched its first shoes in 1972 and is currently the largest supplier of athletic shoes globally. Mark Parker is the current executive chairman of Nike, and John Donahoe is the president and CEO of the company. There are Nike outlets in more than 170 countries where the company sells its products with the brand logo "swoosh", recognized by everyone worldwide.
Primary Activities in Nike Value Chain Analysis
The Nike value chain analysis outlines five primary activities essential for a compelling value chain analysis.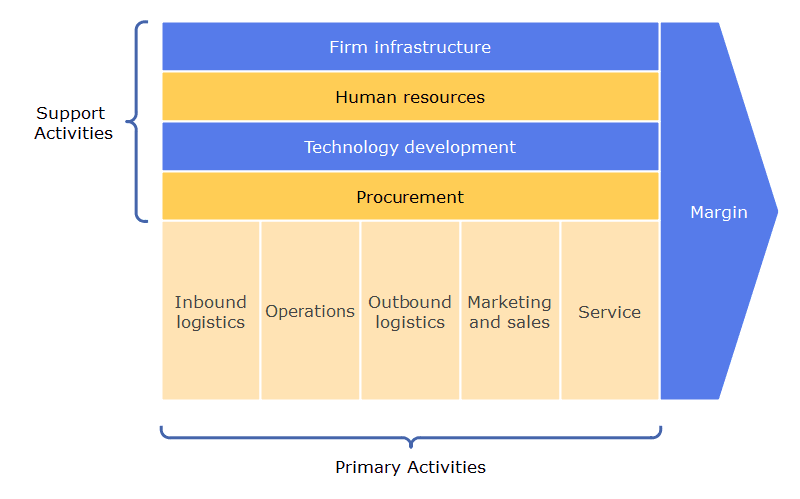 Inbound Logistics
One of the main reasons behind Nike's success is the high quality of its products that the company managed to sustain with an effective supply chain. The supply chain management of Nike specifies the inbound logistics of the company between suppliers, transport, and quality checks for all goods and services. The global procurement team of Nike picks the suppliers based on the type and quality of goods the company requires to create high-quality products. As the company focuses on sustainability and the quality of its services, they only deal with suppliers who understand the importance of high-quality products. It ultimately leads to fewer suppliers, but those who remain are the ones that deliver more value at the exact cost. In more than 40 countries, all Nike production factories focus on pollution reductions and environmental safety.
Operations
As the world's largest athletic apparel company, Nike has operations in more than 170 countries with offices that cater to large geographical areas and oversee thousands of Nike outlets. The Nike headquarters are in Oregon, with the highest number of employees compared to other Nike offices. Nike's operations consist of production, packing, and quality testing. The Nike value chain analysis shows the company's competitive business advantage from efficient operations management. Nike employs 80 thousand people worldwide with offices in the Middle East, Greater China, Europe, Asia Pacific, Latin America, and Africa.
Outbound Logistics
Nike owes its success to the loyalty of its customers, who like the high-quality services and products from the brand. To keep the customer's loyalty, Nike tries to deliver new products to every distributor in every region so that the customers don't have to wait for long to get newly released products, like sports shoes and equipment. Nike has 570 factories worldwide, making products in more than 40 countries. The company delivers its products to warehouses where regional distribution centres send them to retail stores and outlets. The company's largest distribution center is in Tennessee, which holds all Nike products, including the Jordan and Nike brands like Air Jordans.
Marketing and Sales
Nike's marketing strategy is the reason behind its huge success compared to its rivals. The famous and easily recognizable "swoosh" logo and heavy investments in promotion deals and collaborations with sports celebrities and notable figures brought the company to where it stands right now. The Nike value chain is mainly known for its creative and effective marketing strategies and advertisements on various channels like paper, social media, and television. It makes people believe that they sell the best sportswear in the world. Nike sells products through offline and online channels with outlets where customers can physically check the product quality or pages and websites.
Services
Although high-quality products draw lots of new customers to Nike, that doesn't mean that all of those customers will be loyal to Nike in the future. Nike's pre-sale and after-sale services earn customers' loyalty for the brand with some of its services, including maintenance and repairs of Nike products. The company also runs loyalty programs where people who like the brand sign-up and buy Nike products, which adds a lot more profitable than someone buying Nike products once and never coming back.
Support Activities in Nike Value Chain Analysis
The value chain analysis for Nike highlights four crucial support services.
Infrastructure
As the world's leading athletic apparel company, Nike's infrastructure includes developing strategies, planning, accounting, legal, quality management, and government activities performed by offices, distribution centers, retail stores, and logistics centers. Nike value chain analysis defines work efficiency, productivity, and critical planning to support its value chain. Its broad categorical infrastructure helps the brand maintain its global presence.
Human Resource Management
Human resource management is a crucial support activity in the Nike value chain as the company globally employs over 80 thousand people. Nike provides a friendly work environment where every employee can improve their productivity. The company culture help employees of different capacities and talent to place their best efforts in a healthy working environment. The HR management of Nike fosters diversity and various rules and regulations that even the suppliers strictly follow.
Technology Development
To stay at the top, the technology development of Nike continuously works on creating high-quality products with user-friendly and sustainable materials. The machinery in Nike production factories also evolves regularly. The company focuses on environmentally friendly activities, so they try to develop new technologies that reduce waste and do not negatively affect the environment.
Procurement
One of the reasons behind Nike's remarkable success in business is its relationship with its suppliers and vendors because the finished products will reach the customers through vendors, and Nike needs to buy materials from its suppliers. Procurement is the activity of purchasing inputs to increase the efficiency of the value chain. Nike does that by maintaining a healthy relationship with its suppliers.
Convert PDF Report Using PDF Agile
Editing online PDF documents or copying text from PDF reports, PPTs, and images is no simple task because the user has to go through multiple steps to do it. Online PDF reports are helpful to professionals and students, but you can't download specific parts without downloading and editing the complete report. PDF Agile is an excellent tool with innovative features that allows you to edit, convert, and compress your PDF documents to accelerate the PDF workflow. Its interface uses rows, columns, and pages similar to Word, making it easier for the user to edit or convert PDF documents quickly. It supports multiple formats, so the user can convert files from PDF to Word, Excel, PPT, TXT, image, and CAD without losing the format.
Key Takeaways
Nike value chain analysis is the best example of how you can make your business more profitable and successful using the correct value chain strategies. With value chain analysis, you can analyze a company's primary and support activities to identify areas of improvement that will help you reduce costs and optimize efforts to bring more value to the end-user. PDF Agile is the best PDF editor and convertor, with many creative tools for editing, converting, and compressing your PDF document. It supports multiple formats and comes with an easy-to-use interface.
References
Value Chain Analysis of Nike: From https://notesmatic.com/value-chain-analysis-of-nike/
Stages of Our Value Chain: From https://purpose.nike.com/value-chain-stages