Introduction
McDonald's value chain analysis is a business strategy to evaluate and convert ideas into activities to develop products and identify areas for improvement to increase production efficiency. It helps McDonald's reduce waste by optimizing efforts and increasing profitability. We use values chain analysis to reduce costs for production and deliver the most value. McDonald's is one of the world's leading food businesses today, and it is the result of its value chain analysis that helps add value to its final products by identifying those activities where the company can quickly reduce cost or add a difference. The McDonald's value chain analysis provides a better insight into how the company managed to secure customer loyalty and win the best company work-life balance. Here, we will discuss the primary and support activities of McDonald's value chain. Also, learn how PDF Agile makes it easier for you to convert PDF reports.
Background of McDonald
Name

McDonald's Corporation

Type

Public Company

Industry

Real Estate,

Restaurant

Headquarters

Chicago, Illinois, U. S

Date founded

May 15, 1940.

Restaurants

38000+

Employees

200000+
McDonald's is one of the world's leading restaurant franchises, started by Maurice and Richard, the McDonald brothers, in 1948. The company is currently the world's largest fast-food restaurant chain in terms of revenue and second-largest in terms of outlets, with 37000+ restaurants in more than 100 countries. McDonald's progress in the food industry is something to marvel at because the company started as a hot dog stand in California, which later turned into a milkshake and burger joint. A businessman named Ray Kroc joined McDonald's franchise as an agent who later bought the chain from McDonald's brothers. McDonald's serves over 70M customers every day, with its top sales being cheeseburgers, milkshakes, soft drinks, french fries, McNuggets, McMuffins, etc.
Primary Activities in McDonald's Value Chain Analysis
The McDonald's value chain analysis outlines five primary activities essential for a compelling value chain analysis.
Inbound Logistics
Inbound logistics are the primary activities of purchasing, receiving, storing, and managing raw materials that the company gets from suppliers to use as input for product manufacturing. McDonald's value chain analysis proves that its inbound logistics are one of the primary reasons for its success. The company purchases raw materials like vegetables and other necessary materials from fixed suppliers, while the beef and milk come from McDonald's farms. The company reduces the cost of raw materials with backward vertical integration. Coca-Cola has been working with McDonald's for a long time, and only they serve their soft drinks.
Operations
Being the world's largest fast-food restaurant franchise, McDonald's deals with mass production to satisfy millions of customers every day. The company achieved this by developing an efficient McDonald's value chain changing the concepts of traditional restaurants, and only using basic tools to deal with tons of orders quickly. McDonald's operates in multiple divisions like independent franchises, company-owned franchises, affiliates, developmental licenses, etc. A franchise contains a large grill, a fryer, dressing stations, counters, and beverage machines so one person can prepare multiple burgers and fries easily.
Outbound Logistics
Outbound logistics refers to a company's activities to deliver its services and products to customers. McDonald's managed to reach the top with its high-quality services and delicious, healthy, and nutritional food. The restaurant operates as sit-down restaurants and drive-through restaurants. Customers can quickly learn the nutritional information of anything they want to order because McDonald's functions with a balanced array. The company also focuses on environmental protection and energy conservation.
Marketing and Sales
As the world's leading fast-food restaurant chain, McDonald's operates in 118 countries with 12 million employees worldwide. There are more than 37000+ McDonald's franchises, and the company also operates many other franchises with multiple names. The marketing strategy of McDonald's is simple and effective. They launch new advertising campaigns regularly and also use media coverage. The McDonald's value chain analysis helps the company improve its sales and increase profit.
Services
McDonald's is famous for its fast and high-quality customer service. Although the wages of employees are slightly higher than the minimum wage, the company properly trains every employee to provide the best services. Customers' loyalty to McDonald's is also due to the additional services they enjoy when eating at McDonald's, like free Wi-Fi so people can work or study while eating, gift cards and discounts, and play places for kids.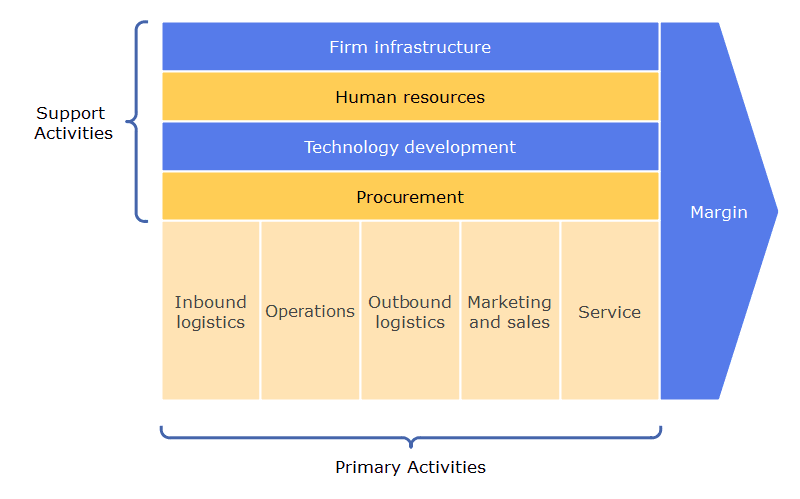 Support Activities in McDonald's Value Chain Analysis
The value chain analysis for McDonald's highlights four crucial support services.
Infrastructure
The McDonald's value chain analysis also contains supporting activities like its infrastructure. As a whole restaurant franchise or only a single outlet, McDonald's has a clean infrastructure based on advanced IT systems while being environmentally friendly. Its infrastructure defines excellent work efficiency and productivity with a restaurant that focuses on green activities and a pleasant workplace environment.
Human Resource Management
McDonald's is mainly known for its effective human resource management, where every employee gets treated fairly, and getting a job is extremely easy. The job requirements list only the basic skills required for working attentively, so someone who doesn't have a good chance of getting a job anywhere else can quickly get a job at McDonald's. They also offer flexible hours where employees can work the shifts that suit their timetable, and they can also engage in other activities like studying or working multiple jobs.
Technology Development
Although McDonald's is a fast-food chain restaurant, it also focuses on technology development to improve its restaurants' services and evolve. Some of the developments include the mobile application and acquisition of Dynamic yields, a tech provider. They also introduced new services like mobile order and pay to improve customer experience. McDonald's also closed an IT support deal with Fujitsu that will last for five years.
Procurement
Procurement is the activity of purchasing inputs to increase the efficiency of the value chain. McDonald's does that by maintaining a healthy relationship with its suppliers. McDonald's also owes its success to its E-procurement system that supports and improves its supply chain. McDonald's value chain analysis makes procurement more efficient while reducing the cost of raw materials the company buys from suppliers and other networks.
Convert PDF Report Using PDF Agile
Professionals and students need to copy references and text from online reports and PDFs every day. Even if they need a part of a PDF report, they have to download the complete document and only after editing can they extract the text they want. With PDF Agile, you can easily edit, convert, and compress PDF documents with its excellent editing tools. Using PDF Agile is also simple because its interface is similar to Word with pages, rows, and columns. With the support of multiple formats, PDF Agile allows you to convert files from PDF to Word, Excel, PPT, TXT, image, and CAD without losing the format.
Key Takeaways
This concludes the article about how companies use value chain analysis's primary and supporting activities to create a competitive advantage and add value while reducing the final product or service cost. You also read the background information about McDonald's, including how the company started and reached its current success. McDonald's value chain analysis is the best example of how you can make your business more profitable and successful using the correct value chain strategies. PDF Agile is the best PDF editor and convertor, with many creative tools for editing, converting, and compressing your PDF document. It supports multiple formats and comes with an easy-to-use interface.
References
McDonald's Value Chain Analysis: From https://research-methodology.net/mcdonalds-value-chain-analysis/
Value Chain Analysis: From https://www.slideshare.net/dipeshsharma9699/value-chain-analysis-33659506
The Straightforward Guide to Value Chain Analysis: From https://blog.hubspot.com/sales/value-chain-analysis
Value Chain Analysis of McDonald's: From https://www.essay48.com/value-chain-analysis/12716-McDonalds-Value-Chain-Analysis