Introduction
BCG matrix of Coca-Cola is seen as a tool used for planning and utilizes graphical representation of Coca-Cola services and products to help them make informed decisions. It is mainly a tool to help with long-term strategic planning and help a business consider growth opportunities. To do this, it reviews its portfolio of products and decides on where to invest, discontinue, or develop products. Additionally, it is also known as the Growth/Share Matrix.
In general, the BCG matrix is a planning tool that uses graphical representations of a company's services and products to help the company decide what it should sell, keep, or invest in.
Below, we shall learn about the Coca-Cola BCG Matrix and more.
Background of Apple
The Coca-Cola Company, incorporated under Delaware's General Corporation Law, is a multinational beverage corporation headquartered in Atlanta, Georgia. The company is interested in retailing, manufacturing, and marketing non-alcoholic and alcoholic beverage concentrates and syrups. The company produces Coke, the sugary drink it is best known for and was invented in 1886 by pharmacist John Stith Pemberton.
At the time of production, Coca-Cola used kola nuts, which added caffeine, and coca leaves, that brought in an amount of cocaine to the drink. The coca and the kola together provided a stimulative effect. However, this stimulative effect is the main reason the drink was sold to the public as a healthy "tonic," and the coca and the kola are also the sources of the product's name and the company.
| | |
| --- | --- |
| Company | Coca Cola |
| Industry | Beverages |
| CEO | John Stith Pemberton (as Coca-Cola) Asa Griggs Candler (as The Coca-Cola Company) |
| Founded | January 29, 1892 |
| Location | Atlanta, Georgia, U.S. |
| Revenue | 37.27 billion USD |
Coca-Cola BCG Matrix
The Coca-Cola BCG matrix shows the different Coca-Cola products in four quadrants: the Dogs, Stars, Cash Cows, and the Question Mark. This matrix will analyze its slow growth, low growth, high growth, high selling, and high predictive selling products.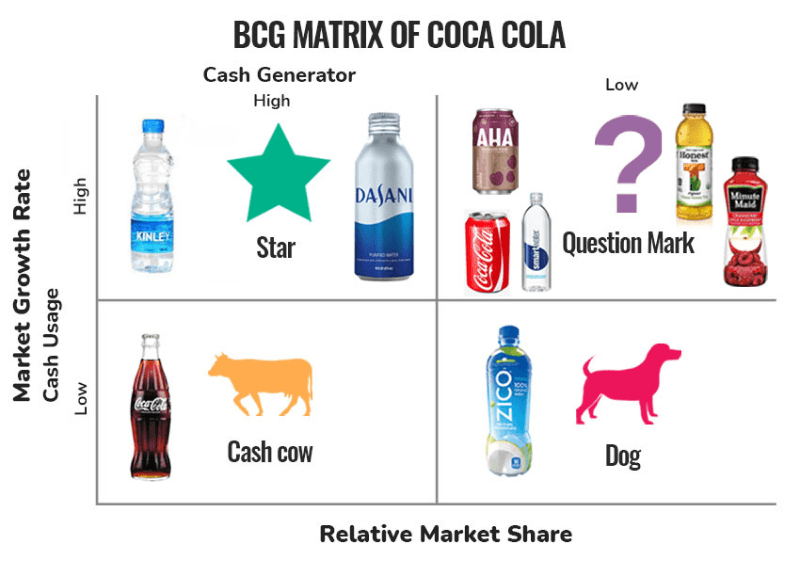 Image Source: https://speakingnerd.com/
Dogs
Dogs are referred to as a company's products with no chances of promising growth and low growth and market share. Additionally, management does not show any interest in these products and does not invest in these products due to low chances of benefits or profit.
In the BCG matrix of Coca-Cola, you can see declining demand for carbonated soft drinks in favor of increasing demand for low-calorie beverages or healthier options. However, if these factors keep increasing, Coke and the cash cow can become a low market share product.
Stars
The Star of a business is the products or business units having a high market share in a high-growth industry. In the BCG matrix of Coca-Cola, the segment of bottled water is its star product. There are two leading bottled water brands from the house of Coca-Cola called Kinley and Dasani, operating in separate geographical locations.
The Kinley brand is offered in European markets, while Dasani is dominant in the US. However, as the demand for healthy drinks and bottled water keeps expanding, this segment of Coca-Cola is expected to attain a more significant market share and a better opportunity for further investment. Thus, the primary reason why Coca-Cola invests in more brands such as flavored and sparkling water.
Cash Cows
Cash Cows, in simple terms, are products with high market share but low growth markets. However, the forecasts suggest low chances of significant growth in the future, and they have a high market share in the industry. Also, you can get maximum revenue from these products with meager investment to sustain profitability.
In the Coca-Cola BCG matrix, you can see that Coke has been the market leader and a significant revenue generator in the carbonated soft drink industry. It has been an established brand for years and has a global presence, making Coke a cash cow for the Coca-Cola company.
Question Mark
As you can guess, Question Marks are the products currently in the development stage. Also, the market's response to these products is still not very well established. In addition, these products would have achieved a small market share but a risky investment decision. Thus, the outcome could either turn into stars or cash cows.
In the BCG matrix of Coca-Cola, you can refer to the newly launched brands and lines of products, including; Honest Tea, Diet Coke, Minute Maid, Smartwater, and Sparkling Water. These products focus on healthy lifestyles and are part of the growing healthy non-carbonated drinks category. Additionally, Coca-Cola focuses on investing in new products and raising awareness about these products, making the product a question mark for the company.
Image Source: https://unsplash.com/
Convert PDF Report Using PDF Agile
PDF Agile is a tool that allows users to update their PDF documents easily and quickly. It functions as a word processor-reflow text across paragraphs, pages, and columns. Also, users can change and modify text size, document layout, font, or line spacing and add multimedia with this tool. With the fact that users typically download reports online in PDF, PPT, images, etc., this tool will provide reports in this format according to the user's requirements.
This PDF converter provides users with a simple solution for creating a personal e-filing system. Users can also manage PDF files and document information more effectively. Some of the functions of this PDF converter are;
Users can easily convert different files from and to PDF ranging from Word, Excel, PowerPoint, TXT, images, and CAD without losing formatting.

Users can organize and manipulate PDF pages to support their workflows. Split and merge documents; drag and drop pages within a file or from one document to another; and add stamps, watermarks, headers, footers, etc., with ease.

Users can enhance their digital experience in reading as they can switch to three different modes for all scenarios. Such as Reader Mode, Full-Screen Mode, and Slideshow with just the touch of the button.
Key Takeaways
The BCG matrix for Coca-Cola is a business planning tool that can help companies assess their products' growth potential and investment options based on growth predictions and market share. In this article, we explained the Coca-Cola BCG matrix using four scenarios: Cash Cow, Dog, Star, and Question Mark.
Lastly, we also explained the best PDF software, called PDF Agile, that you can use for displaying BCG matrices reports in different formats.
References
Reading the BCG Growth-Share Matrix. (n.d.). Investopedia. Available at: https://www.investopedia.com/terms/b/bcg.asp (Accessed March 14, 2022).
Wondershare EdrawMax. Available at: https://www.edrawmax.com/article/coca-cola-bcg-matrix-analysis.html