Introduction
When a company wants to understand its level of competitiveness in an industry, it applies Porter's Five Forces framework. Porter's analysis model consists of five primary forces. Its inventor was Michael E. Porter (1979).
These five forces include the threat of new entrants, barging power of buyers, bargaining power of suppliers, the threat of substitute products/services, and rivalry between existing businesses.
We will examine Porter's Five Forces Apple Inc analysis to help you grasp the concept. It is necessary to study Apple Porter's Five Forces analysis to establish who its competitors are, how it copes with competition, and why it commands the industry.
Background of Apple
Apple INC is an American-based company. We all know Mac computers, iPhones, iWatches, and iPads. They belong to Apple, the first company to become a trillionaire. Founded in 1976 in a small garage in California, Apple had humble beginnings. Founders were Steve Jobs, Steve Wozniak, and Ronald Wayne. Our Apple industry analysis will reveal how the company stays at the top despite intense completion.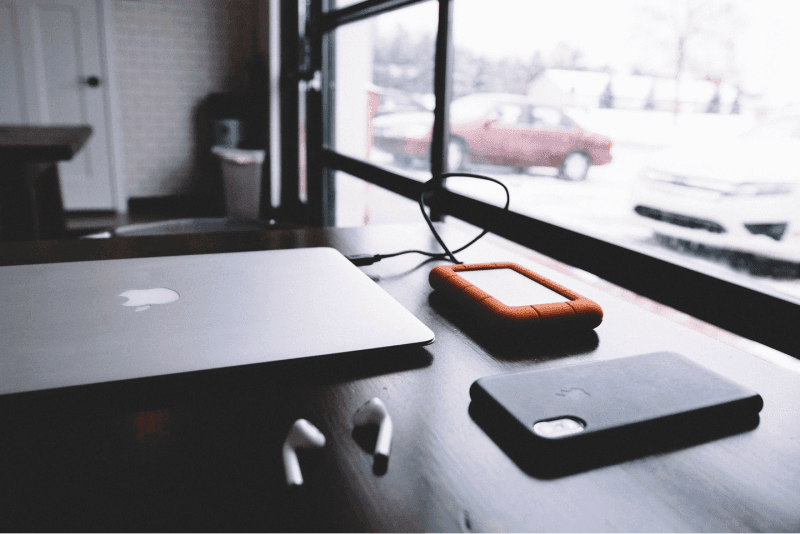 Image source: https://unsplash.com/photos/3BwKbZ3aCc0
Apple Porter's Five Forces
We will describe the five forces analysis as it applies to Apple Inc. We will indicate their intensity and show how Apple copes.
Competition in the industry: Strong Force
The rivalry between Apple and similar companies is a profound problem. Its direct competitors are Google, Dell Technologies, Samsung, LG, and Amazon.
All these international firms have enough capital to run their affairs and target the same audience as Apple. Thus, any reliable Apple competitors analysis will show that the company fights intense rivalry. Apple copes with these external factors:
Low product differentiation - strong force

Rivalry from similar companies -strong force

Ease of switching to an alternative product -strong force
Customers who might not find what they need from Apple Store can divert to Google Play Store within seconds. As products from these rival companies are similar, it does not cost a customer anything to switch to the next brand.
The threat of new entrants (moderate force)
Apple does not only have to watch the steps of giant technology companies like itself. It also faces moderate competition from start-ups. In this part of our Five Forces Apple Analysis, we will list the external factors that lead to moderate rivalry.
The capacity to face Apple inc - strong force

Raising high capital for starting up a company - weak force

Expensive cost of developing a brand - weak force
Massive capital is necessary to procure raw materials for manufacturing technology gadgets. Besides, entry-level businesses need more funds for research and development activities.
Apple and its look-a-likes enjoy economies of scale. Thus, they can source high-cost raw materials cheaply and operate at the lowest possible cost.
Moreover, establishing a brand in saturated markets requires massive advertising and genius leadership. Thus, inadequate capital and the high cost of developing a brand are weak external forces for apple.
Even if new entrants struggle, some are more innovative and have creative ways of gathering business capital. These types are a strong force that Apple and its counterparts cannot ignore.
The bargaining power of suppliers-Weak force
Based on the following external factors, the suppliers have a weak influence on Apple:
Suppliers of processor and computer memory inputs -strong force
Suppliers of movie and TV programs -weak force
Suppliers of components -weak force
Suppliers of music-weak force
Apple uses many suppliers to meet its production goals. As a result, the suppliers who provide movie and TV programs, components, and music are a minor concern for Apple. Even if some of them shift to other organizations or lower the quality of their products, Apple would still have other options.
Those who supply processor and computer memory items have higher bargaining power. Apple buys supplies from Motorola, IBM, and Intel. If one supplier shifts, Apple would probably not get enough raw materials. To reduce the bargaining power of suppliers, Apple conducts thorough audit checks. Furthermore, Apple affords to procure its raw materials in bulk to last about 150 days.
The bargaining power of customers (moderate to high force)
In Porter's Five Forces example Apple Analysis, we will see how a customer purchase decision can impact the company. The external factors leading to moderate-high force include:
A low switching cost - strong force

Few individual customers - weak force

Easy access to information -strong force

High customer loyalty - weak force
If an individual buyer decides not to purchase something from Apple, it will cause a negligible impact on its net profits. Secondly, customers can switch to another brand very fast. Low product differentiation puts the power of switching between brands in the customer's hands.
The ease of finding valuable information and comparing different products offers the buyer more bargaining power. If they do not like what apple has, they can move to the next brand in seconds. Lastly, customers have less bargaining power regarding high brand loyalty. Apple invests heavily in research and development to produce unparalleled products for its customers.
The threat of substitute products or services (weak force)
Apple's experience in computing technology and consumer electronics is incomparable. Hence, the strength of substitute goods and services from competitors is weak. Here are the reasons why:
Poor performance of alternative goods and services -weak force

A low tendency for buyers to choose the substitutes - weak force

Medium to high accessibility to substitute products or services - moderate force
People do not have to use the iPhone to capture a picture or make a call. They can also use a Canon or another choice digital camera. Even without an iPhone, they can use the landline phone to ring a friend. Thus, Apple faces a medium force from substitute goods.
Apple recovers quite fast via its feature-packed mobile gadgets. Since an Apple smartphone can do many things, buyers would take time to convert to another brand.
Strategies for success
According to our Porter's Five Forces Apple analysis, we can recommend strategies for the company.
Cost leadership
Apple should aim to raise its profits by minimizing its operation costs and lowering prices. Alternatively, it can expand its market share while keeping its revenue intact.
Differentiation
Apple has apps and products that work virtually the same way as Google. Low differentiation of products helps customers shift to the next brand. Thus, Apple needs to produce more innovative products than its rivals by improving its research and development and advertising strategies.
Focus
Apple needs to conduct thorough niche market surveys to understand its target buyers, competitors, suppliers, and every component of its supply chain. After that, it can successfully implement the first two strategies.
Key Takeaways
As we finish our Porter's Five Forces Apple analysis, we would love to hear your thoughts. Have you understood this framework?
Can you use it to analyze the competitiveness of your business in its industry? If yes, we highly recommend using our Porter's Five Forces templates. After exploring these templates, download and read your favorite one in PDF or other formats. Use PDF Agile to convert your files to the format you prefer.
References
Porter, M.E. (1979). How Competitive Forces Shape Strategy. Harvard Business Review

Burke, A., van Stel, A., & Thurik, R. (2010). Blue ocean vs. five forces.

Harvard Business Review

,

88

(5), 28-29.

Chen, C. M., & Ann, B. Y. (2016). Efficiencies vs. importance-performance analysis for the leading smartphone brands of Apple, Samsung and HTC.

Total Quality Management & Business Excellence

,

27

(3-4), 227-249.

IvyPanda. (2021, July 21).

Apple Inc.'s Porter's 5 Forces and SWOT for 2016.

https://ivypanda.com/essays/apple-incs-porters-5-forces-and-swot-for-2016/

Tang, David (21 October 2014).

"Introduction to Strategy Development and Strategy Execution"

. Flevy. Retrieved 2 November 2014.

Ireland, R. D., Hoskisson, R. and Hitt, M. (2008).

Understanding business strategy: Concepts and cases

. Cengage Learning.

Grundy, T. (2006). Rethinking and reinventing Michael Porter's five forces model.

Strategic Change

,

15

(5), 213-229.